After their lackluster debut on the Nasdaq last Friday, many are skeptical of whether or not SecureWorks (NASDAQ:SCWX) can survive as a public company. The source of this doubt is management's inability to turn a profit despite double-digit revenue and client base growth. The question is: Will management be able to cut costs now that they are no longer part of Dell? Let's take a look at the fundamentals and see what SecureWorks is worth, assuming management is able to exercise its new found freedom effectively.

Click to enlarge
The Market
SecureWorks competes in the security services IT outsourcing, consulting and managed security markets. Gartner Inc. estimates the security services IT outsourcing and consulting services market was $25.0 billion in 2013, and expects 11% annual growth to $47.0 billion in 2019. Frost & Sullivan estimates that sales of managed security services were $6.9 billion globally in 2013, and expects sales to grow to $12.8 billion globally, at an annual growth rate of 13%.
The Company
SecureWorks is a cyber security company that provides security services to clients, typically through subscription-based products. The services they provide are:
Managed Security Offerings - Providing clients with global visibility and insight into malicious activity in their network environments and enable them to detect and remediate threats quickly and effectively.
Threat Intelligence - Delivering early warnings of vulnerabilities and threats and provide actionable security intelligence to address these problems, typically packaged with managed security offerings.
Security and Risk Consulting - Advise clients on a variety of information security and risk-related matters, such as how to design and build strategic security programs, assess and test security capabilities and meet regulatory compliance requirements.
Incident Response - Help clients rapidly analyze, contain and remediate security breaches to minimize their duration and impact
SecureWorks currently has over 4,200 clients in 59 countries worldwide.
The Model
Now that we've examined the market and know a little bit about SecureWorks and what they do, let's look at the valuation model we've built for them.

Click to enlarge
SecureWorks' market share is approximately 0.87% of the global IT security outsourcing, consulting and managed security markets. Our model forecasts market share growth to continue at a steady pace and eventually reaching 2.35% market saturation in 2030.

Click to enlarge
We see SecureWorks' client base continuing to grow, but at a decreasing rate, eventually reaching a size of 10,015 clients in 2030.

Click to enlarge
Our model forecasts average monthly revenue per client to continue growing as businesses continue to increase their dependence on the internet and their need for security increases.

Click to enlarge
Above is our model's full forecast for SecureWorks. We expect SecureWorks to begin turning a net profit in 2019. We see gross margins and SG&A spending as a percent of revenue reaching 62% and 36%, respectively, as long as management is able to efficiently cut costs and restructure now that they are no longer a part of Dell.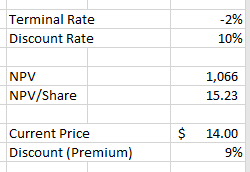 Using a very conservative terminal rate of -2% and discount rate of 10%, our model values SecureWorks at $15.23 a share. Using a slightly less, but still conservative, terminal rate of 0% and discount rate of 8%, our model values it at $26.58 a share. This means that SecureWorks' shares are trading at a 9% to 90% discount to their projected values.
Risks
There are several risks associated with SecureWorks, some of which are:
The risk of losing large customers. Bank of America (NYSE:BAC), for example, accounts for 9% of SecureWorks' revenue.
The majority of their clients are in the financial services industry which could affect them, if changes in the industry affect demand for their products.
The risk of management being unable to effectively cut costs and restructure.
Conclusion
In conclusion, SecureWorks' future will likely be dictated by management's ability to cut costs, which they haven't shown an ability to do as a subsidiary of Dell. If you believe that management will be able to operate effectively now that they are no longer a part of Dell, then it trading at a significant discount to its intrinsic value would be a viable long candidate. If you don't believe in management, then we don't feel that SecureWorks is a viable short candidate because its valuation already reflects the management risk.
Here is a link to the model
Disclosure: I am/we are long SCWX.
I wrote this article myself, and it expresses my own opinions. I am not receiving compensation for it (other than from Seeking Alpha). I have no business relationship with any company whose stock is mentioned in this article.