Guggenheim Build America Bonds Managed Duration Trust. (NYSE:GBAB)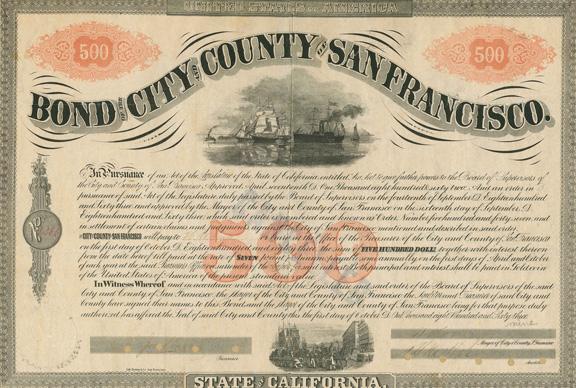 Why Buy a Leveraged bond fund?
With the advent of 3x ETNs and other incredibly risky leveraged investments, many retail investors have begun to see leverage as something to be avoided at all costs. But this is not always so, in many cases the responsible use of leverage can actually make your investment goals safer.
For example, If 7% monthly is your income goal, it may be a better idea to look at leveraged A/AA rated bond funds over junk bonds that yield the same. I think Guggenheim Build America CEF is a good example of how leverage can be used to juice the returns on a safe investment grade position.
As of 11/30/2015, GBAB has 17.25% structural leverage, and 23.44% effective leverage.
The Basics:
| | | | | | |
| --- | --- | --- | --- | --- | --- |
| Price | Yield | NAV | Premium | Expenses | Volume |
| 23.22 | 7.13 | 22.90 | 2.62% | 1.02% | 68,009.77 |
The fund is trading at a premium to NAV. Expenses are normal, liquidity should not be an issue because average volume is substantial.
The payout is 7.13% paid monthly. This is well above the average yield for investment grade bonds, and the monthly pay is an attractive plus.
Asset and Regional Allocation:
As expected, the Build America Fund is over 93% exposed to U.S. equities, but there is a minor exposure to Latin America via collateralized debt obligations in the Cayman Islands.
In the fund's 2013 N-Q, these investments totaled around $10,000,000, or two percent of total portfolio exposure. For the most part, these foreign securities rate BBB and higher, but some were not rated. In more recent financial statements, such as the 2015 filing, no mention of these debt obligations was found.
In the United States, a huge percentage of GBAB's investment is in California via what are called Qualified School Construction Bonds or (QSCBs). The "Build America" moniker for this fund was not just a catchy name; the investments it holds are literally called "Build America Bonds." These are taxable municipal bonds designed to reduce borrowing costs for local governments.
BABs are able to offer higher yields because they have a federal government subsidy. This makes the risk/return trade-off unusually good for investors who want exposure to this area. GBAB holds a hybrid of QSCB and BAB bonds to provide high yields with a low default risk.
Top Holdings and Sector Concentration (4/22/2015):
| | | | | |
| --- | --- | --- | --- | --- |
| West Va 7.65% | New Jersey 7.102% | Dallas TX 7.10 | California St 7.7% | Westchester N.Y. 8.572% |
| 2.78% | 2.69% | 2.53% | 2.35% | 2.35% |
Most of the top holdings are BABs but there were also many QSCBs including the Oakland California School District and the Philadelphia School District. There are a total of 282 holdings and the majority of them are in California.
The first thing to note here is that the average yield in this CEF is very high. According to Y-Charts, the average coupon is 6.85 percent. GBAB's leverage takes this number to 7.13 percent. I think this is pointless and the fund could have simply held a larger percentage of higher yielding bonds with the same ratings to achieve an equal number without the use of leverage.
In my opinion, a greater level of leverage could have been used to bring the yield even higher, and take advantage of the relative safety of these investments.
A combined 80% of this fund's holdings are rated AA and A, with around 15% being rated BBB and below. These are good ratings for such a high yielding fund.
Bond maturities are concentrated in the 10 to 30-year range:
| | | | | | |
| --- | --- | --- | --- | --- | --- |
| < 3 years | 3-5 | 5-7 | 7-10 | 10-15 | 15-30+ |
| 0% | 4.07% | 2.40% | 5.4% | 23.41% | 64.27% |
Price and Yield:
The price behavior of GBAB is also good. The CEF is positive in both price and total return. That being said, this is not phenomenal performance for a leveraged investment, but for a bond fund, any growth is a plus - this is primarily a fixed income investment.
Investors would have received around 72% in the 5 years since inception: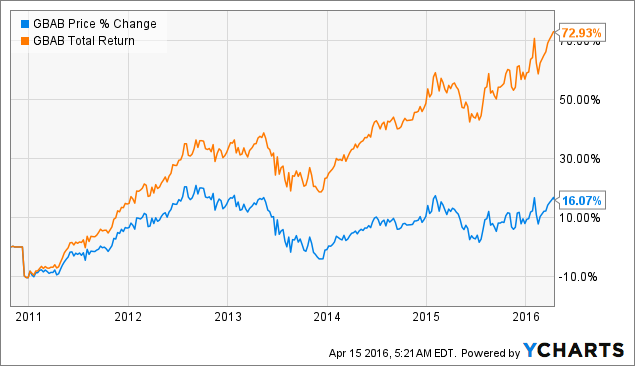 The payout is the best part of GBAB. Unlike most CEFs, the payment on this fund has actually been increasing since inception.
It's unclear why this occurs, but it seems to be the result of the fund shifting around its holdings and adjusting the leverage. Looking through the portfolio statements, I noticed a large difference between the holdings over the years, those differences have probably resulted in higher yields when underperforming bonds were called or sold.
GBAB increasing distribution 2011 to 2016.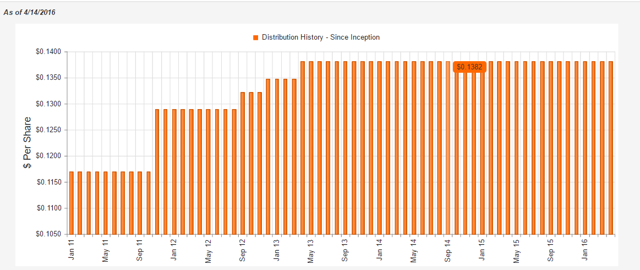 Click to enlarge
What I Like About GBAB.
First off, I like the concept of using a moderate amount of leverage to juice up the returns on a relatively safe investment. This fund is a good example how this strategy can work when used responsibly. I also like the fact that the payouts are growing; this is something that's extremely rare in a bond CEF.
The holdings are high grade and reliable. The yield is also good, and paid out monthly. Build America Bonds are a good way for investors (especially those who don't have to worry about capital gains tax) to get above average yields with the safety of municipal investments.
What I Don't Like About GBAB.
For those in the higher tax brackets, a fund like this one is not a good bet. Unlike regular municipal bonds, Build America Bonds are taxable. You may be able to get equal or higher yields from regular tax-free municipal bond funds such as the ones offered by Eaton Vance: (NYSEMKT:EIM), (NYSEMKT:EIA), (NYSEMKT:CEV) (NYSEMKT:MMV), (NYSEMKT:MIW). Many tax-free municipal bond funds offer yields in excess of 5% without leverage.
I think the 23.44% leverage on GBAB is decent, but not enough to really grab my attention. The fund's yield is only around 1 percentage point higher than the coupon payments in the portfolio itself. I think 50-60% leverage would have been more interesting here. But if I do decide to invest, I would probably use my broker's margin to hit my target.
Overall, GBAB is a good example that leveraged CEFs can be relatively safe and high yielding.
Disclosure: I/we have no positions in any stocks mentioned, and no plans to initiate any positions within the next 72 hours.
I wrote this article myself, and it expresses my own opinions. I am not receiving compensation for it (other than from Seeking Alpha). I have no business relationship with any company whose stock is mentioned in this article.