How the mighty have fallen. Coming into their earnings call, Alphabet (NASDAQ:GOOG) (NASDAQ:GOOGL) and Microsoft (NASDAQ: MSFT) were expected to light up the tech sector after IBM (NYSE: IBM) and Intel (NASDAQ:INTC) disappointed. But the two have clearly failed to live up to the high expectations and both stocks have been pummeled quite a bit. I have followed both companies for years and until recently considered them almost equally good fodder for long-term investors. I still think Alphabet is a good bet for investors with a three-year investment time frame, but I'm not so sure about Microsoft anymore.
Let's have a look at what went wrong at both companies that leads me to believe Alphabet is a better long-term bet at this point than Microsoft. I have emphasized ''at this point'' because my thoughts are subject to change and I will continue re-examining my investment thesis one quarter after another.
For starters, both stocks have performed quite well over the past 12 months though Alphabet stock has outperformed Microsoft stock by quite a wide margin with gains of 33.6% vs. 20.5%.
Alphabet vs. Microsoft 12-Month Share Returns

Source: CNN Money
But of course that's in the past now.
Google's Woes
I won't delve much into the details of each company's earnings report, but will only take a look at what's dogging both companies. In Google's case that happens to be 1.) Expanding losses by its speculative ''moonshot'' businesses and 2.) Ballooning TAC for Google's distribution partners.
Concerns about rising costs for Google's moonshot projects have dogged the stock for years until quite recently when investors started rewarding Google after the company's declining overall costs tempered those concerns. But those old ghosts have returned to haunt Google. During the last quarter, Google's Other Bets' operating expenses jumped from $733M a year ago to $968M, good for 32% Y/Y growth and almost double Google's top line growth of 17%. Other Bets now account for 6.6% of Google's operating expenses and gobble up close to 5% of the company's revenue despite bringing in just 0.8% to the top line.
To compound matters, only Google Nest, Fiber, and Verily have any revenues to speak off. In any case, the $166M the businesses brought in last quarter is actually much less than what many analysts speculated before Google took the wraps off these speculative projects. Prior to that, some analysts were heard crowing that a business like Fiber could pull in about $1B in revenues as early as 2017. Good luck if Fiber manages to bring in that much two or even three years from now.
Google has in the past been unwavering about its commitment to its moonshot projects and has been adamant that it will keep investing in them, cost concerns by investors be damned. But the latest report shows that the company's hardline stance on the matter is beginning to soften. Who knows maybe Google has finally learned that playing hardball with investors is a mug's game.
Google is reportedly putting up Boston Dynamics for sale, its robotics business that it acquired in 2013, after realizing the business was unlikely to bring in any significant revenues any time in the near future. Part of Google's decision was informed by concerns about the robots' humanoid traits and fears that the company was creating robots to take over human tasks. But much of the reason for the sale is financial. Former Google senior vice president and CEO Larry Page adviser Jonathan Rosenberg reportedly had this to say during one company meeting:
We as a startup of our size cannot spend 30-plus percent of our resources on things that take ten years," and that "there's some time frame that we need to be generating an amount of revenue that covers expenses and (that) needs to be a few years.
Google CFO Ruth Porat said during the earnings call that Google will rationalize its investments where it "had multiple teams developing different approaches to a similar technology.''
If Google was to seriously start evaluating its moonshot projects on account of financial viability, then most, is not all, moonshot projects, including Nest and Verily, would be given the boot. Nest is Google's most successful moonshot project in terms of revenues generated. When Google bought Nest in 2013, it committed to supporting the business with a $500M annual budget for three years, and in return, Nest promised that its key executives would remain onboard for that period.
Nest brought in $340M in 2015, or 76% of total revenue by Other Bets. The actual revenue by Nest is in all likelihood lower than that when you back out revenue by Dropcam, which was acquired shortly after the Nest merger. So Nest is likely still deeply in the red. The saving grace for Nest is that it has solid revenues to show and could be quite close to turning a profit.
Meanwhile, Verily never seems to be free of controversy for long and is currently being rocked by a mass exodus by its top executives. Needless to say, the division has little to show in terms of revenue not to speak of profits.
Google has more than a dozen moonshot projects in total. I don't see the company abandoning its pet projects such as self-driving cars or Google Fiber for that matter whether or not they become profitable in the near future. But some like Verily, Calico, and Project Wing could easily end up being axed if push came to shove.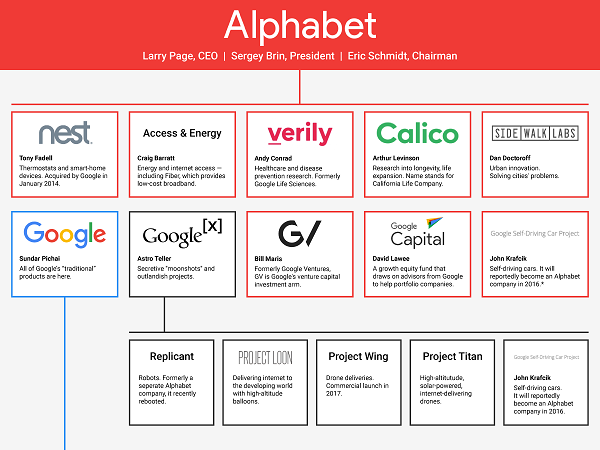 Source: Tech Insider
Now there is a glimmer of hope since Google is beginning to show a willingness to sell at least some of its cash-draining projects, and these are legion. Needless to say. the resulting cost savings would be very significant without an accompanying hit on the top line.
Now let's turn to Google's ballooning traffic acquisition costs. In all honesty, investor concerns about Google's swelling TAC really is much ado about nothing. Although total TAC increased 13.2% Y/Y (slower than top line growth), TAC as a percentage of Google ad revenue fell from 22% to 21%. Google is increasingly relying on its own sites than distribution sites to drive its top line. Google sites now contribute 79.5% to the top line up from 76.9% a year ago. Network sites account for 70% of overall TAC compared to just 8% by Google sites. In any case, paid clicks grew 29% Y/Y, much faster than TAC growth. As long as these trends hold, which they likely will, then growth in network TAC is unlikely to become a big problem for the company.
Google said that growth in TAC is being driven by an increasing shift to mobile and programmatic advertising. These are secular trends so not much is expected to change here. I'm not sure how programmatic advertising is increasing Google's TAC unless maybe the company is relying heavily on third-party platforms to serve up these automated ads. What I do know is that the shift to programmatic advertising from traditional display ads is taking a hit on all publishers due to the lower ad rates. Marketers though love them due to their better ROI and of course, the lower costs. Big publishers like Google and Facebook (NASDAQ:FB) though are generally holding up much better than smaller ones like Twitter (NYSE:TWTR) and LinkedIn (NYSE:LNKD).
Microsoft's woes
Microsoft's troubles are threefold:
Weak PC market that is taking a hit on Windows OEM sales.
Slow transition to the cloud.
Weak hardware segment.
The ongoing weakness in the PC market is old news by now. Analysts have been calling a bottom in the PC market in maybe late 2016 or in 2017. After a multi-year slump, Gartner sees the PC market returning to positive growth territory again in 2017: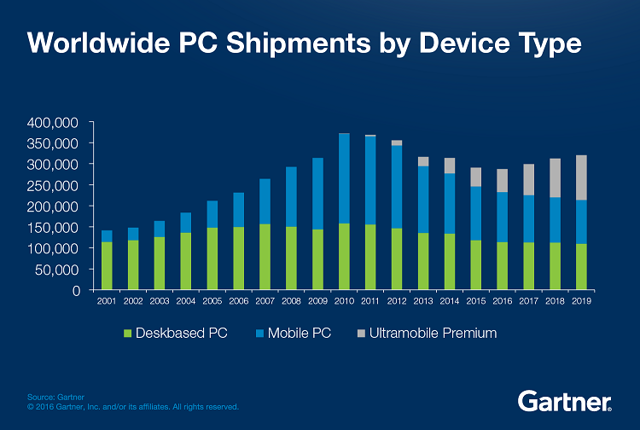 Click to enlarge
Source: Gartner
The PC market has been in a free-fall for six straight years and it's beginning to appear like the much-hyped turnaround might not be coming after all. The last quarter was pretty brutal so we can only hope that Gartner is right this time around
Microsoft's transition from a company that sells on-premise perpetual software licenses to a cloud subscription company is working, but progress is slow, maybe even painfully slow depending on how you cut it. Microsoft's cloud run-rate hit $10B from $9.4B the previous quarter (6.4 % Q/Q growth) despite a blistering 120% growth by Azure. Many investors think that this is something of an anomaly because cloud growth last quarter clocked in at 14.6% Q/Q. In dollar terms, Microsoft's cloud grew $600M during the last quarter. There have been quarters in the past when Q/Q cloud growth has been only $200M. So last quarter was not exceptionally bad.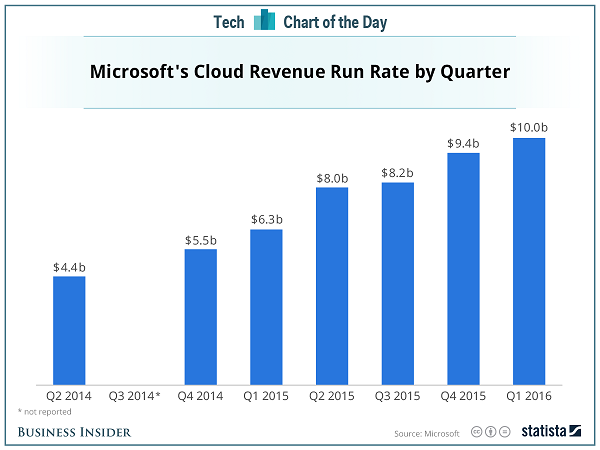 Source: Business Insider
Microsoft is a large and complex company with many moving parts. Adobe Systems (NASDAQ:ADBE) is perhaps the first traditional software company to complete the move to the cloud. The company managed to pull off the feat in about four years flat primarily because its product portfolio is much lighter than Microsoft's. Adobe now enjoys cloud-like valuations with a P/E ratio about three times what it was before the transition. Microsoft will be lucky to complete a cloud move in anything less than a decade from now. Current cloud run-rate works out to just 11% of Microsoft's revenue so there is still a long way to go.
Finally, I would like to take a look at Microsoft's hardware division, the company's largest revenue segment (43% of revenue). Save for Surface, Microsoft's hardware division is a big thorn in the company's flesh. Microsoft sold just 2.3M Lumia handsets during the last quarter, down 49% Q/Q and 73% Y/Y. Sales decline the previous quarter was from 10.5M units to 4.5M. So this is a death spiral.
Sales of non-Lumia handsets from the Nokia business were 4.5M, down 36% Y/Y so no respite here either. Windows phone revenue has shrunk to $662M so maybe it's now downsized to a point where it cannot affect Microsoft's growth too much and that's a good thing.
But declining console sales certainly can because this is a multibillion-dollar business. Microsoft managed to sell 10M Xbox One consoles the first year after its launch. Recent estimates by Electronic Arts (NASDAQ:EA) put lifetime sale of the console at ~20M units. This implies that it has taken about 18 month to move the next 10M, or 6.7M units a year (33% unit sales decline). In dollar terms, the decline exceeds 40% because Microsoft has been cutting prices. Maybe the console era is over? But then again maybe not. Twice as many Xbox One and PS4 consoles have been sold than their previous generation counterparts so maybe it's too early to conclusively say that era is gone.
Microsoft and Sony (NYSE:SNE) are rumored to be contemplating upgrades to their respective consoles, something people are calling half consoles and dubbed Xbox 1.5 and PS4.5. Gamers are used to receiving big leaps every 6-7 years so they are quite likely to revolt towards this move.
Meanwhile the Surface business is doing great especially after the introduction of Surface Pro 4 and Surface Book. But this is a $1 billion business, which is currently too small to move the needle for the company. Well Surface is neither a tablet nor a laptop so investors can only hope that it will take a life of its own and its growth trajectory will defy that by its cousins. In any case, skinny laptops have been doing well in general. But at a price point more than double that of an iPad, it's doubtful whether this device can really take off. Apple's Air and Pro are currently outselling Surface at an almost 3:1 ratio.
In fact, Microsoft might not be as interested in selling large volumes of Surface devices as much as it is interested in inspiring third-party manufacturers to make more attractive devices and in the process make Windows products more appealing to the consumer.
Conclusion
So where is Microsoft's respite going to come from? The only one I can think of at this point is if the PC market turns around as per projections by some analysts. But I don't think this is something that investors can really count on. What if the market bottoms out and then grows very anemically or worse still stays flat going forward?
In Google's case, it's all about cutting costs, something that is quite achievable and one the company has already started doing. Free cash flow jumped 37% last quarter to $5.2B after a 17% decrease in capex to $2.4B. So the company has already demonstrated that it's capable of trimming some fat under Ruth Porat.
And, interestingly, Google's top line is now almost as big as Microsoft's, yet its growth has been accelerating (revenue growth was 12% a year ago) while Microsoft's has been declining.
At this point, I am willing to bet that Alphabet's stock is a better bet over the next three years than Microsoft's stock.
Disclosure: I/we have no positions in any stocks mentioned, and no plans to initiate any positions within the next 72 hours.
I wrote this article myself, and it expresses my own opinions. I am not receiving compensation for it (other than from Seeking Alpha). I have no business relationship with any company whose stock is mentioned in this article.