Stamps.com (NASDAQ:STMP) has had an amazing run in the last 7 years, surging over 1,033.49%; however I am not as optimistic about the stock moving forward. To bring home the point, I will base my analysis on three area, Stamps.com's business model, its financials and price action for its stock price.
Stamps.com Business Model
Whilst STMP has been consistently growing its paying customer numbers in the last eight quarters, with growth rates between 2% to 15%, I cannot see it continuing its double-digit growth year on year. I base this assumption on the competitive landscape of postage and label management services. I believe that it's operating in a very competitive landscape with low defensibility. This is obvious with services like Etsy (NASDAQ:ETSY), eBay (NASDAQ:EBAY), PayPal (NASDAQ:PYPL) and Amazon (NASDAQ:AMZN) offering their own bespoke postage and label management services. There is no doubt that the world of e-commerce is growing at a phenomenal rate; however, I believe services like postage and label management are difficult to grow as a stand-alone service without either the scalable logistics fleet or additional diversified offerings.
As the postage market grows, it is likely that STMP will also see increasing competition from the following categories:
United States Postal Service: I believe USPS could easily offer the same services as STMP if not better.
Shopping Marketplaces (eBay, Etsy, Amazon, etc.): Most of them already offer postage and label management services and could easily offer them as stand-alone services.
Larger Logistics Players (FedEx (NYSE:FDX), United Parcel (NYSE:UPS)): With their network capability, they could easily scale into postage and label management services as TNT (OTCPK:TNTEY) (OTCPK:TNTEF) did in Europe.
Small Logistics Players or New Entrants: They could easily create a software application to compete with STMP's current software.
Looking back at STMP's 2013 metrics, it is clear that its paid customer numbers remained static at 485,000, showing lack of growth in an explosive industry.
According to the investor presentation of March 2016, STMP plans to grow from 633,000 customers to 14,000,00. Now, that is more than a twenty-fold jump and there is no mention of a time frame or how it is going to achieve this mammoth leap in customer growth.
STMP has been busy on the acquisition space, acquiring competitors like Endicia in November 2015, ShipStation in June 2014 and ShipWorks in August 2014. These acquisitions may offer some leverage to new enterprise and retail customers; however, I am not convinced that they will be the game changing moves for the business.
Stamps.com Financials
STMP had a great 2015 with $206.7M in revenue, which is a 46% jump from the previous year. That is a great top-line achievement, but I am not convinced that it will be able to replicate this easily for the next few years due to the above mentioned reasons.
In 2015, the company reported a loss of -$4.2M for the year attributed to costs associated with acquisitions.
Looking at the quarterly balance sheet, the company has $65M in cash and liabilities of $137.1M. It also carries a long-term debt of $162.6M, which I assume would apportion for the financing of acquisitions.
Stamps.com Price Action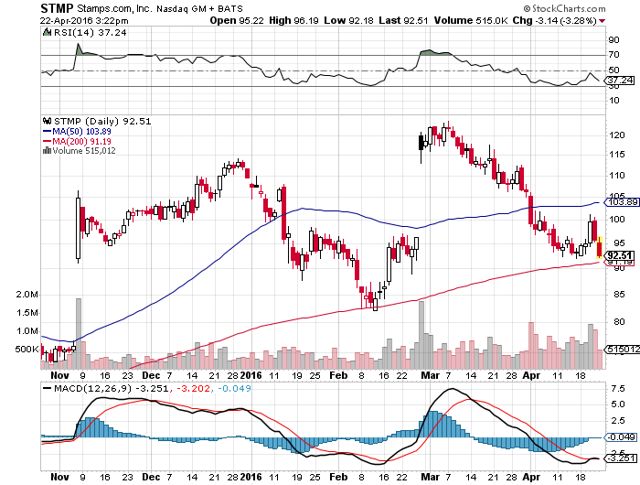 Click to enlarge
Looking at the price action of STMP, it is clear that the current valuation of stock, at more than 300 times forward earnings, is too expensive. Looking at the charts, it is also evident that the price momentum is quite bearish, with the 50-day MA easily above the stock price and the 200-day MA also looking to cross above the current price.
With all of the reasons mentioned above, I am quite bearish on the stock in the short to medium term. STMP is due to report on the 5th of May, and with the current declines in price, I would not be surprised to see temporary volatile moves. I am firmly on the bearish side with a price target of less than $80.
Disclosure: I am/we are short STMP.
I wrote this article myself, and it expresses my own opinions. I am not receiving compensation for it (other than from Seeking Alpha). I have no business relationship with any company whose stock is mentioned in this article.
Additional disclosure: I am long ABX, PAAS, CLF, FCX.