By Brandon Cole, Benjamin Szekeres, George Howell, Piotr Skrenczyński, and Matthew Jones
Introduction
Mike Ashley, who owns a 55.14% stake whilst also being deputy chairman, founded Sports Direct (OTC:SDIPF) in 1982. Today it has expanded to become the UK's leading sports retailer by revenue and operating profit and also the owner of a significant number of sport, fashion and lifestyle brands. Currently it operates 420 stores in UK and 270 stores across 19 European countries, with the plan to expand into all major EEA countries over the next 3 - 5 years. The firm operate through three business segments: Sports retail, Premium lifestyle and Brands. Through acquisitions including Warrnambool in October 2015 and Kensington Health Clubs Ltd December 2015, SPD has consolidated its position as market leader. Moreover, in October 2012, the company purchased the rival retailer JJB's brand name, website, stores and all of their stock in a deal worth approximately £24m.
A recent investigation in December 2015 suggested that many employees were effectively being paid under the minimum wage. The firm's practices such as fines for late or slow work and 15 minutes of unpaid searches at the end of each shift contribute to many staff being paid an effective hourly rate of about £6.50 against the statutory rate of £6.70. MPs have called for HMRC to investigate these claims, however none of them have been confirmed thus far. The retailer also announced a profit warning revising a £420-380m EBITDA target to £380m. The retailer also stated that this might be attributed to mild winter, which generated worse-than-expected sales. This negative publicity has caused the shares to plunge 50% from 736.5p on 1 st December to 370.9p on 1st of April.
(click to enlarge, Source)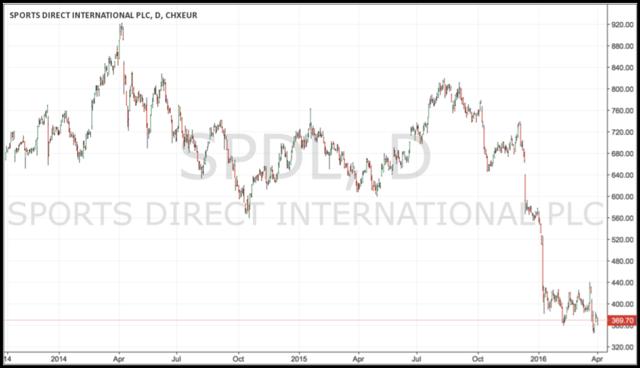 Click to enlarge
Sports Retail Market
SPD hold a dominant 22.5% of the sports and fitness UK market share, overtaking its rival JD Sports by more than ten percentage points. The company now operates in around 690 stores worldwide, 420 of which are in the UK.
The recent years have seen the demise of Allsports and JJB Sports, together with troubles at leisurewear specialist Blacks & Millets, however the retail sports market as a whole has been relatively successful having grown around 19% since 2008 and SPD have profited from this favourable environment. This can be attributed to the firm's simple policy of having a wide assortment of good quality products and selling at extremely low prices.
SPD took great advantage of JJB' collapse, increasing market share by 0.5 percentage points - more than any of its rivals. This was achieved thanks to the purchase of the JJB brand, as well as its website and 20 of its shops, providing greater market consolidation.
SPD continues to invest intensively in new store openings both inside and outside the UK. European destinations are now the main point of expansion, with SPD setting out its intentions to expand across a number of Western European markets. This has been driven by entry into Swiss market with opening of a store in Bern and further 8 stores across Europe, with an aim to expand the European store portfolio by 20-30 across 9 countries, with particularly aggressive expansion in Spain, during 2016. This was compounded through the acquisitions of Austrian brands Sports Eybl & Sports Experts and also the acquisition of Heatons (Irish retailer with 44 stores in the Republic of Ireland and 10 in NI) in Autumn 2015.
It is confident it can dominate retail competition through replication of the present business model. The store expansion into Europe looks likely with the appointment of Michael Murray as head of SPD's property team, who is tasked with finding new retail sites and gym units (although there is dispute over his relation to Mike Ashley, being in a relationship with his daughter). The success of this expansion, however, is uncertain considering the international presence of French giants such as Decathlon and Intersport.
SPD has been also expanding into the gym industry as it recently acquired a substantial portion of the former LA Fitness portfolio totalling 27 gyms (25 standalone, 2 combined with retail space) diversifying operations out of the retail market.
There is no doubt that SPD has put itself in a very strong position within the UK. This is a position it would like to replicate across several European markets. Looking forward the main challenge for the firm will be to ensure its UK success continues while forging ahead with overseas expansion. UK being a market hardly won demonstrates that dominating continental well-established foreign competitors will be even greater challenge.
Operational Activities
SPD have expanded their Shirebrook Distribution Centre by 700,000 sq. ft, which represents a 70% expansion of the facility. This is in line with the company's future growth targets in the UK market. The added space will provide extra warehouse capacity, offices, and staff training facilities going forward, increasing the overall efficiency of the distribution centre. This is expected to reduce lead times on orders and therefore putting SPD ahead of competitors. Furthermore, the distribution centre will provide a base to expand the new "click and collect" service that was introduced in 2015. It is expected that by 2017 non food click and collect share will reach 30% of the market, with the share in 2014 totalling just 11%. Hence, by introducing click and collect, SPD is taking advantage of a rapidly expanding market. Furthermore, SPD's online sales provide an increasing proportion of Sports Retail revenue which is its main revenue source. Therefore click and collect will have a markedly strong impact on the company's revenues as it leverages their main revenue generating unit. This is achieved through targeting new market segments and consumer types via the option to click and collect, potential efficiencies in marketing and sales due to the further digitalisation of such activities, and synergies gained from the added efficiency of the distribution centre.
SPD have also shown a willingness to take advantage of short-term favourable conditions, for example by making a move into the cycle market. Moreover, management understands that both stores and an online presence is required to drive future sales, allowing for a full range of products to be purchased online. SPD has also invested in store refurbishment, providing customers with a better shopping experience, whilst also achieving more efficient revenue generation. Two of the key changes have been the c.30,000 sq. ft. extension of Glasgow store and the opening of a c.50,000 sq. ft. store in Leeds, both replicating the successes of the Oxford Street store. New outlets are more spacious and designed to display products thematically, as well as by price architecture, providing a better customer experience.
Under Armour is the fastest growing sportswear brand in the world and SPD have responded to this by introducing large specialist UA areas within their main stores (Oxford Street, Glasgow, Leeds and Cardiff) and specialist staff training facilities at Shirebrook. If current growth rates of UA continue, the relation between UA and SPD may prove to be a strong revenue driver.
Value Drivers
SPD own 30 of the brands they stock, including major, well-known ones such as Slazenger, Lonsdale, or Everlast. This provides SPD with an element of certainty and control over their supply chain, eliminates supply contracts issues and middleman profits, and results in a more efficient operating structure. On top of this, SPD's extensive ownership of brands gives them a competitive advantage over pure retail firms, allowing for greater margins at the same to-customer price.
SPD significantly increased their share in British online retail firm - Findel to 29.8%, giving rise to speculation of a future takeover bid. SPD also recently bought strategic stakes in two US firms - 11.52% stake in Iconix Brand Group (who own sports brand Umbro) and 2.34% stake in Dick's Sporting Goods. It is hoped that commercial relationships will develop with suppliers and brands. Long term this may even result in possible future entry into the US market should relationships flourish.
UEFA EURO 2016 in France should boost sales; with all 4 home nations competing it is likely that replica kit and football sales will rise during and after the tournament. A similar boost in sporting goods sales is expected after the 2016 Rio Olympics, although the extent to which SPD can capitalise on this event may be limited due to Rio's geographical remoteness from SPD's primary market. Historically the London Olympics & UEFA EURO 2012 led to an approximate 1% increase in revenues on an annualised basis leading us to believe that Euro 2016 should increase revenues by about 1%.
This is to be augmented by increased media coverage of government initiatives to encourage healthier lifestyles of the UK population, particularly increasing participation in sport and exercise. New initiatives such as "Change4Life" are likely to bring extra sales in the future for SPD. The sales will not only come from increased sportswear sales but also gym memberships as SPD broke into the fitness industry in 2015 and now owns 27 gym units.
Value Inhibitors
From 2016 SPD will not be using MALF, a £250m loan facility available through owner Mike Ashley's MASH Holdings Ltd. Despite giving rise to savings of over £1m, heavy criticism of this has lead to SPD stating they will not draw upon this facility in the foreseeable future. Hence increased overall borrowing costs will result due to being subject to bank loan interest payments and commitment fees. This is a worry especially in times of considerable store portfolio expansion and is likely to have a detrimental effect on future cash flows.
Considerable exposure to currency risks are present with the majority of supplier contracts being denominated in USD. Consequently, goods' prices have risen due to the strengthening of the USD against the GBP. In February 2016 GBP fell to a low of $1.38, compared to $1.47 at the start of the year, which could be exacerbated in 2016 with more rate hikes and US becoming more of a safe haven amid China/EM volatility. This leads to an element of unpredictability in SPD's future costs. There are fears that the Brexit campaign will further expose the currency risk as the GBP continues to weaken. Nonetheless, SPD does hedge against currency fluctuations via forward foreign currency contracts, diminishing the significance of this inhibitor.
Increased transparency into worker conditions and rates of pay through media exposure has resulted in SPD announcing that from 1 st January 2016 workers will be paid above the minimum wage. Additional costs of this is expected to be circa £10m annually. Furthermore, increased exposure to legal and environmental standards in factories abroad, where the majority of SPD's brands are manufactured, will bring about compensation and monitoring costs.
The Mike Ashley Effect
Mike Ashley's perceived aggressive business approach and apparent PR ineptness does not sit well with many investors. His controversial character leaves investors with limited confidence, especially after announcing the underlying EBITDA target of £420m could be missed by as much as £40m. Nonetheless, as the founder of SPD he has an outstanding track record of managing the company, which, combined with his considerable experience in the industry, leaves us confident that SPD will continue to experience successful growth under his leadership.
Valuation
Three valuations were conducted on SPD in order to generate low medium and high price targets. We will outline the key assumptions made in the valuations, in order to demonstrate the conservatism in the modelling practice.
Low Price Target
(click to enlarge, Source - SOBIC Research)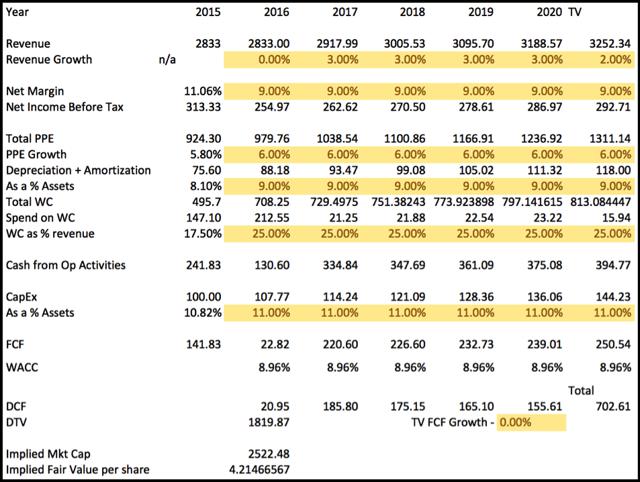 Click to enlarge
Across all valuations due to the present uncertainty we have assumed no revenue growth and a reduction in net margin from 11% (YE15) to 9% for (YE16). Furthermore WACC was calculated to ~7%, however in order to build a margin of safety into the model this has been inflated to ~9%.
Mid Price Target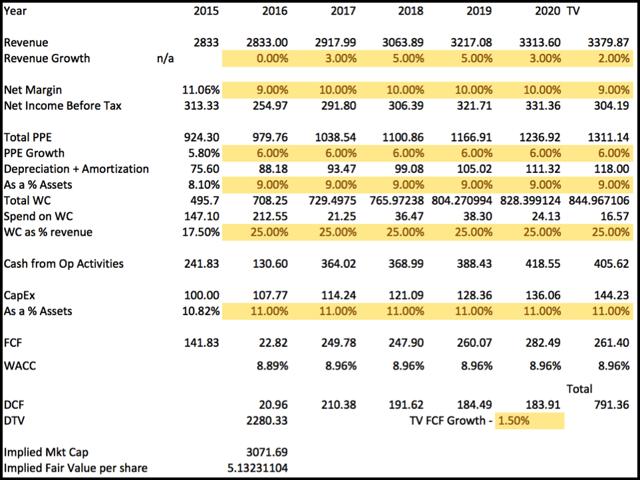 Click to enlarge
We have assumed that interest remains 5.5% across all debt and that gearing remains constant. We have also assumed that the marginal tax rate remains 23%.
High Price Target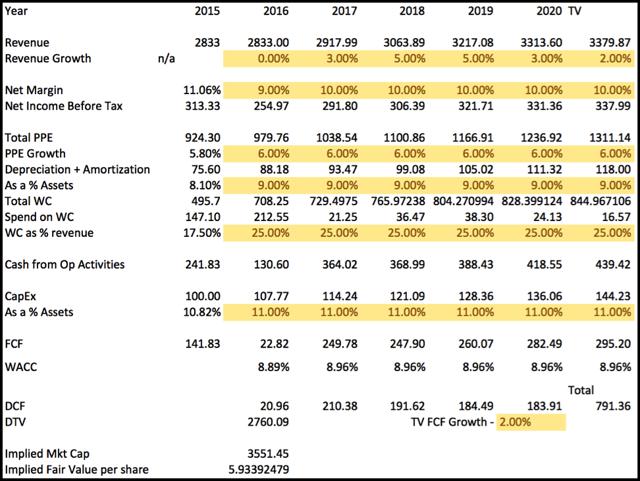 Click to enlarge
As shown by the valuation output SPD are trading at a considerable discount, analyst consensus represents a 28% discount and SOBIC's mid price target represents 36% discount.
Summary Output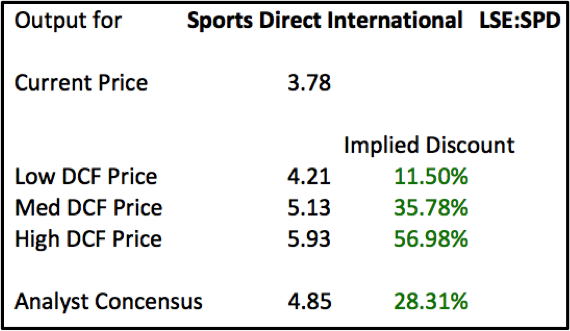 Conclusion
To conclude we believe that there is significant mispricing present within the current market. This has risen from a number of sources, primarily poor publicity and the recent reduction in EBITDA expectations. We believe that although present market conditions are not necessarily the most favourable, the longer term prospects remain intact. We believe that the conjunction between these scenarios provides a strong buying opportunity for the patient investor. Finally, although Mike Ashley's recent actions have had an adverse effect on the share price, we do not believe he undermines the fundamentals of the company, but rather amplifies the buying opportunity.
Recommendation - Strong Buy
Disclosure: I am/we are long SDIPF.
I wrote this article myself, and it expresses my own opinions. I am not receiving compensation for it (other than from Seeking Alpha). I have no business relationship with any company whose stock is mentioned in this article.
Editor's Note: This article discusses one or more securities that do not trade on a major U.S. exchange. Please be aware of the risks associated with these stocks.