Back in February, I suggested that partial profit taking on New Oriental (NYSE:EDU) is in order after seeing a solid gain from my earlier coverage on the stock. However, "partial" was the key word, since I thought that the long-term outlook remained favorable and that momentum could take the stock to $40 or higher. The latter happened and New Oriental is just below $40 as of this writing.
The company delivered a strong fiscal Q3 2016 report. Revenue growth accelerated once again and margins remained stable with potential for expansion in fiscal 2017 and beyond. I think that New Oriental is extended right now and that risk/reward is unfavorable for the longs. Historical valuation trends suggest that the upside is limited to 15% to 25% over the next 12 to 18 months while the downside risks are larger. I like the company and the business, but not the current price. Time to sell the core position too. Consider Baozun (NASDAQ:BZUN) or Bitauto (NYSE:BITA) for China exposure, much better risk/reward there.
Fiscal Q3 - another solid quarter
EDU reported fiscal Q3 earnings and revenues ahead of the analyst consensus. Revenue was up 20.6% Y/Y to $347 million, representing the fourth straight quarter of accelerating top line growth. In local currency, the Y/Y increase was 24%.

Click to enlarge
Source: New Oriental earnings reports
The non-GAAP operating margin expanded 110 basis points over the same quarter last year while the non-GAAP net margin was 50 basis points lower. Margin stabilization remains on track and we could see modest expansion going forward.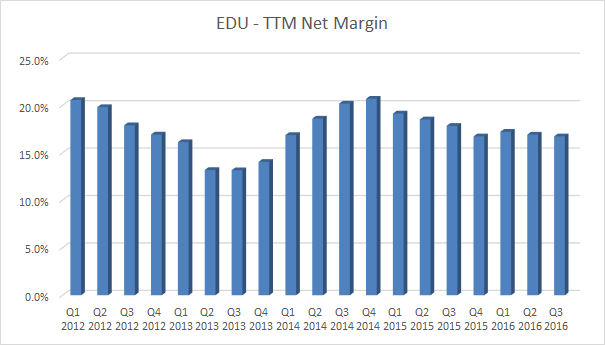 Source: New Oriental earnings reports
K-12 revenues and enrollment were up 35% and 31% Y/Y respectively, POP Kids revenues and enrollment were up 40% and 31% Y/Y respectively. ASP was down 1% Y/Y in U.S. dollars, but up 5% in RMBs.
O2O spending in the fiscal Q3 was $13 million, which was within the $50 million investment plan for fiscal 2016. This is where the leverage might kick in next fiscal year, since the company plans to cut spending going forward.
Koolearn revenues were up 24% Y/Y and online offerings should be even stronger going forward given the $50 million investment from Tencent (OTCPK:TCEHY) in February.
The company guided for a 15% to 19% increase in fiscal Q4 revenues, with the mid-point above the analyst consensus. Translated into local currency, fiscal Q4 revenues should rise between 20% and 24%, which points to underlying top line growth trends.
Historical valuation trends point to limited upside, time to sell?
Going forward, we should see continued enrollment growth, modest learning center expansion and Y/Y ASP growth of around 5% - all of which should lead to Y/Y revenue growth in the 10% to 20% range over the next few years. I also expect some margin expansion over the next few years due to lower O2O spending and modest operating leverage. This means that earnings growth should be a few percentage points above top line growth in the next two or three years.
However, I think that the current valuation is stretched and that the risk/reward ratio is not good enough to warrant holding the core position anymore. The non-GAAP P/E ratio is currently around 26, and given the historical valuation trends, I would expect it to reach 30 under the most bullish circumstances, which translates into 15% upside based on EDU's TTM EPS and up to 25% upside based on the fiscal 2017 consensus. The downside could be anywhere between 20% and 50% based on historical valuation trends. Given the strong execution in previous quarters, I doubt that P/E contraction could be so severe to warrant a 50% correction but if revenue growth decelerates in fiscal 2017 and/or if we see margin pressure again, this scenario could happen.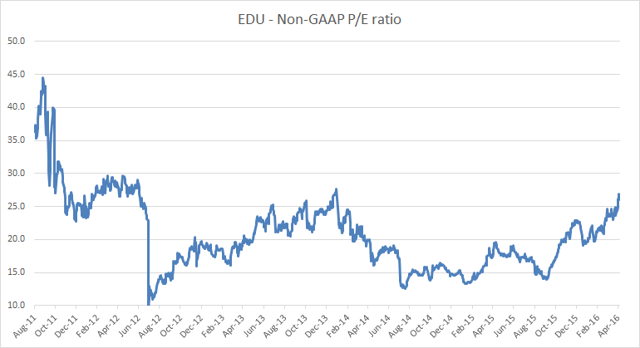 Click to enlarge
Source: New Oriental earnings reports, Yahoo! Finance
Given the unfavorable risk/reward ratio, I am downgrading EDU to sell. The stock is also trading above the analyst median PT of $38 which we are not seeing too often these days. Baozun and Bitauto are better China picks with favorable risk/reward ratios. Both stocks are part of both portfolios in the Growth Stock Forum.
Conclusion
EDU's valuation is stretched at this point and I am downgrading the stock to sell. The company's fundamentals remain strong, but I would wait for a deeper pullback to buy the position back. I think that Baozun and Bitauto are better China picks and that they have much better risk/reward ratios and upside potential.
Disclosure: I am/we are long BITA, BZUN.
I wrote this article myself, and it expresses my own opinions. I am not receiving compensation for it (other than from Seeking Alpha). I have no business relationship with any company whose stock is mentioned in this article.
Additional disclosure: This article reflects the author's personal opinion and should not be regarded as a buy or sell recommendation or investment advice in any way.