The Offer
On February 10th, the shares of Norwegian mobile-browser firm Opera Software (OTC:OPESF) (OTCPK:OPESY) popped when a Chinese consortium launched a tender offer for all Opera shares. The all-cash tender is 71 NOK (Norwegian kronor) per Opera share, and the consortium recently extended the acceptance period to a final date of May 24th.
My summary of how the offer spread has developed up to this date: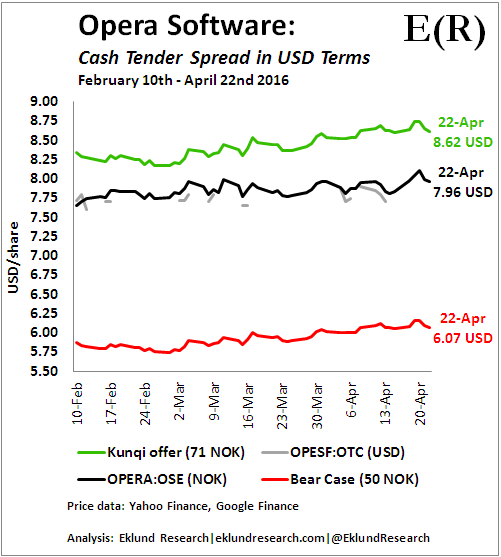 The first choice in executing this short-term trade is through the liquid home listing of share, in this case the (OSE:OPERA) Oslo-listing. But focusing on the U.S. and international investors, this article will also highlight the opportunity to buy Opera Software in USD on the U.S. markets using the OTC 1:1-listing under ticker OPESF instead.
(It should be noted that Opera has an official 1:2 U.S. ADR programme under ticker OPESY, but its recent trading volume seems prohibitive to executing this particular trade).
Now before venturing any further, I am not a tech analyst, and I will be the first to admit that assessing the longer-term business prospects of non-diversified tech growth companies such as Opera falls clearly outside my circle of competence. Thus, my analysis of the Opera situation will focus on the current tender facts (the potential for cold hard cash).
The Target
My (very) basic understanding of what Opera Software does is limited to that it is in the business of providing web-browsing software, primarily for mobile devices, but for desktop as well. Opera claims to have more than 350 million Internet consumers as end-users and more than 120 operators among its customers.
According to its webpage, Opera is also in the mobile advertising business, stating that its platform "Opera Mediaworks" is the largest such ad platform in the world. The merits of this claim I will not put into question. In addition, Opera offers various cloud solutions for operators in areas such as mobile app distribution, mobile stores, etc.
Below is a short summary of Opera Software's financial performance in the last three years leading up to the takeover offer: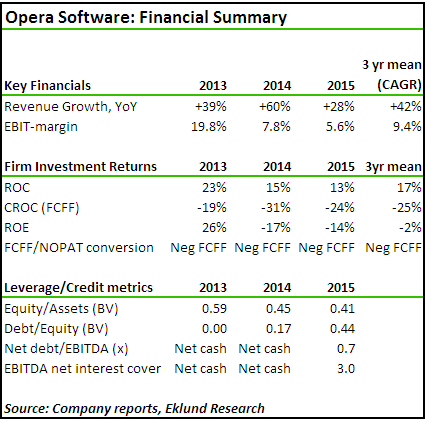 As can be noticed, Opera clearly is in high-growth mode revenue-wise. However, substantial acquisitions are boosting the growth, as reflected in Opera turning its positive operating cash flows into negative free cash-flow (FCFF). The resulting depreciation and amortization charges from all the M&A are putting pressure on the firm's operating margins (EBIT) and on its return on capital.
The current return on capital would meet return requirements for most sources of capital, but I am in no position to judge whether Opera's competitive position provides a wide enough moat to protect its investment returns longer term.
The acquisition growth is also starting to weaken Opera's financial position a bit, as evidenced by its credit metrics. No clear alarm bells on the debt levels noticed here, but the trend itself could perhaps be a source of worry.
Now, let's return to the offer.
The Suitors
Opera's board of directors made it public that it was "to review strategic alternatives" on August 7th last summer. Norwegian investment bank ABG Sundal Collier (OTC:ABGSF) plus Morgan Stanley (NYSE:MS) were announced to act as Opera's advisors.
Skip forward half a year, an offer for all Opera shares is made by Golden Brick Silk Road Fund Management (Shenzen) acting as a general partner of Kunqi. Kunqi is a consortium entity also backed by limited partners Kunlun (Beijing Kunlun Tech) and U.S.-listed Qihoo 360 Software (Beijing) (NYSE:QIHU), two Chinese technology firms, plus the additional investment firm limited partner Yonglian (Yinchuan) Investment.
Kunqi and Opera communicated that the strategic rationale for the deal was for Opera to gain access to Kunlun's and Qihoo's Internet user base in China as well as financing and other support from the Kunqi consortium. At the same time, Kunlun and Qihoo expect to be able to cross-sell products and services to Opera's user base, and benefit from Opera's mobile ad platform.
No Financing or Due Diligence Conditions Apply
A very important point is that Kunqi's offer was "not subject to any financing or due diligence conditions." According to Kunqi, the offer will be financed by a combination of equity and debt.
Kunqi has also agreed to pay Opera a 40 million USD break fee were the consortium to walk away from the planned deal. As is customary, a number of conditions (and exceptions) applies to the actual payment of such fee.
Regulatory Hurdles: The U.S. (and China)
Perhaps the most important remaining issue was mentioned in a release on May 5th stating that, according to Kunqi, there are no more governmental or regulatory approvals or filings needed other than on the Chinese and U.S. side.
Firstly, the deal needs Chinese approval in the form of "PRC Governmental Filings and Registration for Outbound Investment." Here Kunqi states that it has been working closely with the relevant Chinese regulators and continues to "have full confidence in completing the required Chinese regulatory process in a timely manner."
Myself I cannot see why the Chinese side would want to block their own tech firms from improving their global presence, so I consider this a non-issue for the moment.
Secondly, and more important, the deal requires a CFIUS review in the U.S.
As for CFIUS filings, I am no expert in the United States' eagerness and success in trying to block the Chinese M&A tech deals that are between mainly foreign parties. But I do at least notice the current (warranted?) negativity in U.S. business media when it comes to Chinese cross-border M&A expansion. In articles such as this one by Bloomberg on tech deals with CFIUS problem potential, Opera Software was actually mentioned, although just briefly as part of a deal list.
According to Kunqi, both the consortium and Opera are "providing necessary information" to the CFIUS review. The consortium is represented before CFIUS by attorneys Covington & Burling and Opera has engaged Weil, Gotshal & Manges.
Kunqi states that it "continues to have full confidence that CFIUS approval also will be obtained in a timely manner" and that it continues to expect all necessary governmental and regulatory approvals to be in place "by the end of June 2016."
Opera's Current Owners
As per the April 14th final extension announcement, Kunqi had obtained acceptance for the offer from shareholders representing 72.19 percent of the shares in Opera.
The minimum acceptance threshold condition of the offer is that Kunqi wants more than 90 percent of the shares, the threshold where it is in accordance with the Norwegian law can force a compulsory acquisition of remaining minority shares and apply to delist Opera's shares.
In the first announcement of the offer, it was stated that "larger shareholders representing approximately 33 percent of the shares" had pre-approved tendering their shares to Kunqi. Opera's management and board, who are not major shareholders other than through option incentives, also pre-approved to sell their shares.
Opera's last update of its top 20 shareholders was made April 18th: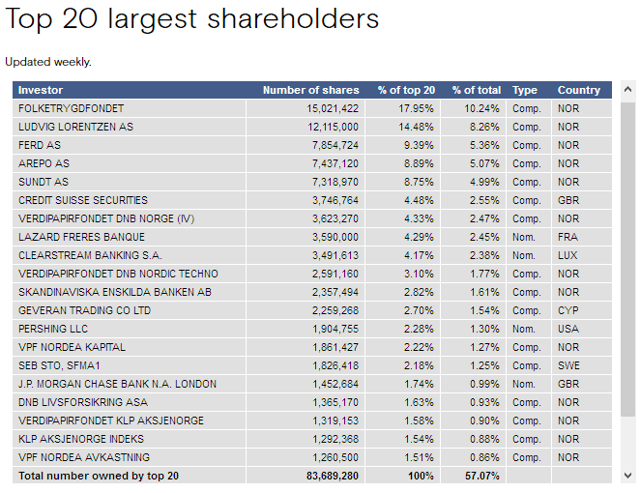 Comparing this update to information from the Norwegian news agency TDN, the full 10.24 percent ownership of Opera's largest shareholder (per this update) Folketrygdfondet is among the pre-approved 33 percent, as is the 5.36 percent of current third largest owner Ferd.
In addition, TDN has confirmed that Opera's fourth and fifth largest owners, Arepo and Sundt, have already tendered most of their shares by reducing their 5.07 and 4.99 percent reported ownership stakes to 1.0 and 0.9 percent respectively.
A remaining uncertainty here is the current second largest shareholder Ludvig Lorentzen, who controls 8.26 percent of Opera's shares through companies. According to TDN, Lorentzen's representatives have repeatedly refused to comment their position on the offer. Given the 10 percent needed to potentially stall the deal, this creates material uncertainty since we cannot know whether Lorentzen is just passively keeping options open or if there is a plan to actively block the current offer.
As for the rest of Opera's ownership, it is not concentrated with 23.2 percent of the shares in the hands of the 6th to 20th owners in the top 20 and with 42.9 percent among the rest of the shareholders.
Bull Case: Deal Closes
My bull case for this situation is that the 71 NOK per share cash tender deal closes at the end of the extended acceptance period on May 24th. According to a Swedish broker of mine (Nordnet), the proceeds would in that case be paid out around June 7th, which I use as an estimated payout date. The cash consideration currently corresponds to 8.62 USD per OPESF share.
There is always some potential upside optionality in increases to the current offer and/or potential competing suitors announcing competing offers. However, taking a conservative perspective, I will not consider such upside potential in my assessment of this play. It could be viewed as an unlikely bonus.
Bear Case: Deal Falls Through
My bear case if the deal falls through is that the shares are to drop to a level corresponding to 50 NOK, currently around 6.07 USD per OPESF share, by May 25th, the day following the final acceptance date.
This share price level would mean a retracement to where the share price (in NOK) started the year, and it would also be roughly in line with the development for the Oslo Stock Exchange, so year-to-date.
Implicit Market Pricing
This summary is as simplified as this situation will get: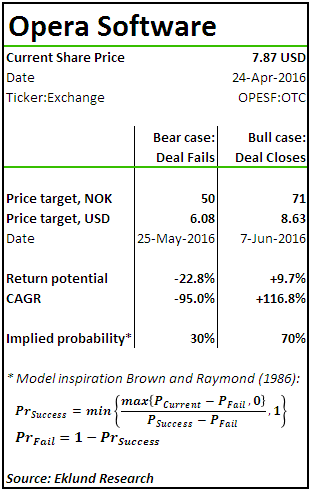 Here we make the simplifying assumption that this is a binary deal-succeeds-deal-fails type of situation. Based on this assumption and the bull or bear cases suggested the current share price of Opera indicates a 70 percent probability of the deal closing successfully (and a 30 percent probability of it failing).
In the bull case, there is a +9.7 percent absolute return potential. This equates to over +115 percent annualized return potential if the assumption that a payout date in around one-and-a-half month is correct (a successful but further delayed deal closing would lower the annualized return).
If the deal fails, an investor at the current share price stands to lose in excess of -20 percent in the even shorter-time one month frame of the bear case scenario. Thus, the downside is more than double the upside.
Valuation
Now, for some sort of reality check, let's see how the proposed Opera deal looks from a fundamental valuation perspective: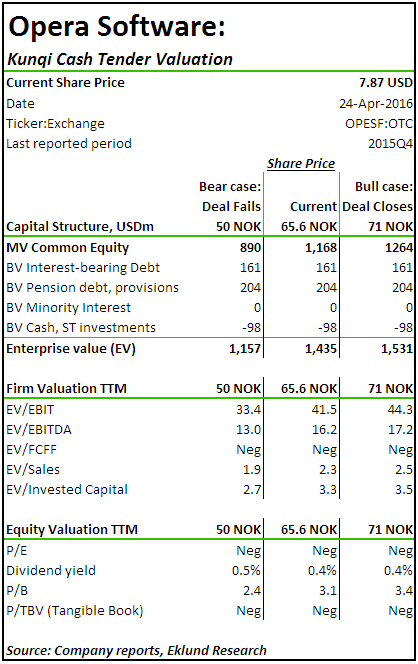 Starting with the bull case, the members of the Chinese Kunqi consortium are clearly very keen on getting their hands on Opera. Their offer corresponds to a 2.5 EV/Sales-multiple, 17x EBITDA and 44x(!) EBIT.
In addition to projecting continued profitable growth opportunities for Opera at least a few years, the consortium would have to envision some very substantial strategic synergies (in terms of low initial return requirements) in order to rationalize paying such growth multiples.
As for the bear case, Opera's shares will have extremely limited downside protection in terms of the stated book value of its assets, with a bear case P/B multiple of 2.4 and no tangible equity capital whatsoever left if ignoring all the goodwill and other intangibles filling up Opera's asset side (P/TBV). If Opera has generated valuable assets, those are not reflected in today's balance sheet. Neither does the very marginal dividend yield currently paid (despite Opera having highly negative free cash-flow) offer any protection.
Now this being a shorter-term trading situation, it should be analyzed as such. At the same time, the Opera shares' lofty market valuation indicates that caution should be exercised to stay invested in Opera's shares longer term.
Other Recent Developments
On March 15th, Opera informed that it is in discussions to divest its TV business. According to Opera's release, the Chinese consortium was informed of this process before announcing its tender offer and a potential divestment will be "completed on terms not impacting the voluntary offer."
On March 29th, Opera's board of directors published an "independent statement" by Swedish investment bank Carnegie stating that Kunqi's 71 NOK offer is fair from a financial point of view. From the point of view of a conservative value investor, I would agree with this, given the growth premium in Opera's current valuation.
On April 18th, it was made public that as of April 15th, Opera's CFO and Chief Strategy Officer Erik C. Harrell had resigned to "pursue professional opportunities outside the company." Harrell had been CFO since 2005. The CFO leaving so close to the deal I consider a negative development until a convincing explanation is provided.
Conclusion
Given the uncertainty and negative publicity surrounding Chinese M&A-attempts in Western public companies recently (e.g. Anbang's failed attempt in Starwood (HOT)), it is not surprising that such ongoing deal proposals are under extra scrutiny right now. The Chinese Kunqi consortium's bid for Norway's Opera Software clearly falls into this very category.
Ironically, despite being a friendly deal proposed between mainly non-U.S. parties, the major worry of the Opera situation seems to be the U.S. CFIUS review. Any positive news on this front would de-risk the situation materially (but most likely tighten the spread as well).
Based on the situation, the 70-plus percent shareholder acceptance rate already received by Kunqi is not a negative in my opinion. As long there is deal uncertainty, there will always be major and retail shareholders waiting until the very end to state their view on a public offer (if not deciding to sell their shares at current market prices). In addition, were some minority shareholder(s) with at least 10 percent in combined ownership to actively seek to block the deal at current terms (e.g. an opportunistic hedge fund), it is not that uncommon for 90 percent acceptance threshold conditions in Nordic deals to be waived by the acquirer, resulting in the target firm staying listed as an illiquid subsidiary of the acquirer for a while.
To sum things up, the return potential of Kunqi's current Opera offer is clearly very attractive and the market implied deal success probability of around 70 percent might be a bit on the low side. The short-term downside is considerable, but not that bad in relation to the fixed time frame upside.
Due to a lack of personal knowledge of U.S. CFIUS reviews, the author will stick to a small tracking position in the Opera share until being more convinced that this is not a likely deal-breaker.
What Do You Think? Please Feel Free to Discuss
If any tech-savvy SA contributors/readers have anything to add on Opera's business prospects, please feel free to do so in the SA Comments section or by posting your own take on the situation. The same goes for anyone familiar with the legal and political merits of the CFIUS review.
Disclosure: I am/we are long OPERA.
I wrote this article myself, and it expresses my own opinions. I am not receiving compensation for it (other than from Seeking Alpha). I have no business relationship with any company whose stock is mentioned in this article.
Additional disclosure: The author is currently long Opera Software shares through the Oslo Stock Exchange. The Opera position is currently a tracking position of non-material size, both in absolute terms and in relation to the author's portfolio. Eklund Research may increase or sell off its Opera position at any time.
Editor's Note: This article discusses one or more securities that do not trade on a major U.S. exchange. Please be aware of the risks associated with these stocks.