About a month ago, I published an article here on Seeking Alpha about Memorial Production Partners (NASDAQ:MEMP). In it, I showed cash flow projections for the enterprise and demonstrated that management is in a pretty good position right now but that it could be doing some things to increase the entity's probability of surviving in the long run. Now, after seeing oil and natural gas prices rise materially over the past month, and after seeing a positive news release associated with its revolving credit facility, I decided to dig back into the numbers and talk about whether or not Memorial is still a sensible long-term opportunity.
Cash flow looks strong... very strong
There's no denying that, as of the time of this writing, Memorial is very well hedged. Between now and the end of 2018, oil is hedged by as much as 95% of estimated output at prices exceeding $83 per barrel and natural gas is hedged no less than 79% at prices of no less than $4.06 per Mcf. It's only in 2019 that hedging really starts to hurt a bit, when oil is only 49% hedged. However, natural gas hedging stays at a respectable 72%. In the table below, you can see the current hedging picture of Memorial.

Click to enlarge
Using this data, combined with other data provided by management, I was able to create the following table below. In it, you can see what the financial picture for Memorial should look like each year between 2016 through 2019 at current oil prices of $44.11 per barrel and current natural gas prices of $2.079 per Mcf. These represent gains of 10.5% and 13.9%, respectively, since the last time I wrote about the enterprise in this capacity. It should be noted, however, that this all assumes that capex, production and cost structure all remain unchanged during this time frame.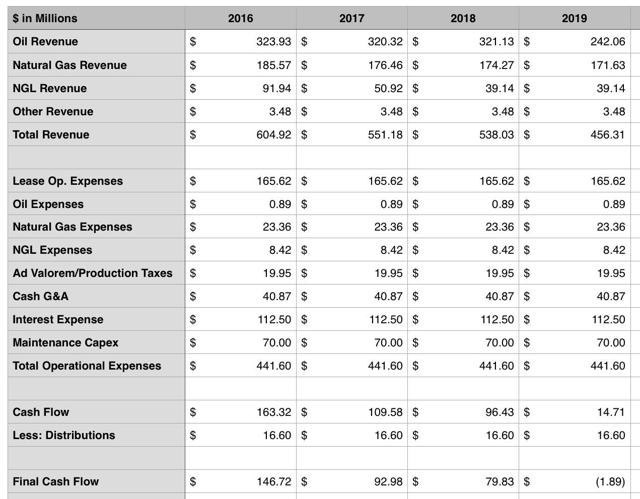 Click to enlarge
As you can see, things look quite good for Memorial at the moment. This year, without factoring in dividends, the business should generate cash flow of about $163.32 million. If you take out dividends, this number would be about $146.72 million. Next year, these numbers drop but still stand at $109.58 million and $92.98 million, respectively. Even in 2018, the impressive hedges on Memorial's books will result in cash flow of between $79.83 million (with dividends) and $96.43 million (no dividends). Only in 2019 do things look questionable. If nothing changes between now and then, cash flow will range between -$1.89 million and $14.71 million. Assuming management uses excess cash flow to pay down debt, it's possible (though not entirely possible) that Memorial could survive through 2019 in current conditions but that would be the absolute latest in my opinion.
Major changes are taking place
On April 14th, management made a big announcement related to its credit facility. During its semi-annual redetermination process, the business saw its borrowing capacity drop from almost $1.18 billion to $925 million. Seeing any drop in borrowing capacity is an issue in my opinion, but it would have been next to impossible to not have capacity decreased in the current environment. Fortunately, though, the company has been proactive in addressing its long-term debts.
At the end of last year, management claims that the company had $836 million outstanding under its credit facility. Today, however, that number is a more modest $792 million, which means the company has allocated $44 million toward paying those debts down. This gives the company borrowing capacity of about $133 million that it could tap if it wants to. While this won't do as much for the business as buying back senior notes from either an indebtness standpoint or from an interest expense standpoint, it will help the business's bottom line modest. Also, based on how close this number is to the quarterly cash flow that can be derived from my pro forma table, I'd imagine that the rest of this year's cash flow will be allocated toward the credit facilities, reducing borrowings by year-end to about $689.28 million. More likely than not, this will give Memorial plenty of room for another decrease in its borrowing capacity this Fall.

Click to enlarge
The credit facility redetermination has not come without a price, though. In the image above, you can see that Memorial had to make some agreements associated with its distributions. What this means is that, at the moment, distributions cannot exceed $4.15 million per quarter, which comes out to about $0.05 per share. This marks a sizable decline from the business's prior distribution payments but is a very small price to pay if management can reduce the operation's risk of failing down the road. Personally, I'd love to see the distribution cast aside entirely so that debt reduction can take place.
Takeaway
Right now, Mr. Market seems to be receiving this news from Memorial in a very positive way. I, for one, am very happy with what has taken place and I'm also very optimistic given cash flow projections. Any of this could, of course, change in the months to come but, as of this moment, I'm really liking my decision to buy into the company a couple of months ago and I may consider increasing that stake should we see another leg lower in energy prices.
Disclosure: I am/we are long MEMP.
I wrote this article myself, and it expresses my own opinions. I am not receiving compensation for it (other than from Seeking Alpha). I have no business relationship with any company whose stock is mentioned in this article.