I covered the quick and dirty discounts to book value previously and found it was a hit with investors because it allowed them to rapidly get a rough idea of which mREITs they might want to investigate further. If you haven't seen the original piece, it is worth a read simply for the cautions provided regarding the excessive reliance on discounts to a past value.
The mREITs
I put most of the mREITs, two corporations, and one ETF into the table because I wanted to get a more complete estimation.
| | | |
| --- | --- | --- |
| (NASDAQ:AGNC) | American Capital Agency Corp. | |
| (NYSE:AI) | Arlington Asset Investment Corporation | Not a REIT |
| (NYSE:AMTG) | Apollo Residential Mortgage | To Be Bought by ARI |
| (NYSE:ANH) | Anworth Mortgage Asset Corporation | |
| (NYSE:ARR) | ARMOUR Residential REIT | |
| (NYSE:BXMT) | Blackstone Mortgage Trust | |
| (NYSE:CHMI) | Cherry Hill Mortgage Investment | |
| (NYSE:CIM) | Chimera Investment Corporation | |
| (NYSE:CMO) | Capstead Mortgage Corporation | |
| (NYSE:CYS) | CYS Investments | |
| (NYSE:DX) | Dynex Capital | |
| (NYSE:EARN) | Ellington Residential Mortgage REIT | |
| (NYSE:JMI) | Javelin Mortgage Investment | To Be Bought by ARR |
| (NYSE:MFA) | MFA Financial | |
| (NASDAQ:MTGE) | American Capital Mortgage Investment | |
| (NYSE:NLY) | Annaly Capital Management | |
| (NYSE:NSM) | Nationstar Mortgage Holdings | Not a REIT |
| (NYSE:NRZ) | New Residential Investment Corp. | |
| (NASDAQ:NYMT) | New York Mortgage Trust | |
| (NYSE:ORC) | Orchid Island Capital | |
| (NYSE:RSO) | Resource Capital Corporation | |
| (NYSE:STWD) | Starwood Property Trust | |
| (NYSE:TWO) | Two Harbors Investment Corp. | |
| (NYSE:WMC) | Western Asset Mortgage Capital Corp. | |
| (NYSE:ZFC) | ZAIS Financial | To be "Bought" in a Merger |
| (NYSE:ARI) | Apollo Commercial Real Estate Finance, Inc. | |
| (NYSEARCA:REM) | iShares Mortgage Real Estate Capped ETF | |
The goal here is to have a fairly large sample size so we can identify trends and similarities throughout the sector. The mREIT sector only contains about 25 total organizations but the investing and hedging strategies have very material differences.
Big Table
The following table contains most of the information, though part of the table is built with calculations that are not demonstrated within the table: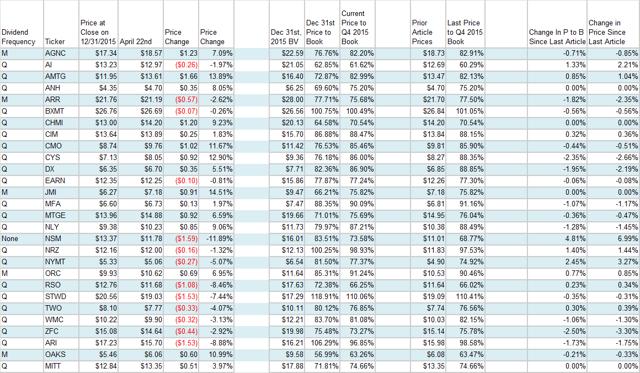 Click to enlarge
I added the light blue coloring simply to help readers scan the chart faster while keeping their eyes on the intended line. The green squares for two headings are included to emphasize that these are some useful metrics that can be analyzed with more certainty about their values.
Comparisons are made against the discounts for April 14th.
It is also worth emphasizing that I opted to use the GAAP book value for each mREIT. Most of the time this was available from the earnings release, but occasionally I had to pull up the 10-K documents and calculate it.
Things I See
When I talk about the changes so far this year, I'll be talking about share prices or price to book ratios. As a result, the dividend is not implicitly included in the numbers. The dividends are important enough to warrant their own discussion.
The biggest winner over the last week or so was Nationstar Mortgage Holdings. Since they aren't currently paying a dividend, it may be tougher for their share price to anchor towards book value. The proof of performance for an mREIT over time is their ability to pay out large dividends without cannibalizing the company.
After their recent gains, they are trading around 73.6% of Q4 2015 book value. This remains a fairly large discount, but there are several others trading at larger discounts.
New York Mortgage Trust is down 5% on the period. I was a pretty fierce bear on New York Mortgage Trust in early coverage when they were still trading at smaller discounts than peers. At the time, shares of NYMT had just closed trading at $6.68. I called for shorts and declared that I expected it to fall under $5.50 within 2015. It took just over a week for that to happen.
However, I also pulled out a bullish thesis on expecting them to outperform the industry when they fell under $4 after reporting terrible earnings. The piece was published after close on February 24th, 2016. Shares had closed the day at $4.06 after being as low as $3.89 in trading. I wrote the article during the trading day on February 24th and wrote the following:
"Near the end of trading on February 24th, 2016, shares were at $4.03. Based on that price, I expect NYMT to outperform the sector in share price over the next few weeks unless there is another huge sell off in junk bonds. The discount to end of Q4 book value would show up as 38.3%. In my opinion, the discount to unreported book value is likely smaller because I believe book value has declined further. There is only one attractive thing about NYMT right now and it is the size of the discount relative to peers."
Since shares closed at $5.06 for a gain of just over 25% relative to my writing price ($4.03) or just under 25% based on the closing price of $4.06, I believe that prediction of NYMT outperforming the sector was fairly accurate.
The fierce selloff for New York Mortgage Trust during the first quarter came on a huge earnings miss. Estimating their earnings in advance is horribly difficult since they aren't providing comparable earnings figures. I don't believe their dividend is sustainable at the current level, but earnings for Q1 of 2016 shouldn't be the kind of train wreck investors saw in Q4 of 2015.
Orchid Island Capital is showing a discount of about 9% to Q4 of 2015, but Orchid Island Capital's book value has already been updated. They lost a significant portion of book value and I'm concerned that the price to book ratio is too high relative to peers.
Arlington Asset Investment Corporation is trading at a huge discount and massive dividend yield, but the dividend isn't sustainable. An activist targeted AI for a proxy war. I've put some time into researching it, but don't have a conclusion yet. I don't feel even remotely comfortable endorsing the activist. The portfolio for AI doesn't seem too bad, but the history of weak total economic returns (based on private models) merits a much deeper analysis to determine the right path for AI.
I put about a full day into Resource Capital Corporation. I've got a piece coming out soon to provide some of the framework for the analysis. I think RSO's price can be especially volatile because of the combination of several segments and the fairly strange choice to present FFO and AFFO for an mREIT. Those are great values for an equity REIT, but the resulting figures for FFO and AFFO were not values that I would consider useful in evaluating an mREIT.
Active Orders
I have active orders on preferred shares for a few mREITs, and I may order more over the next week or next few weeks. Due to poor liquidity, I'm not calling out the specific tickers. I simply feel it is prudent to point out that I currently have orders on preferred shares for two of the mREITs and intend to add other preferred issues.
Disclosure: I/we have no positions in any stocks mentioned, but may initiate a long position in ANY OF THE PREFERRED SHARES over the next 72 hours.
I wrote this article myself, and it expresses my own opinions. I am not receiving compensation for it (other than from Seeking Alpha). I have no business relationship with any company whose stock is mentioned in this article.
Additional disclosure: Information in this article represents the opinion of the analyst. All statements are represented as opinions, rather than facts, and should not be construed as advice to buy or sell a security. This article is prepared solely for publication on Seeking Alpha and any reproduction of it on other sites is unauthorized. Ratings of "outperform" and "underperform" reflect the analyst's estimation of a divergence between the market value for a security and the price that would be appropriate given the potential for risks and returns relative to other securities. The analyst does not know your particular objectives for returns or constraints upon investing. All investors are encouraged to do their own research before making any investment decision. Information is regularly obtained from Yahoo Finance, Google Finance, and SEC Database. If Yahoo, Google, or the SEC database contained faulty or old information it could be incorporated into my analysis.