When Netflix (NASDAQ:NFLX) first burst on the scene with its streaming service in 2007, it was hailed as an innovative disrupter that was going to transform the media industry. And to a large degree it did just that. Now Netflix is transforming once again, but this time it's from a disrupter to just another media company.
It's no secret that we believe the threat of Netflix is overblown and we own several traditional media companies (Time Warner (NYSE:TWX), Twenty-First Century Fox (NASDAQ:FOX) (NASDAQ:FOXA), Scripps Networks Interactive (NYSE:SNI) and Viacom (NYSE:VIA) (NASDAQ:VIAB)) in our portfolios. So, I thought I would again share some of our research into why we believe Netflix is essentially becoming just another premium service like HBO, Starz, or Showtime. Sure, it will be an extremely successful premium service, but still more like a traditional media company than the innovative disrupter it once was.
The Cable Bundle Or Netflix
The crux of this thesis lies in Netflix's content strategy. Years ago Netflix gave users an alternative to a traditional television bundle. As of January 1st, 2014, Netflix had almost 6,500 movies and over 1,600 TV series available (data from AllFlicks.com). That is easily enough content for a person who isn't particularly interested in live sports to "cut the cord" and ditch their cable bundle. Netflix gave users a choice. Access a ton of on-demand content for $7.99 to $9.99 a month or pay $50 to $100+ per month or a different bundle of content (some on demand, some linear). It's easy to see why a lot of people made the switch. There is no way you can possibly watch all the titles Netflix has or all the shows on your cable bundle so why not just get the cheapest option. But over the years, Netflix started to change.
Netflix Is Morphing Into Just Another Premium Service
As the years went on, content costs become much more expensive. After realizing the threat Netflix posed, many content licensees started demanding higher rates and longer exclusivity windows. Additionally, competitors such as Amazon (NASDAQ:AMZN) Prime and the media industry funded and owned Hulu started bidding up content prices (Hulu recently outbid Netflix for Seinfeld and Empire). In FY2014, Netflix spent $3.7B on content. By FY2015, that number had jumped to $7.2B. Except that Netflix wasn't buying more content, it was actually buying less content.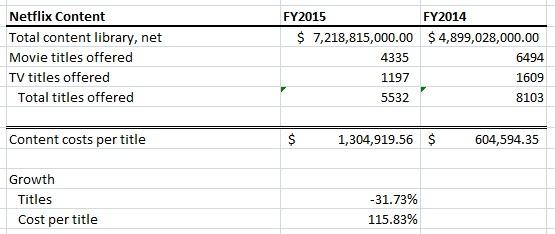 From FY2014 to FY2015, the number of titles in Netflix's library shrunk by 31% yet the cost per title more than doubled to $1.3M.
As Netflix's content library shrinks in size, it is going to become less of an alternative to the traditional cable bundle and more of an add-on service. By contrast, HBO has a content library of around 1,400+ titles for HBO Go. As Netflix continues to prune its library and approach the size of HBO's library, it's going to become more and more like HBO and other premium services. The process isn't going to happen overnight, but if it stays anywhere close to the 31% annual reduction rate, its library will shrink to the size of HBO's very soon.
Indeed, we are even seeing more similarities with Netflix's new focus on original content. Again, like HBO, Netflix has begun sourcing original exclusive content. At first, Netflix only purchased streaming rights for original shows with limited exclusivity windows. For example, House of Cards, a Netflix original, can now be found on other services. Now Netflix has changed to buying more expensive expanded rights just like HBO does rather than streaming only rights. Netflix is transitioning to a new business model similar to HBO; a smaller but more expensive library with a large amount of exclusive, original programming.
For investors in Netflix, the million dollar question is what happens to the premium multiple that Netflix's stock currently gets. Netflix has traded at well above market multiples based on its tremendous growth potential and status as an innovative disrupter. But what happens to that multiple once (and if) it becomes just another premium service?
For comparison purposes, the chart below shows the TTM P/E for all the major media companies (Comcast (NASDAQ:CMCSA) the cable-media hybrid was excluded) and for Netflix.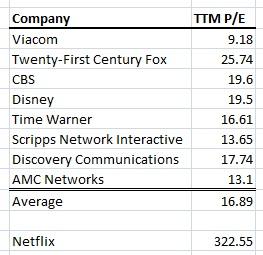 If Netflix is indeed becoming HBO, then investors should be very worried about the multiple attached to Netflix's earnings stream when that future arrives.
Disclosure: I am/we are long VIAB, FOXA, TWX, SNI.
I wrote this article myself, and it expresses my own opinions. I am not receiving compensation for it (other than from Seeking Alpha). I have no business relationship with any company whose stock is mentioned in this article.