In a previous article, I had a look at Boeing's (NYSE:BA) Q1 deliveries and concluded that the lower deliveries are more or less in line with Boeing's lower guidance for FY2016. In this article, I will have a look at what I expect from Boeing's Commercial Airplanes unit for 1Q 2016.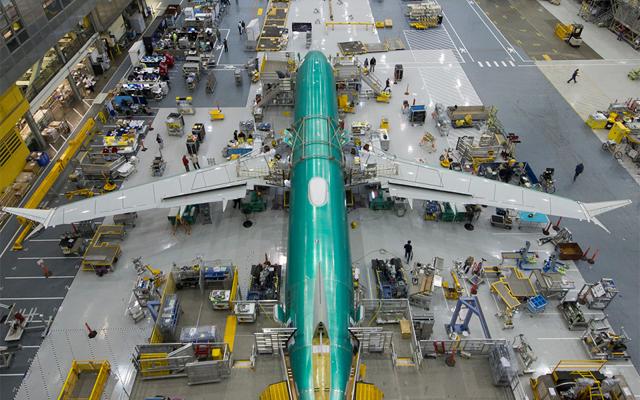 Click to enlarge
Deliveries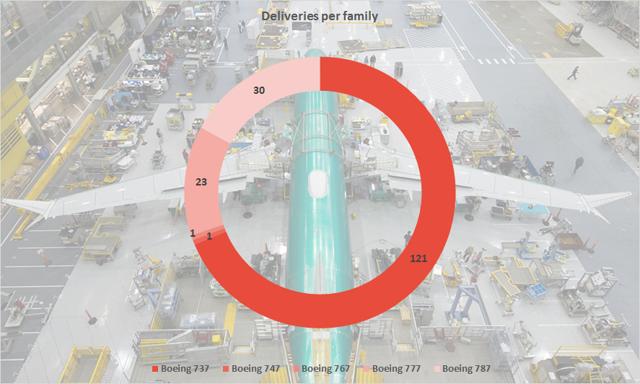 Click to enlarge
Figure 1: Division of Q1 2016 Boeing Commercial deliveries (Source: www.AeroAnalysis.net)
From Figure 1, it can be seen that the Boeing 737 accounts for almost 70% of the deliveries, followed by the Boeing 787 with 17% and the Boeing 777 with 13%. The Boeing 747 and 767 deliveries make up for only 2% of the deliveries.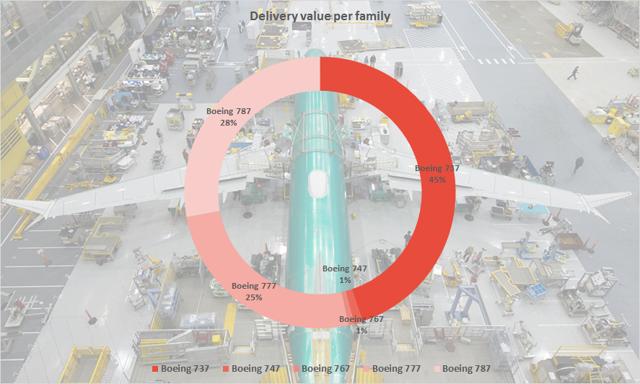 Click to enlarge
Figure 2: Estimate of Division of Q1 2016 Boeing Commercial revenues (Source: AeroAnalysis.net)
Using the data from Figure 1, the revenue of the Commercial Airplanes department can be estimated. Although this method has returned quite accurate revenue estimates in the past, it is important for investors to do their own research as well rather than going blindly with the numbers.
What can be seen is that the Boeing 737 still brings in most revenue, but this is primarily caused by the high delivery volume. The Boeing 787 and Boeing 777 bring in 28% and 25% of the revenue, respectively. For the moment, I do not expect the higher discounts for the Boeing 777-300ER to impact revenues.
Table 1: Breakdown Revenue estimate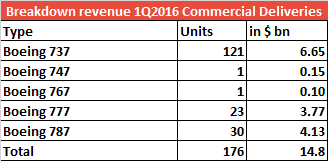 For Q1 2016, I expect Boeing revenues to be around $14.8B. Compared to the 2015 first-quarter revenue of $15.4B, this is a 3.7% drop in revenue.
Earnings from Commercial Activities
For the full year, Boeing expects margins of around 9% for its Commercial department. Applying this margin on the estimated revenue, the net earnings are expected to be around $1.33B. Year over year, this means an 18% decline. To provide a certain earnings range, earnings have also been calculated using a 10% operating margin, in which case the expected earnings are $1.48B.
I expect earnings to be in the $1.33B-$1.48B range, down 8%-18% year over year.
Conclusion
Boeing's commercial earnings are likely to see a strong year-over-year decline in Q1 2016, partly due to lower delivery volume but most of the drop will be caused by lower operating margins. This seems to be a trend that has been going on for a while now and is putting pressure on Boeing's performance.
Disclaimer: Although the model that has been used to estimate revenues has yielded accurate results in the past it is advisable for investors to do their own due diligence or collect data from various sources before making an investment decision.
Disclosure: I am/we are long BA.
I wrote this article myself, and it expresses my own opinions. I am not receiving compensation for it (other than from Seeking Alpha). I have no business relationship with any company whose stock is mentioned in this article.