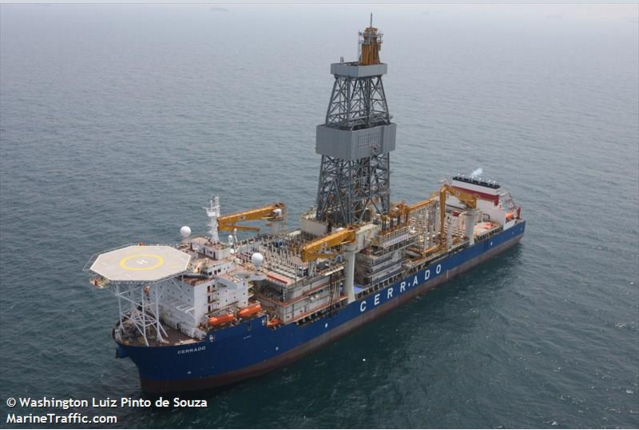 Those of us who watch the offshore drilling industry closely had a lot of news to digest in recent days. Another valuable piece of information is Ocean Rig's (NYSE: ORIG) purchase of a 6th generation ultra-deepwater drillship, Cerrado. The drillship was built in 2011 and will be renamed Ocean Rig Paros. The drillship cost $65 million, and the purchase was funded with cash through the previously established subsidiary.
Here's the first takeaway - Ocean Rig did not bluff when it stated that its subsidiary was for investments. This really is an investment - a purchase of a drillship when your own vessels are losing contracts.
The price is low, but it is low for a reason. The drillship without a contract is not worth much in the current market environment. I discussed the mechanics of a $210 million drillship sale in my recent articles on Seadrill (NYSE: SDRL) (see Part 1 and Part 2), but this purchase looks like a new low for the market.
In my view, the recent drillship sales should stop investors from pointing to book values anymore. Book values do not matter at all as the industry is in a survival mode. The strong upside in oil prices and the flow of money to commodity-related equities created an illusion that all problems are solved or will be solved soon, but market transactions tell a different story.
Despite the upside, forty-something oil is still too low for ultra-deepwater drilling and drillship sales reflect this fact. One could have argued that a $210 million sale of a drillship was an outlier, a credit event, a thing outside of the real market. Now, after Cerrado, such arguments are crushed. Having a state-of-the-art, modern UDW fleet is a problem, not an advantage unless oil shows sustainable upside from current levels.
Ocean Rig stated that Cerrado is similar to vessels that it owns that were built in Samsung, so it's an ideal case to look at the company's fleet and guess its value in the current market environment. No matter how you count, you won't be able to assign that much value to Ocean Rig's fleet to cover its bank debt. It is just impossible.
I'm not talking about bonds now - bond repurchases have been one of the cornerstones of the bullish thesis for quite a while. Even if the company repurchases all its debt at a discount, it will still have to deal with bank debt. Either the value of the rigs will rise, or Ocean Rig will face very serious problems.
Here's another thought on debt repurchases. A number of people watching Ocean Rig here on SA argued that the rest of the subsidiary's cash after the repurchase of the company's shares from DryShips (NYSE: DRYS) will go to debt repurchases. It does not look that way now. The investment subsidiary is really for investments, and with $65 million left, it could search for another drillship.
Is it really time to purchase UDW drillships when your own rigs are without work? One could argue that the darkest days are the time to make purchases to get best prices. The price is stellar, there's no doubt about it.
Those who believe in a fast recovery in oil and UDW market will state that this purchase adds to the upside - and it really does in the best-case scenario. However, I still don't understand why Ocean Rig needed to create a subsidiary to purchase its own shares and a drillship when the same things could have been perfectly done with the existing company. In my view, such actions are a red flag.
As it often happens with Ocean Rig, both bulls and bears have the right to interpret the news in their favorite way. The low price of a drillship and corresponding upside in case of a recovery of the UDW market will be the main bull arguments.
Throwing away $65 million of liquidity, which may soon become precious, on a drillship that will not work for, perhaps, a number of years or will cannibalize the contract of an existing idle rig - that's what the bear camp will point to.
I remain highly skeptical that the end of this story will be favorable for Ocean Rig. I think a company must have better financial health to engage in such speculation. I'd note that a number of bigger drillers have the resources to pay $65 million for the drillship, but none did this. Maybe they are just blind, or maybe they take into account both the situation with new contracts and the chronic rig oversupply.
Disclosure: I/we have no positions in any stocks mentioned, and no plans to initiate any positions within the next 72 hours.
I wrote this article myself, and it expresses my own opinions. I am not receiving compensation for it (other than from Seeking Alpha). I have no business relationship with any company whose stock is mentioned in this article.
Additional disclosure: I may trade any of the abovementioned stocks.