The moment I used my stock filter to show me companies paying a dividend yield between 2% and 3%, 3M Company (NYSE:MMM) has risen to the top of my buy list. After my previous analysis on Seeking Alpha (here), I decided to add this company to my dividend growth portfolio. When I wrote this first article, there were many investors saying MMM was overvalued. Since then, the company has proven that it has its place in my portfolio and it should be part of yours. The company is posting solid reports in a highly volatile market.
Why you should consider 3M in your Portfolio
I'll let you read my previous article if you want to know more about 3M's business divisions and I'll jump directly into what really matters: why 3M is a must-have for any dividend investor. The company's priority is to help its customers (both institutional and retail clients) to deliver their promises. By becoming the leader in R&D in many sectors and offering efficient products that work, 3M has created a unique economic moat that can't be matched by its competitors.
Throughout its long history, management teams have also focused on providing great value to shareholders. The company has an incredible dividend payment history with 57 consecutive years of dividend increases. But that's not the best part; 3M has been paying a dividend for the past 98 years and has recently put more emphasis on dividend growth and share repurchase programs.
Over the past 4 years, the company has implemented a serious reconfiguration of its business model. They have redefined their value and focused on their strengths. We are talking about their advanced technology, manufacturing efficiency, global capacity and very strong brand. This has enabled MMM to generate important profits without being capital intensive.
How 3M Fares with my 7 Investing Principles
We all have our methods for analyzing a company. Over the years of trading, I've been through several stock research methodologies from various sources. This is how I came up with my seven investing principles of dividend growth investing. Each principle looks at a specific aspect of dividend growth investing and has been proven by academic studies. In order to add or keep a company in my portfolio, it must satisfy the following principles:
Principle #1: High Dividend Yield Doesn't Equal High Returns
Many investors make the mistake of selecting high yielding stocks that will generate a solid source of income today. The problem is that while you focus on today's yield, you ignore the future. Consider MMM's yield compared to its dividend payment in the following graph: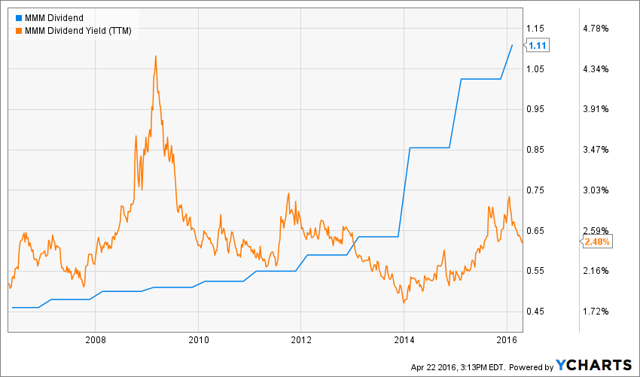 Click to enlarge
Source: Ycharts
As you can see, MMM will never be part of any high yielding stocks. Look at how steep the dividend increase has been over the past 3 years and how the dividend yield didn't move that much. This shows you the company's potential to pay you more year after year and provide you with capital growth on top of it. With 3M, you not only get a dividend payment, you also get capital growth for your portfolio. MMM meets my first principle.
Principle #2: Focus on Dividend Growth
MMM's ability of increasing its dividend has been proven a long time ago. It is obvious that MMM has been built on solid ground, enabling a continuous cash flow for its dividend payment. I consider dividend growth to be the most important metric of my strategy because it is the only metric telling me a complete story about the company.
A strong and steady dividend growth implies revenues and earnings headed in the same direction. If the business is not performing, it's impossible for management to keep increasing their dividend. It may work for a couple of years, but it will soon hit a wall. With 57 consecutive increases, 3M is being far from any wall. MMM meets my second principle.
Principle #3: Find Sustainable Dividend Growth Stocks
Unfortunately, looking at MMM's past dividend growth will not tell you how it will perform in the future. For this reason, I also consider how the payout ratios react along with the dividend payment: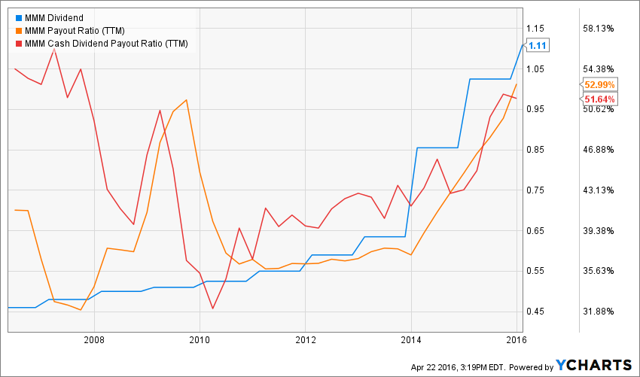 Click to enlarge
3M used to have a lower yield and a lower payout ratio. Since 2012, this strategy has been put aside and the company has become more generous with its shareholders. You can see such steep dividend increases will eventually cease as both the payout ratio and cash payout ratio have climbed from 30%, 35% to 50% in 2016. Still, the company could go back to a more reasonable dividend growth in the upcoming years and the payout will be easily sustainable. MMM meets my third investing principle.
Principle #4: The Business Model Ensures Future Growth
The company is more diversified than a balanced mutual fund. In fact, MMM presents all the characteristics of a strong business model:
50% of its business comes from consumable (and repetitive) purchases.
They serve both industrial and retail clients.
They are present across the world.
They own a solid brand name.
They are a leader in R&D, giving them an edge on all technology.
I could on and on with their business model but I think it's quite obvious 3M is a leader in its industry. MMM meets my fourth principle.
Principle #5: Buy When You Have Money in Hand - At The Right Valuation
When I did my first 3M analysis, my calculation led to a fair value of $170.26. About 7 months later, the company is trading around this level. Does this mean the company's valuation is completed? Not yet!
Since the company generously increased its dividend by 8% last February, I have to run my calculation again. I've kept the same assumptions as before: an 8% dividend growth rate for the first 10 years and a 6% dividend growth for the years after. Since the company is quite stable, I will keep my discount rate at 8%:
| | |
| --- | --- |
| Input Descriptions for 15-Cell Matrix | INPUTS |
| Enter Recent Annual Dividend Payment: | $4.44 |
| Enter Expected Dividend Growth Rate Years 1-10: | 8.00% |
| Enter Expected Terminal Dividend Growth Rate: | 6.00% |
| Enter Discount Rate: | 9.00% |
I get the following results:
Calculated Intrinsic Value OUTPUT 15-Cell Matrix

Discount Rate (Horizontal)

Margin of Safety

8.00%

9.00%

10.00%

20% Premium

$335.66

$222.34

$165.75

10% Premium

$307.69

$203.82

$151.94

Intrinsic Value

$279.72

$185.29

$138.13

10% Discount

$251.75

$166.76

$124.32

20% Discount

$223.78

$148.23

$110.50
Source: Dividend Monk Toolkit Excel Calculation Spreadsheet
The company's fair value now stands at $185.29. There is almost a 10% discount on the stock. Besides the discount, I think MMM is a great buy just for its dividend growth history and strong economic moat. MMM meets my fifth principle.
Principle #6: The Rationale Used to Buy is Also Used to Sell
When I purchased this company last year, my investment thesis was defined around 3 factors:
#1 The company combined efficiency and technology to create consumable products, which generate repetitive sales.
#2 3M continues to invest massively in R&D to always be a few years ahead of all competitors, leaving them a great competitive advantage.
#3 The company doesn't only grow internally, but spends roughly $2 billion for acquisitions per year to insure growth.
By reviewing the company's latest quarter, I can see these factors are still present at 3M. Therefore, I have no reason to sell the stock and all the reasons to keep it. MMM meets my sixth investing principle.
Principle #7: Think Core, Think Growth
My last investing principle has been designed to define where each company I own in my portfolio should belong. I divide my holdings into two separate segments. The first basket of companies include all long-term dividend growth ones. These companies are meant to be purchased and kept for several years, read forever. This is the core of my portfolio providing me the power of dividend growth. Then, I have a growth basket where I add a small number of companies showing higher growth potential. They are also showing higher risk.
Obviously, 3M doesn't fall into the growth basket. This company is good for any income seeking investor with a long-term horizon. MMM is a core holding company.
Final Thoughts on MMM: Buy, Hold or Sell?
Since the company continues to follow my investment thesis and its recent dividend raise pushed its intrinsic value to a higher level, I consider MMM as a buy. There is probably another 10% to make on this company over the next 12 months, if you consider both capital appreciation and dividend payments.
Disclaimer: I hold MMM in my DividendStocksRock portfolios.
Disclaimer: The opinions and the strategies of the author are not intended to ever be a recommendation to buy or sell a security. The strategy the author uses has worked for him and it is for you to decide if it could benefit your financial future. Please remember to do your own research and know your risk tolerance.
Disclosure: I am/we are long MMM.
I wrote this article myself, and it expresses my own opinions. I am not receiving compensation for it (other than from Seeking Alpha). I have no business relationship with any company whose stock is mentioned in this article.