General Electric (NYSE:GE) reported first-quarter 2016 results on Friday, beating estimates, but the company's shares were still down slightly. I'll look at the company's results and the outlook for dividend growth investors and those looking for capital appreciation.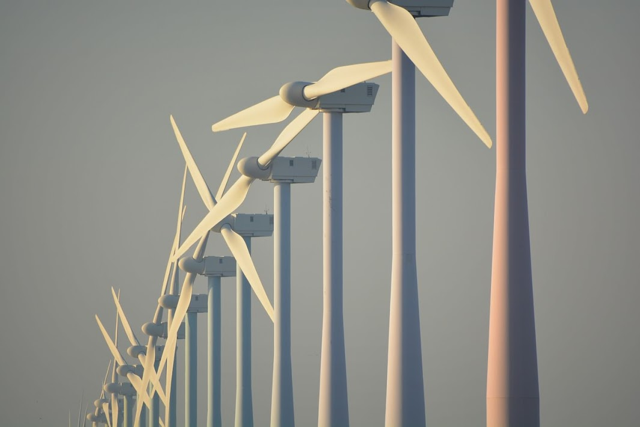 Click to enlarge
GE grossed revenues of $27.8 billion in the first quarter, an increase of 6.4% year on year. The Industrial segment delivered operating earnings of $3.3 billion, down 7% year on year. Adjusted earnings per share (operating earnings plus vertical earnings) came in at $0.21, ahead of estimates by $0.02.
Let's first look at GE's industrial business - it did do quite well in the first quarter, the division's operating earnings totaled $0.16, which equals a 14% increase year on year. The outlook for the industrial business is good as well, as some key markets in which GE is active are poised to show compelling growth rates over the coming years. The first one of these is the aviation market, in which GE is actively selling engines and other aircraft systems for commercial and military aircraft.
The commercial aircraft market is poised to grow, with global passenger numbers increasing rapidly: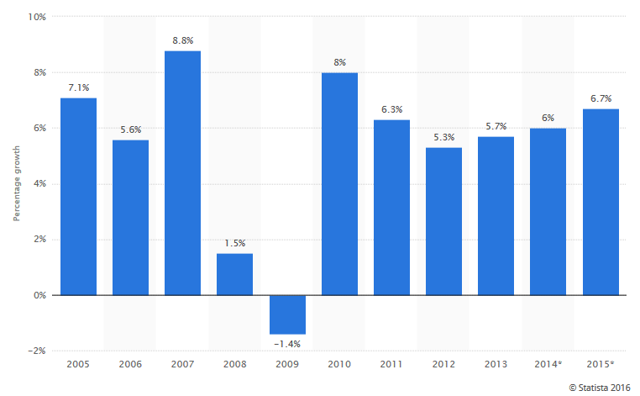 Click to enlarge
Over the last decade, global passenger numbers grew by roughly 80%, and as you can see in the above chart, the growth rates have been accelerating over the past five years. An increasing number of passengers mean that an increasing number of aircraft is needed to transport these passengers, which means demand for commercial aircraft will remain very high.
Additional growth from new markets such as Iran (which seeks to renew its commercial aircraft fleet after the end of the sanctions) and India, of which Boeing (NYSE:BA) has stated that the country would buy 1,700 new aircraft over the next 20 years, will mean that the demand for aircraft (and thus also for aircraft engines and systems) will likely be even higher in the future, which poises well for GE's engine division.
But not only commercial aircraft are a steadily growing market, military aircraft are experiencing growth as well: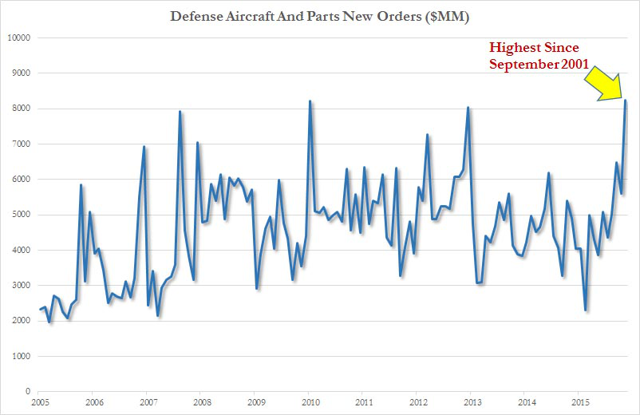 Click to enlarge
Recently, the number of orders for military aircraft and parts for these aircraft hit a 15-year high, which can be blamed on a rather unstable geopolitical situation, which makes governments increase their military spending. Huge demand for military aircraft means huge demand for aircraft engines, thus GE's aviation division will face growing demand not only from the commercial market, but also from the military market.
But the aviation market is not the only one where GE will be able to show strong growth, the renewables market looks very promising as well. This is not only showcased by the 90% order increase in the first quarter of 2016, but also by the great growth outlook for the segment. The EIA expects renewables to make up two-thirds of net additions to power capacity in 2020 (up from 45% of added power generation in 2014), which showcases that the growth in the power generation market has shifted mainly to renewables. The biggest source of renewable capacity as well as of generation increases is on shore wind power, which contributes more than 30% of renewable energy right now and which is seen as the biggest growth driver of renewable energy production in the future. GE is one of the biggest wind turbine producers (the fourth biggest in 2014) and thus will benefit from an increasing wind turbine market substantially.
But GE does not only profit from growth in the wind turbine market, the company is also the leading hydro supplier and will thus benefit from a growing market there as well: Hydro is expected to be the second biggest source of net additions to global renewable power capacity over the next years (at roughly 25% of the total, versus 30% of the total for wind power), and as the market leader, GE is poised to capitalize on that trend.
Lastly, GE will also benefit from growth in other areas, such as solar, but these are less important for GE than the two main growth areas wind and hydro, in which GE is positioned very nicely.
GE expects organic revenue growth to come in at 2%-4% for fiscal 2016. As we have seen oil prices increase substantially from the bottom in the $20s formed earlier this year, it seems likely that GE's Oil and Gas business could improve later in the year. Renewable energies and aviation are seen as growth contributors for the current year, GE expects substantial organic revenue growth from both (as explained above), as well as from its healthcare business.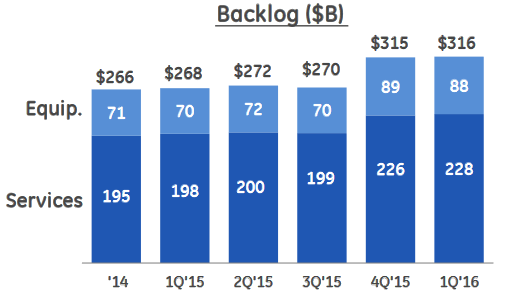 GE's backlog keeps growing as well, the company's total backlog grew by $1 billion sequentially and by $48 billion year on year - this very strong yoy growth rate of close to 20% makes GE's future revenues and cash flows more predictable (backlog is now roughly equal to three years' worth of revenues), and the growth in orders was broad based over all of GE's divisions:
GE's industrial segment did not provide a lot of cash in the first quarter, though; the majority of the company's cash flows came from the GE Capital dividend of $7.5 billion in the first quarter. With more than $7 billion in free cash flows, GE was able to return $8.0 billion to the company's owners; the majority of cash returns came in the form of share repurchases ($6.1 billion), whereas $2.2 billion were paid out in dividends. GE still had $9.3 billion in cash on its balance sheet at the end of the first quarter, slightly down from $10.4 billion in cash at the beginning of the year.
During the remainder of the year, GE Capital's dividends will be smaller (the company has guided for $18 billion for the year, which means $10.5 billion are left for the next three quarters, equal to $3.5 billion per quarter), but the cash flows from the company's industrial segment should be higher: The company has stated that operating cash flows from the industrial segment were impacted by working capital build (for shipments due in H2) during the first quarter, which means cash flows are lower in H1, but will be higher in H2, which should soften the impact of lower GE Capital dividends.
With GE Capital dividends expected at $10.5 billion for the remainder of the year and industrial cash flows likely picking up later in 2016, we can say that capital returns will very likely remain strong: The dividend is very well supported by cash flows and the cash balance GE has on its balance sheet - $6.6 billion in dividends expected for the remainder of the year mean that the dividend is covered by a factor of 1.5 by the GE Capital dividends alone. I expect GE to continue to repurchase shares at a steady pace with the remaining cash flows, which should lead to further share count reductions over the next quarters.
Over the last year, GE's share count has dropped 8% to 9.3 billion shares; it is unlikely that GE will be able to keep the buyback pace this high (as it would require about $23 billion in annual net stock repurchases), but even at half of the trailing twelve months' pace, GE will be able to reduce the share count meaningfully over the next years, which should provide earnings per share growth of 4% to 5% a year, excluding changes in the company's net income.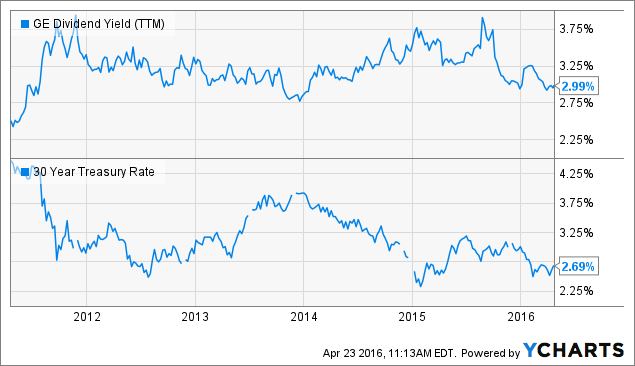 With its quarterly dividend of $0.23, GE provides a dividend yield of exactly 3.0% right now, which is about 40% higher than the broad market's dividend yield of 2.1% and about 10% higher than the 30-year treasury yield of 2.7%. Over the last five years, GE's dividend yield has grown from 2.5% to 3.0%, whereas the yield on 30-year treasuries has dropped from 4.5% to 2.7%, which, I believe shows the increasing attractiveness of GE's dividend - a couple of years ago investors who bought treasury notes would have received almost twice the income of those that bought GE's shares, right now those going for GE's shares are offered a higher income yield.
GE hasn't increased its dividend for a couple of quarters, but I believe the company will start increasing its dividend again in the near future, as the declining share count allows for higher dividends per share even if the company chose to keep the total dividend payout at the current ($8.8 billion a year) level. GE thus has substantial dividend growth potential, supported by strong cash flows, a declining share count and a rather low payout ratio (relative to cash flows, not earnings).
When we look at GE's valuation, we see that the company currently trades at 23.8 times trailing earnings (when we look at the company's trailing adjusted earnings per share of $1.30 and the current share price of $31). This valuation is relatively on par with the broad market's valuation of 24.2 times trailing earnings (representing a 2% discount versus the broad market). I believe when we look at the company's value this way, GE is neither overvalued nor especially attractive. We can, however, also look at the company's forward earnings multiple of 17.6 (with an analyst consensus seeing GE earning $1.76 per share in 2017), which reflects the strong expected EPS growth rate over the next seven quarters, and which shows that GE might be more attractive than the trailing earnings multiple suggests. With $1.76 in EPS in 2017, GE would offer an earnings yield of 5.7%, which would allow for attractive dividend growth, as the payout ratio would be just above 50% if GE would not increase its dividend in the near future. If GE chose to bring its dividend payout ratio to 65% in 2017, the company could pay out dividends of $1.14 per share a year, or $0.285 per share per quarter, which would mean a dividend yield of 3.7% for investors buying at today's price.
The company's forward earnings valuation is not high at all, and could allow for capital appreciation as well as substantial dividend growth over the next couple of years, I believe, which makes the company's shares attractive for dividend growth investors.
We can summarize that for key markets, such as aviation and renewables, the outlook is very strong, which results in growing orders today and which should allow for ample growth in the future as well. With its diversified portfolio, GE can capitalize on these trends and grow in these key markets easily. This future growth should help boost the company's top and bottom lines, and the cash derived from these activities should help the company towards increasing its dividend regularly again. In the near term, GE will also continue to receive a lot of cash from GE Capital, which means the company can repurchase shares at a fast pace in the coming quarters, which ultimately increases each share's portion of the future earnings.
Takeaway
GE is in the midst of a huge transformation right now, but the company seems to be doing well. Its industrial business keeps growing its backlog, even when we exclude the impact of the Alstom acquisition, and the strong growth of renewable energies, healthcare, power and aviation should helps offset declines in the oil and gas business.
The outlook for key markets aviation and energy/renewables is very compelling, and GE should be able to maintain its strong position in these areas, which will allow for future top and bottom line growth.
Cash generation and shareholder returns remain high, and investors can count on further substantial stock buybacks over the remainder of the current year. The dividend is well supported, could grow over the next years, and the dividend yield is attractive relative to the broader market as well as in comparison to the yield of treasuries.
I thus believe that GE still has potential for dividend growth and income focused investors, despite an 18% share price increase over the last year.
Disclosure: I/we have no positions in any stocks mentioned, and no plans to initiate any positions within the next 72 hours.
I wrote this article myself, and it expresses my own opinions. I am not receiving compensation for it (other than from Seeking Alpha). I have no business relationship with any company whose stock is mentioned in this article.