On April 22, 2016, Synchrony Financial (NYSE:SYF) reported Q1 2016 net earnings of $582m, or $0.70 per diluted share, on revenue of $3.21b. It is important to note that both of these figures beat analyst estimates. Additionally, when compared to Q1 2015, the current period EPS and revenue were up 6% and 12%, respectively.

Click to enlarge
(Source)
The stock price finished flat the day of the Q1 2016 earnings release, but, in my opinion, there was a lot to like about these results. Synchrony should still be considered a great long-term investment because the Q1 2016 results showed that this company still has great future growth prospects. I will highlight my top three takeaways from the Q1 2016 results in the following format: The Good, The Bad, and The Not So Bad.
The Good
To start, the company was able to again report better-than-expected earnings. However, the "good" that I want to highlight is the progress made in increasing the company's primary funding source - deposits.
Synchrony had another impressive quarter of deposit growth, as the company was able to increase deposits by ~$10b when compared to the same quarter in the prior year.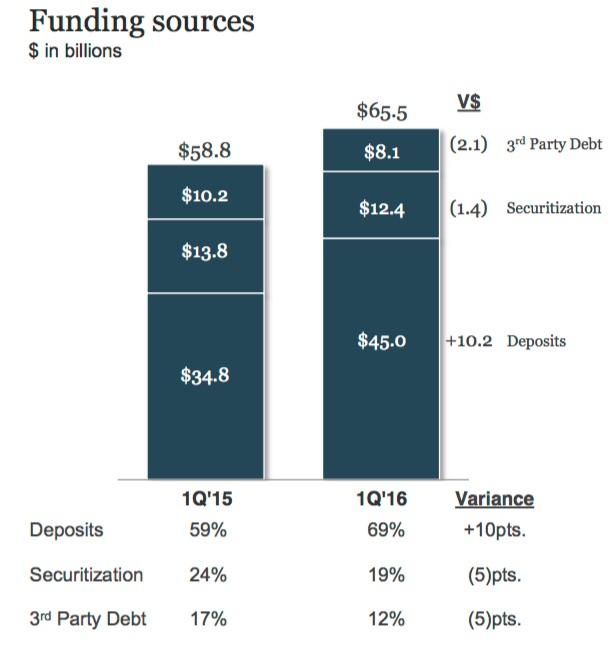 (Source: Q1 2016 Earnings Presentation)
Deposits now account for 69% of Synchrony's funding source, and this is an increase of 1,000 bps from the 59% reported at Q1 2015. The 69% is barely within management's previously communicated targeted range of deposits accounting for 60-70% of the company's funding sources, so Synchrony has been able to make significant improvements in short order. During the Q1 2016 conference call, management highlighted the fact that they now anticipate for deposits to account for more than the 70% that was previously communicated.
A growing deposit base is vital to management's long-term strategy of transforming Synchrony into a full-scale online bank, which is a plan that will put the company in a position to create a tremendous amount of shareholder value. Looking ahead, the company plans to introduce new products later in 2016 to further grow its deposit base, so investors should pay close attention to the Synchrony's funding sources throughout 2016 and 2017 to determine if the company continues to progress towards management's end goal.
The Bad
Synchrony's asset quality took a hit in the most recent quarter, especially when compared to the same period in the prior year. The company saw a YoY uptick in each of the following metrics: 30+ days past due, net charge-offs, 90+ days past due, and allowance for loan losses. The net charge-offs really sticks out as the company reported a 17% YoY increase ($780m at Q1 2016 from $668m at Q1 2015).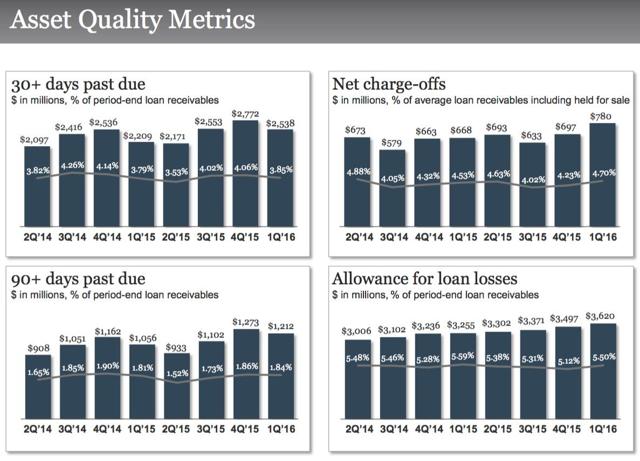 Click to enlarge
(Source: Q1 2016 Earnings Presentation)
The company has reported impressive growth in the loan receivables balance since going public in mid-2014, so the decline in credit quality should not come as a huge surprise. However, these metrics have been steadily increasing over the past few quarters, so it shows that management has been taking on more and more risk. Management was asked about the decline in credit quality during the conference call and stated the following:
So, I think it still feels like we are operating in a pretty stable environment when it comes to credit. We continue to think that losses will be stable for the balance of the year. We have been pretty clear that we don't expect them to get better from here. I think that's pretty consistent across the industry....If you look at the reserve coverage against last 12 months charge-offs, it was 1.29x versus 1.26x a year ago, so also very consistent. So, I think for the balance of the year, we continue to say our losses will be stable, an overall change to that 2-year kind of average that we gave in January.
Management highlighted the fact that the asset quality was consistent to the prior period, but long-term investors should closely monitor these metrics in the quarters ahead because further decline in credit quality could negatively impact Synchrony's bottom-line in a material way. I plan to closely monitor these metrics, so stay tuned for future articles on this topic.
The Not So Bad
Synchrony reported a 7% YoY increase in the Other expense category, and this category now accounts for 32% of net interest income, after retailer share arrangements (down from 34% at Q1 2015).

Click to enlarge
(Source: Q1 2016 Earnings Press Release)
Yes, the balance of this category is up when compared to the prior period, but the steady decline over the last three quarters, coupled with the lower percentage of other expenses to adjusted revenue, shows that the company is properly managing the expenses. The Other expense category includes employee costs, professional fees, marketing and other flexible costs. As such, this expense can vary a good amount on a quarterly basis, but based on the last eight quarters, the $800m reported at Q1 2016 is not a major concern.
Remember, Synchrony is a newly established standalone company, split from General Electric (NYSE:GE) in late 2015, so the expense base will likely be at elevated levels for at least the remainder of the current year.
Bottom Line
Synchrony's Q1 2016 results were nothing to write home about, but the overall takeaway is that management has a clear path to grow Synchrony's top and bottom line for the foreseeable future. Moreover, shareholders will be richly rewarded if management is able to transition Synchrony from being a large private label credit card ("PLCC") company without many traditional banking functions into a PLCC company that is also a full-scale online bank.
Not mentioned in this article is the upcoming catalyst of Synchrony being able to return capital to shareholders later in 2016 (see this article for further detail on this topic).
If you found this article to be informative and would like to hear more about this company or any other company that I analyze, please consider hitting the "Follow" button above.
Disclaimer: This article is not a recommendation to buy or sell any stock mentioned. These are only my personal opinions. Every investor must do his/her own due diligence before making any investment decision.
Disclosure: I am/we are long SYF, GE.
I wrote this article myself, and it expresses my own opinions. I am not receiving compensation for it (other than from Seeking Alpha). I have no business relationship with any company whose stock is mentioned in this article.