Shares of Pfizer (NYSE:PFE) have climbed about 6% higher since April 6, along with the S&P 500 Healthcare sector, up 4.9%, when the company announced the termination of the merger agreement with Allergan Plc (NYSE: AGN). The stock price may have had additional support from merger arbitrage hedge funds that stepped in and bought Pfizer, while shorting shares of Allergan. The decision to end the deal came a day after the U.S. Treasury unveiled more new rules to curb inversions.
This second failed merger attempt by Pfizer, following the attempt to takeover AstraZeneca (NYSE:AZN) in May 2015, dashed hopes that the company can soon put its revenues back on a strong growth path after its full-year reported revenues have tumbled 27% in 5 years, from $67.45 billion in 2011 to just $48.85 billion in 2015. With declining revenues and earnings growth, Pfizer has little choice but to return cash to shareholders through dividends, 3.62% in 2015, and share repurchases. Since 2011, Pfizer has reduced the number of outstanding common stock through buybacks by about 1.64 billion shares, or about 21%.
Now without an expansion of their product portfolio through the failed Allergan merger, Pfizer will have to heavily rely on the continued strong uptake of its pneumococcal vaccine Prevnar 13, rheumatoid arthritis drug Xeljanz, the blood thinning drug Eliquis, and breast cancer drug Ibrance, which gained FDA approval in February for an expanded use. The company is also banking on biosimilars, which could become a $20 billion a year business for Pfizer by 2020, according to the company statement.
Pfizer CEO Ian Read told investors that the company remained open to a new merger and will make a decision about whether to split up the company by the end of the year. It is easier said than done, as Pfizer needs to convince Wall Street that they have aggressive M&A strategies in place so that if a third merger attempt is made, it will be a go next time. There is also a concern whether Pfizer, as a standalone company, will be able to break up its innovative high growth business from its legacy established business, which consists of low-margin products facing generic competition.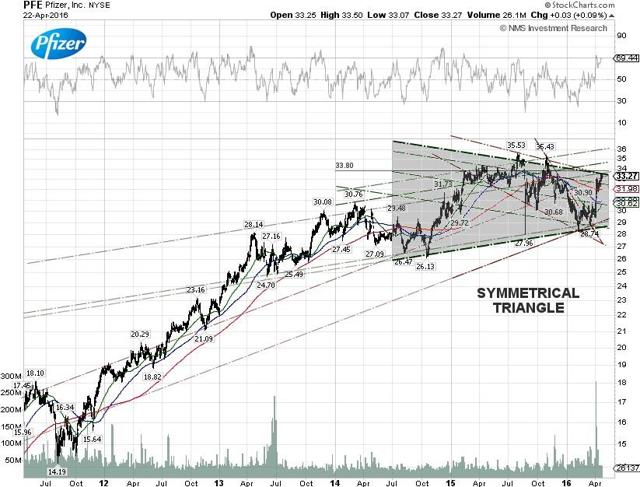 Click to enlarge
An M&A deal is critical to Pfizer for more than just the purposes of tax savings, as revenues of its blockbuster drugs are shrinking while their strategies for biosimilars are also in question. Shares of Pfizer have been underperforming the S&P 500 Healthcare sector during the last 5 years, and are now bumping into the upper resistance of the trendline of the symmetrical triangle chart pattern. A breakout could take the stock up to make a new high.
Pfizer's Blockbuster Drugs Are Under Siege
Pfizer's top-selling blockbuster drugs, meaning those with $1 billion or more in annual sales, generated revenues of $20.12 billion in 2015, accounting for 41.2% of their total reported revenues. Prevnar 13, a vaccine used to prevent infection caused by pneumococcal bacteria, showed robust growth in 2015 with revenues of $6.25 billion, up 39.9% year-on-year. The company warned in February, at their fourth-quarter 2015 earnings call, that the steep growth in its vaccine franchise is not sustainable and projected sales to be flat this year. Without Prevnar, revenues from their other top-selling drugs, including Lyrica, Enbrel, Lipitor, and Viagra, continue to decline as generic drug competitors are making inroads.
Lyrica (pregabalin), a drug for treatments of seizure disorders, shingles, fibromyalgia, hot flashes and pain caused by nerve damage in people with diabetes (diabetic neuropathy), generated reported sales of $4.84 billion in 2015, down 6.37% year-on-year. Pfizer saw Lyrica revenues from developed Europe tumbling 36% last year, as the product recently lost, or is anticipated to soon lose, patent protections.
The Lyrica patent covering a method for using pregabalin to treat seizure disorders expired in October 2013. Two remaining patents, one covering the active ingredient pregabalin, and a second covering methods for using pregabalin to treat pain, are set to expire in December 2018. In September 2015, Pfizer lost a patent fight in the U.K. against Actavis Plc, now Allergan Plc, and Mylan NV (NASDAQ:MYL) which market generic versions of Lyrica for use in general anxiety disorders and epilepsy, while the drug is dispensed for pain.
Another Pfizer top-selling drug, Enbrel (etanercept), licensed from Amgen (NASDAQ:AMGN) to sell outside the U.S. and Canada for treatments of rheumatoid arthritis, psoriatic arthritis, spondyloarthritis and plaque psoriasis, saw a big drop of over 13% year-on-year, to $3.33 billion last year. Enbrel's main patents expired in October 2012, while a second patent covering the basic composition of the drug was granted exclusivity until November 2028 in the U.S. and in Europe until August 2015.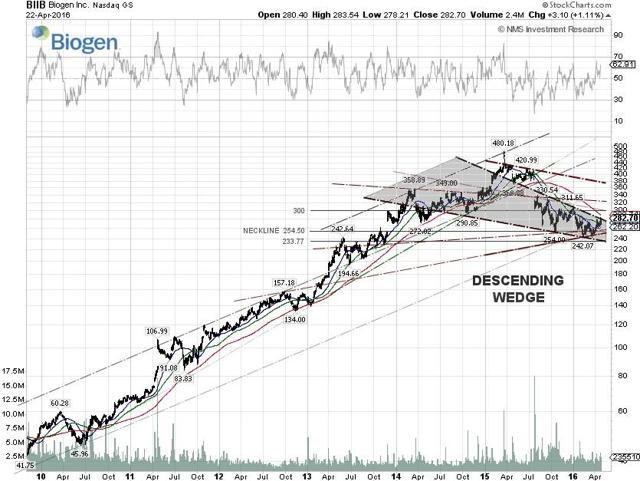 Click to enlarge
According to the Biogen (NASDAQ:BIIB) first quarter 2016 earnings report, Biogen launched Benepali (etanercept), a biosimilar referencing Enbrel, in the U.K., Germany, Denmark, Norway, Sweden, and the Netherlands, and has generated about $2 million in revenue since its launch in February. In January, Benepali (etanercept), co-developed between South Korea-based Samsung Bioepis and Biogen, received approval from the European Medicines Agency for all of Enbrel's approved indications.
Revenues from Lipitor, another so-called patent cliff drug, plummeted from over $10 billion in 2010 to just $1.86 billion last year, after Pfizer lost U.S. patent protection in November 2011. Most of Lipitor's revenues were generated overseas, as U.S. revenue from the drug was only $161 million last year.
Pfizer's patent protection for Viagra (sildenafil citrate), which generated sales of about $1.7 billion in 2015, will expire in April 2020. Nonetheless, Viagra is facing a generic threat from Teva Pharmaceuticals Industries Ltd (NYSE:TEVA) and Mylan as early as December 2017, or earlier under certain circumstances, due to a legal settlement in 2013 between Pfizer and both companies.
In March 2016, the FDA approved the first U.S. generic version of Viagra made by Teva, and thus Teva may not have to pay Pfizer a royalty for a license to produce its generic version as part of the 2013 settlement agreement. Actavis, now Allergan Plc, launched a generic Viagra in Europe in June 2013 after the European patents expired, which continue to impact product sales in developed Europe.
Litigation Risks Rise as Biosimilar Market Gets Crowded
Developing and marketing biosimilars are not without risks. More biosimilars competing with the same reference product will add to pricing pressures, in addition to a discount of 15% or more for a biosimilar compared to the branded drug. Legal challenges to the patents could delay the entry of biosimilars into the market, giving more time for originators to develop innovative drugs to replace the patent expiring reference products, thus making the biosimilars obsolete.
The litigation risks could be high, as the procedure involves a so-called "Patent Dance", in which the biosimilar applicant and the reference product sponsor exchange patent-related information before the biosimilar can enter the market.
Pfizer currently has three biosimilars already in the market that generated about $63 million in revenues last year, all from overseas, including Inflectra (infliximab), the biosimilar version of Janssen Biotech's, a Johnson & Johnson (NYSE:JNJ) company, Remicade, Nivestim (filgrastim), the biosimilar of Amgen's Neupogen, and Retacrit (epoetin zeta), a biosimilar of Johnson & Johnson (J&J)'s Eprex/Erypo.
Pfizer has Retacrit, a biosimilar version of Amgen's Epogen, an application pending at the FDA and five biosimilars in Phase 3 in its pipeline: PF-05280014, the biosimilar version of Genentech's Herceptin (trastuzumab), PF-05280586, the biosimiar version of Biogen's Rituxan (rituximab), PF-06410293, the biosimilar version of AbbVie (NYSE:ABBV)'s Humira (adalimumab), PF-06438179, a biosimilar version of Remicade (infliximab), and PF-06439535, a biosimilar version of Genentech's Avastin (bevacizumab).
In early April, the FDA approved Inflectra, developed by South Korea, Incheon-based Celltrion Inc. for various indications including rheumatoid arthritis, Crohn's disease, ulcerative colitis, psoriasis and arthritis of the spine. Pfizer, which holds the U.S. marketing rights to the Celltrion biosimilar after acquiring Hospira for $17 billion in September 2015, said it was moving ahead with plans to begin selling the product in October this year. J&J CFO Dominic Caruso, on the other hand, told financial analysts during the first-quarter 2016 earnings conference call last week that Johnson & Johnson would continue to defend unexpired patents for its drugs and doesn't expect Inflectra to enter the U.S. market this year.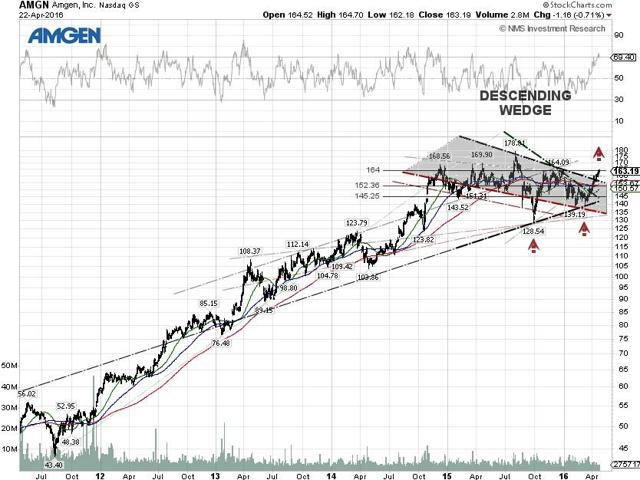 Click to enlarge
Pfizer might be late with its PF-06410293, their biosimilar version of Humira, and is already behind Amgen and Allergan, then Watson Pharmaceuticals, Inc., which have been collaborating together since December 2011 to develop and commercialize biosimilars. In early February, the FDA accepted Amgen's Biologics License Application, or BLA, for ABP 501, another biosimilar to Humira, based upon clinical trial data from Phase 3 comparative efficacy and safety studies in both moderate-to-severe plaque psoriasis and rheumatoid arthritis, with a final FDA decision expected by September 25.
Amgen, however, might be facing a legal challenge from AbbVie as the USPTO Patent Trial and Appeal Board, or PTAB, denied institution of two Inter Partes Review challenges brought by Amgen, Inc. against two Humira patents covering stable formulations of anti-TNF-a antibodies. Amgen needs to resolve the AbbVie intellectual property issue in court, if Amgen plans to launch its biosimilar version of Humira in 2017.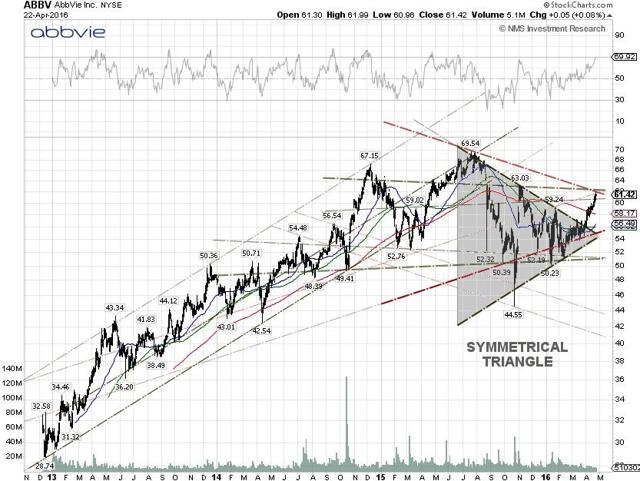 Click to enlarge
Humira is set to meet its patent cliff in the U.S. in December 2016, and in Europe by April 2018. AbbVie CEO Richard Gonzalez told analysts during the company's third-quarter earnings conference in October last year, that they plan to vigorously defend the intellectual property of Humira, its top-selling drug, from biosimilar competitors beyond 2016. Gonzalez said that the litigation process and its intellectual property estate, including 70 ancillary patents covering the formulation, manufacture and dosage, will protect Humira from biosimilar entry until 2022. Wall Street's consensus models suggest that biosimilar versions of Humira will start appearing in the U.S in 2019.
Since 2011, South Korea-based Samsung Bioepis has been collaborating with Merck (NYSE:MRK) and Biogen to develop and commercialize multiple biosimilar candidates, including SB2, SB4 and SB5, the biosimilar versions of Remicade, Enbrel and Humira, respectively. In July 2015, Samsung Bioepis was sued by Amgen, for patent infringement of two Canadian patents held by Amgen, related to Enbrel's formulation and treatment methods in Canada. In March 2016, Amgen launched Enbrel biosimilar patent litigation against Sandoz, even though the Sandoz application for FDA approval to market a biosimilar version has yet to be approved.
Conclusions
After failing and missing opportunities with Allergan and AstraZeneca, Pfizer will need to convince Wall Street that they have aggressive M&A strategies in place so that if another future merger attempt is made, it will be a go next time. An M&A deal is critical to Pfizer for more than just the purposes of tax savings, as revenues of its blockbuster drugs are shrinking while strategies for their biosimilars are also in question, especially in an environment where legal challenges for biosimilars abound. There is a concern whether Pfizer, as a standalone company, will be able to break up its innovative high growth business from its legacy established business, which consists of low-margin products facing generic competition.
Disclosure: I am/we are long AGN, BIIB, ABBV.
I wrote this article myself, and it expresses my own opinions. I am not receiving compensation for it (other than from Seeking Alpha). I have no business relationship with any company whose stock is mentioned in this article.