By Karyl Patredis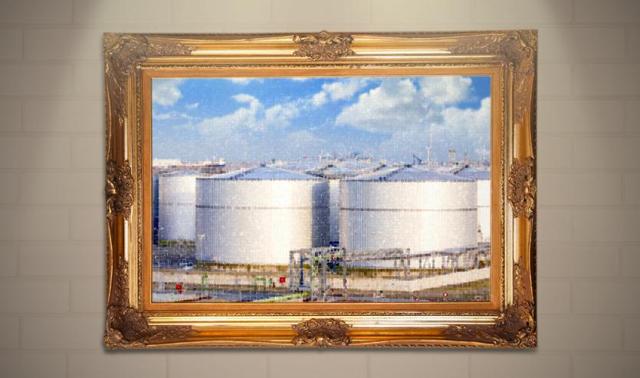 How has the crude oil storage landscape changed over the last year?
About a year ago, I wrote about crude oil storage. At the time, some were concerned that we were going to run out of storage space and that oil prices would hit $20 per barrel. Neither of these things came to pass[1]. In fact, studies indicate that roughly 85% of the things we worry about never actually happen.
This time last year, the Energy Information Administration (EIA) reported that around 490 million barrels of crude oil were in storage. Using the EIA's September 2014 report, we learned there were 521[2] million barrels of crude oil storage capacity[3]. At first blush, it seemed like 94% of storage was in use. Upon further inspection, however, we learned that around 120 million of these "stored" barrels were tied up in the pipelines[4], so we were actually looking at a much more reasonable 71% capacity utilization.
In the most current storage update released in September 2015, the EIA announced that there are now 551 million barrels of capacity, representing a 6% increase from 2014. The table below shows the breakout by Petroleum Administration Defense District (PADD) and separates out the refining storage versus crude terminal storage added. It's easy to see that the bulk[5] of the 30.6 million barrels of capacity added came from crude terminals. PADD 3 (the Gulf Coast) added the most capacity, with over 16 million barrels of additional space, likely in response to the increased pipeline capacity to move crude oil south from Cushing to the Gulf Coast. On a percentage basis, PADD 4 (the Rocky Mountains) experienced the highest growth, adding about 3.7 million barrels of capacity, or a capacity increase of 22%.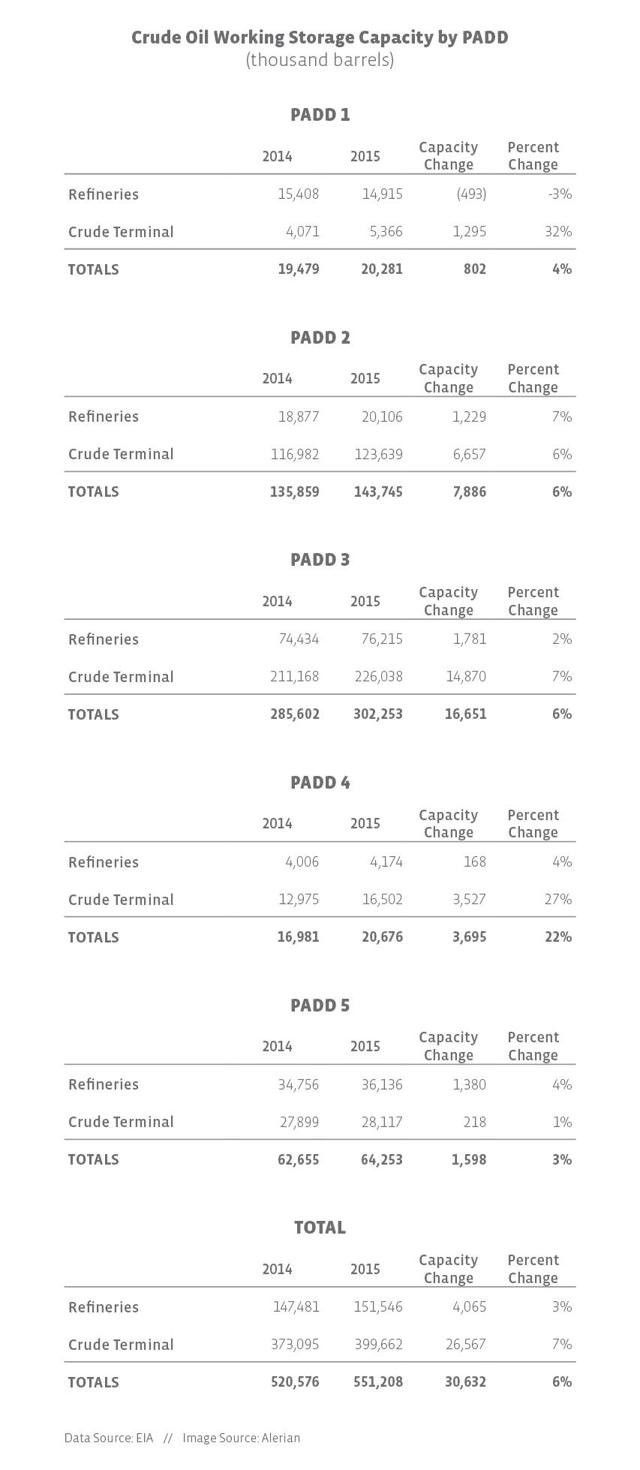 As of April 15, there were roughly 539 million barrels in storage. Assuming about 20% of the 539 million barrels are in transit (not actually in storage tanks), we can conclude that approximately 78% of crude oil storage capacity is being utilized.
Let me be clear that 539 million barrels in storage is not something we should gloss over. Looking at the chart below, you can see that storage is currently at its highest level since 1982.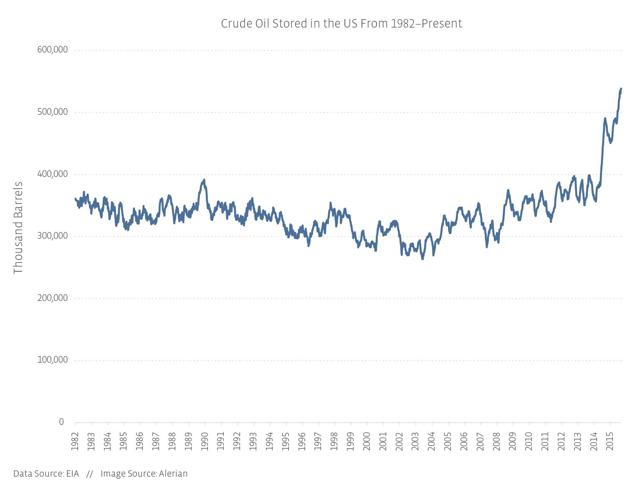 One reason for the high storage levels is that producers are waiting for the price of oil to increase before selling. According to the EIA, the WTI crude oil futures price[6] was $43.73/bbl as of April 22, whereas the spot price last week sat just south of $40/bbl. This could be a signal that prices are moving in the right direction[7], which gives producers incentive to hold their crude for the time being.
The most important thing when it comes to storing anything is striking the right balance. If you've ever owned a storage unit, you know that eventually, it makes sense to sell the items you've been keeping rather than continue to pay the fees. You may think that someday you'll need the 1950s diner-style booth[8] that's been in a 5×5 unit for two years, but the reality is that paying more to store it than what it costs to buy another one is totally nuts. Similarly, producers are not going to store their oil forever, because there will come a day when the benefit to selling their stockpiles outweighs the benefit of storing. This will be an interesting topic to revisit around this time next year to see how much more storage will be built. Will more storage keep the spot price lower for longer? What will the storage utilization rate be if the supply/demand equation balances out? What will it be if it doesn't balance out? Stay tuned for an update in 2017, and in the meantime, don't spend your time worrying about what could happen.
Footnotes:
[1] WTI hit $26.19 on February 11, 2016, which was its lowest price in the last three years.
[2] Please note that the 2014 study was revised slightly after our previous publication. Storage numbers went down a bit, from 520,932,000 barrels to 520,576,000 barrels.
[3] We're talking about working storage capacity. If you're wondering what this means, click the link on the words "year ago" to see a diagram.
[4] Or on a ship in transit, or possibly oil that had been produced but not yet put into the supply chain.
[5] 86%.
[6] Representing prices about a month out.
[7] The right direction if you're a producer. If you're loving the low prices at the pump, you may beg to differ.
[8] I did this during my first couple years out of college. It was an awesome booth, just not very conducive to apartment living. I found a great home with a teacher who decorated her classroom like a diner, and I stopped throwing away $40 a month.
Disclosure: © Alerian 2014. All rights reserved. This material is reproduced with the prior consent of Alerian. It is provided as general information only and should not be taken as investment advice. Employees of Alerian are prohibited from owning individual MLPs. For more information on Alerian and to see our full disclaimer, visit http://www.alerian.com/disclaimers.
Karyl Patredis is the Logistics Coordinator at Alerian, which equips investors to make informed decisions about Master Limited Partnerships (MLPs) and energy infrastructure. Ms. Patredis leads the firm's ongoing efforts toward greater organizational efficiency. She also oversees Alerian's feedback process for creative output. Ms. Patredis graduated with a Master of Science in Accounting and a Master of Business Administration from the University of Dallas, as well as a Bachelor of Arts in Communication and a minor in Psychology from Texas A&M University.