Hormel Foods is a fine company. But the stock price performance by the company over the past year has been nothing short of remarkable. Perhaps, much too remarkable, in fact. And the developments associated with Hormel since the start of the month serve as an important reminder to investors that while valuation may not matter over short-term periods of time, it almost always shows its significance before it's all said and done.
Don't get me wrong. I like Hormel Foods (NYSE:HRL) a lot. As an investor that has favored the food industry over the years, I have long followed the company and have tracked its strong financial health and consistent financial results over time. The company's stock has also been a rock solid performer over the years, with steady price gains with relatively low volatility along with a dividend that has been raised every year for a half century. I have been an owner of Hormel Foods stock on two different extended occasions over the past two decades, and I expect that I will likely own it again at some point in the future, as there is so much to like.
But the recent developments with Hormel Foods stock over the past year highlight the risks that can sometimes seep into even one of the most consistent and stable stocks in the equity market universe.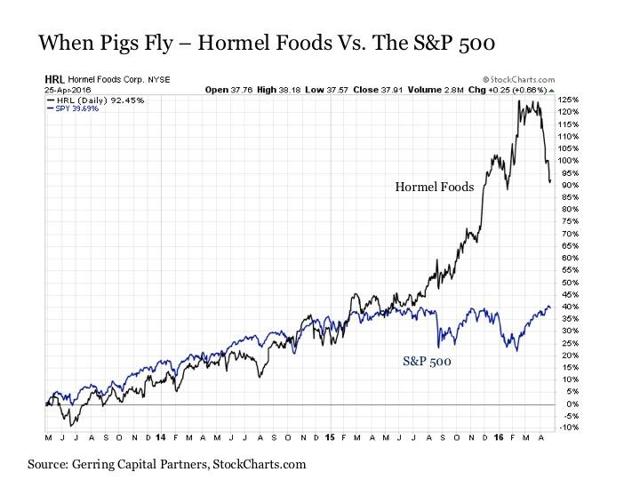 For it was around August 2015 that our once mild mannered meat processor that had been tracking along with the broader market (NYSEARCA:SPY) to that point for quite some time all of the sudden started exploding to the upside. Over the course of the next six months, Hormel Foods stock began scorching higher like a high flying tech stock during the dot.com bubble. Overall, the company gained nearly +60% in less than half a year's time through mid-February 2016.
All of this was marvelous, but if only it was sustainable. For Hormel Foods is not a high flying tech company with a revolutionary new product to support rapidly growing revenue and earnings streams. Indeed not. Instead, Hormel is a company that makes SPAM. And while I know the world is filled with countless killer recipes that utilize the canned pork meat to perfection, it still is not the stuff of anything more than mid-single-digit revenue growth and low-double-digit earnings gains. Solid financial results to be sure, but not enough to support for very long a +60% gain in the stock price over a six-month period of time.
For in the process of its meteoric price rise, the valuation on Hormel Foods shares became stretched to the extreme. Historically, the stock has traded with a mid-teens price-to-earnings ratio, a price-to-book ratio of around 2.8 times, a price-to-sales ratio of less than one times, and a price-to-cash flow ratio in the mid-teens.
But following the extraordinary price advance from August 2015 to February 2016, Hormel Foods stock traded as high as 33 times earnings, well over 5 times book value, a price-to-sales ratio approaching 2.5 times and a price-to-cash flow ratio north of 22 times. Put simply, the stock had become fall-out-of-your-chair expensive.
Thus, the inevitable that finally arrived at the start of April for Hormel shares should not have come as a surprise. Knowing that Hormel Foods is not leading a technological revolution in the world of processed meats, the stock price has fallen off precipitously in the past few weeks. The stock has already dropped by -16% from its recent peaks, and with twelve measurable down days over the past sixteen trading days, the stock price decline is not necessarily showing signs of letting up any time soon.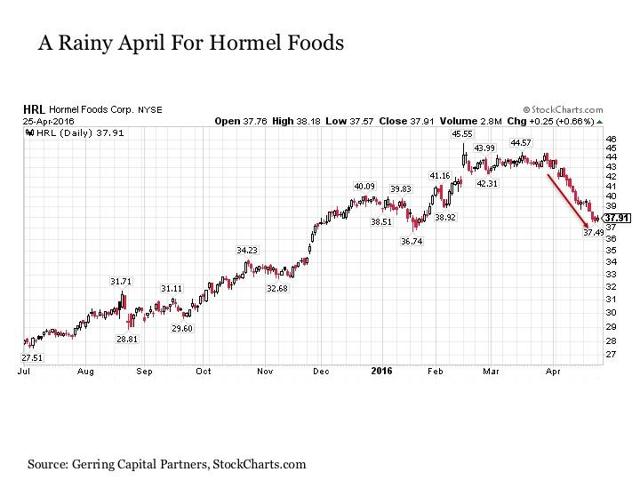 For some long-term owners of Hormel Foods, the recent stock price decline is not a problem. They were not fooled by the recent stock price advance. Perhaps, they even sold some, if not all, following the price run up. Then again, perhaps, they are dividend growth investors and have largely ignored the recent share price spike as nothing more than the inevitable noise that comes along with maintaining the long-term discipline of owning dividend growth stocks. For these types of investors, they are largely unfazed.
But for many other investors, including some that might be newer to the dividend investing world, the recent path associated with Hormel Foods shares highlights what is potentially a growing risk. For Hormel Foods is certainly not alone in being a still very expensive dividend growth stock with defensive business characteristics. In fact, most stocks across the food industry and the broader consumer staples space for that matter are priced at a premium, in some cases meaningfully so. And in an environment where I am increasingly hearing analysts and experts proclaim that price and valuation may no longer matter, this presents a danger for the unwitting investor.
For no matter how healthy the company, how consistent the financial results, or how plump the steadily growing dividend, if the valuation has grown out of balance, the stock price will become increasingly susceptible to unpleasant shocks to the downside. Unfortunately, this has the potential to present a problem for a number of investors that have entered into the stock market in search of yield to support their lifestyle in retirement. For it is reasonable to think that a good number of these investors have come to believe that the principal value of these defensive holdings are just as rock solid as their underlying financials and dividends. And for those that are not prepared for the potential downside that high valuations can bring, they can see the value of several years' worth of dividend payments wiped away from their principal in a given name in the matter of a few trading days.
None of this is to say that investors should abandon their high quality dividend paying consumer staples stocks. In fact, I own a select group and will likely continue to do so for the foreseeable future. But what is important is to understand your downside risks associated with any of these positions at any given point in time and to prepare accordingly if necessary. For those that are able to maintain their discipline surrounding any such price advances and subsequent declines like we have seen in recent months with Hormel Foods, these are the same investors that are prepared and positioned for long-term success.
Disclosure: This article is for information purposes only. There are risks involved with investing including loss of principal. Gerring Capital Partners makes no explicit or implicit guarantee with respect to performance or the outcome of any investment or projections made. There is no guarantee that the goals of the strategies discussed by Gerring Capital Partners will be met.
Disclosure: I/we have no positions in any stocks mentioned, and no plans to initiate any positions within the next 72 hours.
I wrote this article myself, and it expresses my own opinions. I am not receiving compensation for it (other than from Seeking Alpha). I have no business relationship with any company whose stock is mentioned in this article.