One-Year Stock Price Chart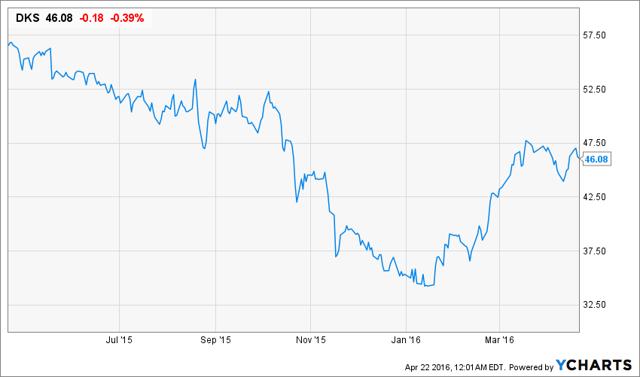 Fast Facts:
Market Cap.: $5.3 B
TTM Revenue: $7.27B
TTM EPS: $2.84
Div. Yield: 1.22%
Our '16 Rev. Est.: $7.7B
Our '16 EPS Est.: $2.91
Our Rating: Buy
Our Target Price: $54
Dick's Sporting Goods Description
Dick's Sporting Goods, Inc. (NYSE: DKS) is a leading sporting goods retailer which also owns and operates Golf Galaxy, Field & Stream and other specialty concept stores as well as e-commerce websites for Dick's and its subsidiaries. It was founded in 1948 by Dick Starnes in Binghamton, New York. Mr. Starnes remained Chief Executive Officer until he retired in 1984 at which time his son, Edward, took over as Chairman and has remained as such since. In 1994, Dick's moved its corporate headquarters to Pittsburg, PA, and went public in 2002.
As of January 30, 2016, the Company operated 644 Dick's Sporting Goods stores in 47 states, 73 Golf Galaxy stores in 29 states and 19 Field & Stream stores in nine states. The following table shows their concentration of stores per state. 1
State

Dick's Sporting Goods

Specialty Store Concepts

Total

Alabama

14

2

16

Arizona

8

-

8

Arkansas

3

-

3

California

41

2

43

Colorado

12

2

14

Connecticut

11

1

12

Delaware

3

1

4

Florida

34

3

37

Georgia

19

-

19

Idaho

5

1

6

Illinois

27

5

32

Indiana

20

1

21

Iowa

7

1

8

Kansas

10

1

11

Kentucky

12

2

14

Louisiana

7

-

7

Maine

4

-

4

Maryland

15

3

18

Massachusetts

18

2

20

Michigan

23

2

25

Minnesota

9

4

13

Mississippi

6

-

6

Missouri

14

2

16

Nebraska

4

1

5

Nevada

2

2

4

New Hampshire

6

-

6

New Jersey

18

4

22

New Mexico

4

-

4

New York

38

5

43

North Carolina

33

8

41

North Dakota

1

-

1

Ohio

40

10

50

Oklahoma

9

2

11

Oregon

9

-

9

Pennsylvania

40

12

52

Rhode Island

2

-

2

South Carolina

13

1

14

South Dakota

1

-

1

Tennessee

16

1

17

Texas

24

6

30

Utah

5

1

6

Vermont

2

-

2

Virginia

30

5

35

Washington

7

-

7

West Virginia

6

-

6

Wisconsin

11

4

15

Wyoming

1

-

1

Total

644

97

741
Table 1: Dick's Sporting Goods Store Count by State
Based on the table, Dick's has a relatively strong presence throughout the country, as opposed to being heavily concentrated in a few areas like many retailers.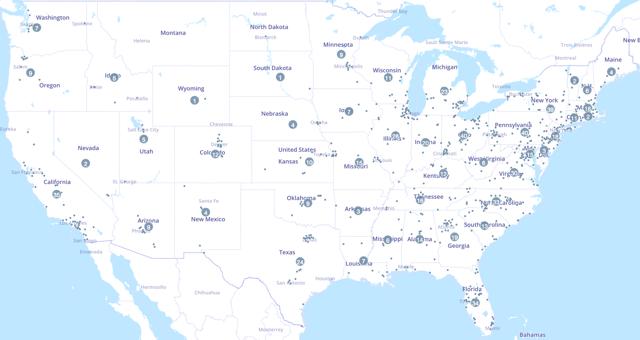 Image 1: Dick's Sporting Goods Store Map (Courtesy of Thinknum)
For the past four years, Dick's has been adding new stores at about an 8% increase per year. The following chart shows the progress for both the main chain and the subsidiaries. 1
| | | | | | | | | |
| --- | --- | --- | --- | --- | --- | --- | --- | --- |
| | 2015 | | 2014 | | 2013 | | 2012 | |
| | Dick's Sporting Goods | Specialty Stores 1 | Dick's Sporting Goods | Specialty Stores 1 | Dick's Sporting Goods | Specialty Stores 1 | Dick's Sporting Goods | Specialty Stores 1 |
| Beginning stores | 603 | 91 | 558 | 84 | 518 | 83 | 480 | 81 |
| Total new stores | 44 | 11 | 46 | 9 | 40 | 4 | 38 | 2 |
| Closed stores | 3 | 5 | 1 | 2 | - | 3 | - | - |
| Ending stores | 644 | 97 | 603 | 91 | 558 | 84 | 518 | 83 |
Table 2: Dick's Sporting Goods Store Growth In The Last Four Years
1 Includes the Company's Golf Galaxy, Field & Stream and other specialty concept stores. The Company opened nine new Field & Stream stores in fiscal 2015. As of January 30, 2016, the Company operated 73 Golf Galaxy stores and 19 Field & Stream stores.
The company believes it can ultimately open 1,100 Dick's Stores, which would be about a 70% increase in today's numbers.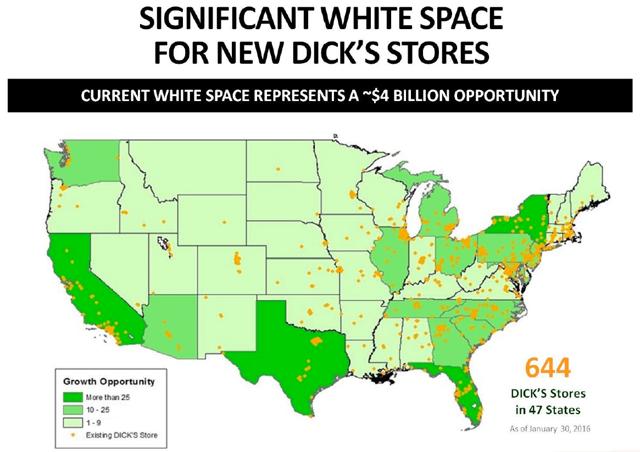 Image 2: Dick's Sporting Goods Potential Growth Map 2
Sporting goods is a growing, but highly competitive industry. The market for sporting goods retailers is highly fragmented. In 2014, there were 20 companies that sold $1B or more of sporting goods products, and there are numerous other specialty and local stores that generate a considerable amount of sales. The chart below is from a Dick's Sporting Goods presentation.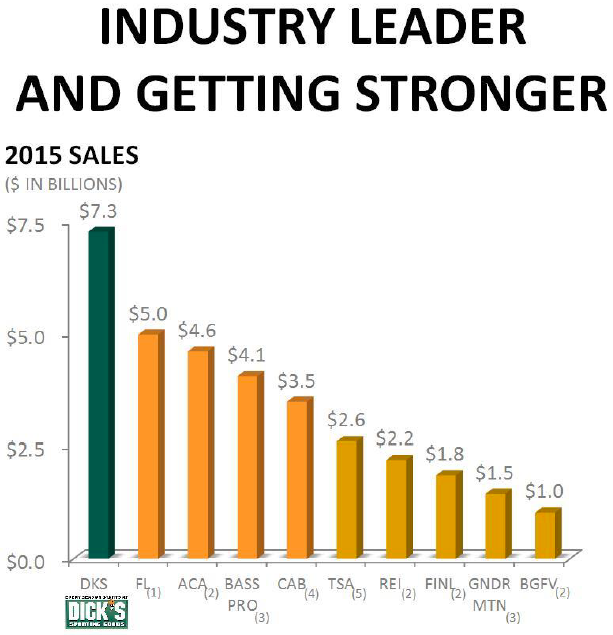 Image 3: Sporting Goods Industry Revenue Comparison 2
To continue to compete in this environment, Dick's has a multi-pronged business strategy. They are determined to carry a full product line with the depth and pricing that the sporting enthusiasts desire. They can help provide these entities through their brand partnership with some of the better known product lines as well as their private brands that feature exclusivity as well as lower pricing than the name brands. They also have a very strong web presence, with their websites providing a little over 10% of total sales and offer a loyalty program to their frequent customers. Finally, they are opening more Field & Stream stores in the upcoming years to fill a niche they believe is essential for attracting outdoor enthusiasts.
Per their 10-K, Dick's acknowledges some risks in the sporting goods industry. Most are inherent to all industries but the two most important, in our opinion, are the facts that sporting goods purchases are driven by disposable income and the intensely competitive environment. Another recession could cause a steep drop in sporting good purchases, i.e. the period from 2007 to 2009 saw about a $2.5B drop in industry net sales. The intense competition may at some point drive prices so low as to inhibit a reasonable profit, especially if the $15 minimum wage becomes a reality in a majority of their markets. A combination of these two events could be disastrous for any retailer.
Dick's Sporting Goods is well-covered by the research analyst community. Twenty-seven analysts currently rate the stock, according to Bloomberg data, with fourteen Buys, twelve Holds and one Sell rating. The average price target for the shares is $49.13.
Risk/Reward Analysis Risks for Dick's Sporting Goods
In our opinion, Dick's Sporting Goods is a relatively low-risk business. First of all, let's take a look at the firm's operations. Dick's national retail footprint eliminates regional risks, such as those we discussed in our Big 5 Sporting Goods (NASDAQ: BGFV) initiation report. Where Big 5 is heavily tied to one state (California), Dick's has a diversified geographic presence. We will note, though, that Dick's has no stores outside of the U.S. The company's e-commerce system is also limited to domestic and APO/FPO sales, so Dick's doesn't have foreign exchange risk. The firm doesn't enjoy potential international growth opportunities, though.
Dick's Sporting Goods sells a wide range of merchandise ranging from running shoes to fishing gear. The company's breadth of products generates less risk for the business than sporting goods retailers focusing on a narrower selection of goods, such as Cabela's (NYSE: CAB) and Hibbett Sports (NASDAQ: HIBB). Cabela's is trying to refocus on only hunting, fishing and camping gear while Hibbett Sports is centered on athletic apparel. Dick's Sporting Goods, meanwhile, has team sports products and outdoor gear. (The company's Field & Stream specialty stores, meanwhile, are solely focused on the same customers as Cabela's and Sportsman's Warehouse [NASDAQ: SPWH].)
In our opinion, Dick's Sporting Goods has one significant operational risk: Golf Galaxy. In 2007, Dick's acquired the Golf Galaxy chain of stores for $227M. Golf, while a sport attracting a high-end customer base, is not growing in the U.S. According to a March 7th, 2016 article by Brian Costa of the Wall Street Journal, 3
"Roughly 2.2 million Americans aged 6 and older played golf for the first time in 2015, according to the NGF [National Golf Foundation], the most since 2002. That is up from a post-recession low of 1.5 million beginners in 2011. Yet the overall number of participants still fell to 24.1 million, a marginal drop from 24.7 million in 2014 and down from a peak of 30 million in 2005.

The leak isn't coming from the core of the industry: a group of nearly 20 million people who play golf regularly and say in surveys they are likely to continue doing so. It's coming from the people who never make it into that group.

Nearly 90% of the people who left the game in 2015 never became regular golfers, which the NGF defines as playing at least eight times per year. Taken together, the numbers portray a business that is being handed new customers, through the sheer allure of the game, and which lacks either the ability or the interest to turn them into devoted regulars."
We're not here to write a golf obituary, especially with the recent popular coverage of the Masters tournament, but this is not a great niche for Dick's. The company's management team agrees with us, noting that the Golf Galaxy business has been disappointing for several quarters. Dick's executives are hopeful that a trough in Golf Galaxy sales will be reached in 2016, but growth looks to be nonexistent in the near term.
Forward View would honestly be happy to see Golf Galaxy sold unless Dick's can engineer a turnaround. While combination Field & Stream and Dick's Sporting Goods stores are succeeding thus far, we don't see the same potential for Golf Galaxy and Dick's Sporting Goods combinations. Dick's gross margin is currently below its peers, so developing higher margin opportunities, while culling less profitable brands, is key for the company.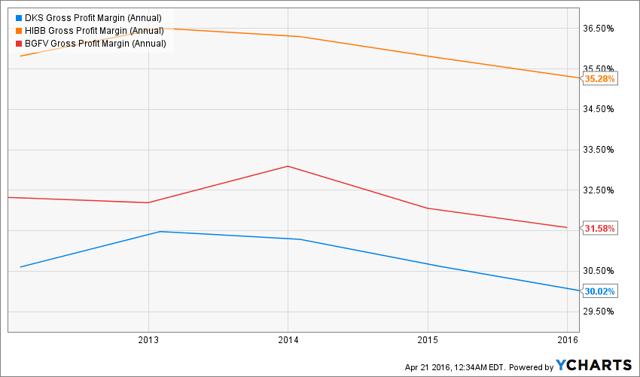 Image 4: Sporting Goods Industry Gross Margin Comparison
Reward Potential
Dick's revenue has steadily increased over the past five years, and the company enjoys a strong position in the fragmented sporting goods sector. There is plenty of room for Dick's to grow, squeeze out weaker competitors and build market share. The recent bankruptcies of Sports Authority and Sports Chalet created an immediate opportunity to expand in local areas previously dominated by a competitor.
Dick's will likely purchase/lease many former Sports Authority locations and install the Dick's Sporting Goods retail format. In other communities where a Dick's and a Sports Authority or Sports Chalet were already located, look for the Dick's store to enjoy increased traffic as the competitor's operation liquidates its inventory. (Some Sports Authority locations may survive the bankruptcy, but more often than not, the store will be shuttered. Sports Chalet is being entirely liquidated.)
We believe that the bankruptcies of Sports Authority and Sports Chalet represent a significant catalyst for Dick's Sporting Goods with minimum investment required to reap the rewards. As long as Dick's management team carefully selects which Sports Authority locations to occupy, the company should enjoy meaningful revenue growth. Competitors will, of course, be looking for similar advantages.
Dick's Sporting Goods has many private label brands, which provide ample margin improvement over the national brands also sold by Dick's. Many of these private labels are also growing at an impressive rate. The Calia brand, for example, was launched by Dick's and country singer Carrie Underwood in December of 2014. By the end of 2016, Calia is expected to be the #3 women's athletic clothing brand at Dick's Sporting Goods.
Needless to say, that is impressive growth and represents a very profitable brand for the company. Not all of Dick's private labels are so successful, but they're still margin-boosters. We anticipate that Dick's will continue to build its stable of store brands as long as the company's national brand suppliers don't begin to withhold products. (That's unlikely given Dick's ability to sell both private and national brands effectively.)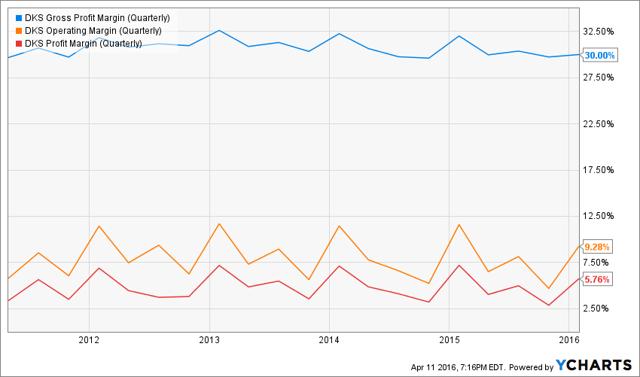 Image 5: Dick's Sporting Goods Profit Margins
From a financial perspective, Dick's maintains a conservative capital structure with no long-term debt. With the company's aversion to credit, we can't help but wonder if Steve Jobs came back to take over the sporting goods sector. Jokes aside, Dick's has a long history of avoiding any significant debt. This isn't a new focus for the firm. In our conversation with the company's Director of Investor Relations, Nate Gilch, we learned that Dick's has no plans to add leverage.
M&A could drive the pursuit of debt, but we don't see any significant opportunities on the horizon. (Yes, we're aware of the ongoing rumors that Dick's will buy Cabela's, but we don't buy it. Dick's has its own Field & Stream brand and doesn't seem dedicated to a major expansion into the outdoor gear market.) We believe that Dick's balance sheet is highly appealing for investors and offers flexibility for future growth needs.
Dick's Sporting Goods pays a dividend of $0.1375 per quarter, with a TTM payout ratio of 19.59%. This payout ratio is reasonable in our opinion, while our initiation report on Big 5 Sporting Goods raised concerns about Big 5's 57.58% TTM payout ratio. In contrast, Dick's has the growth opportunities and cash flow to comfortably generate income for investors. Forward View sees Dick's payout ratio as another low-risk company policy. See the next chart for a historical overview of Dick's payout ratio.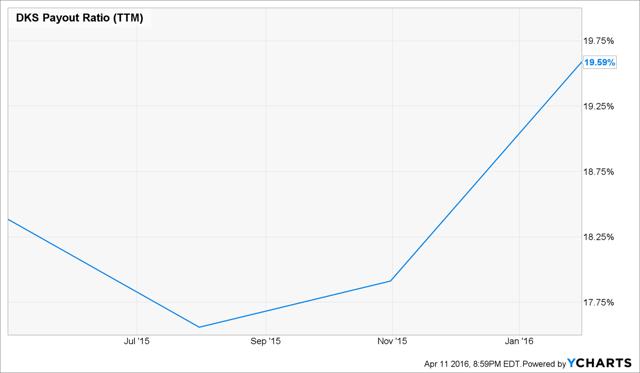 Image 6: Dick's Sporting Goods Historical Payout Ratio
The Forward View
Forward View is initiating formal coverage on Dick's Sporting Goods with a Buy rating and a $54 target price. While the stock probably won't be a home run, we believe that it's a solid base hit. (Sports metaphors never get old.) In the next 12 months, we forecast around 20% price appreciation in the shares, far better than the essentially flat market we expect.
As in any highly competitive industry, the pressure eventually takes its toll on the weaker companies. Dick's Sporting Goods is primed for growth just as Sports Authority and Sports Chalet collapse into bankruptcy. This unprecedented opportunity for Dick's to steal market share is extremely appealing to us, and we have every reason to think that the company's management team will execute well during this phase of business development.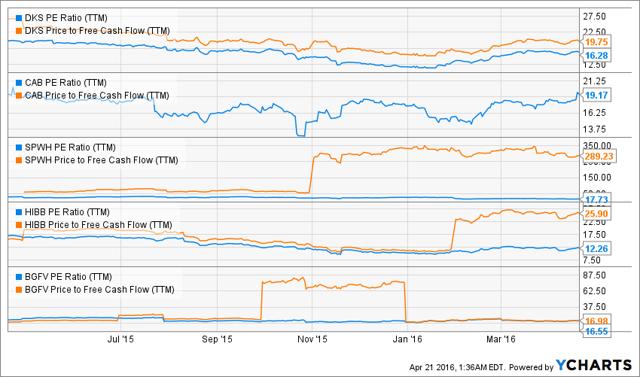 Image 7: Sporting Goods Retailers' Price Ratios
From a valuation perspective, Dick's shares are attractive when compared to peers. The stock isn't a true value play, but we look at it as a growth stock with a reasonable price. Sporting goods retailers have enjoyed a good Spring thus far, following a difficult winter selling season, and yet Dick's shares haven't risen as much as we believe they should.
The stock's P/E and P/FCF ratios indicate a bargain in the sporting goods sector, and 2016 earnings reports should be strong catalysts for price appreciation. We expect earnings beats this year, possibly beginning with the 1Q16 report. Wall Street, though heavily covering Dick's, doesn't seem to see the value we perceive in the stock. That's fine by us. Our valuation of the shares is based on these key points:
Dick's cost of capital is a reasonable 6%. The company's balance sheet is conservative, but the management team isn't totally against leverage should a great acquisition opportunity appear.
Single-digit y/y revenue growth in each of the next eight quarters will keep the business growing. We forecast y/y operating margin gains in 2017, with 130 basis points of y/y operating margin improvement in the key 4Q17.
2016's investments made in retail operations, particularly in the footwear department, will pay off next year.
Steady free cash flow will generate funds for dividends and capital expenditures.
Dick's will almost certainly remain a no/low debt business. (Our valuation includes just a small amount of debt in the capital structure for modeling purposes.)
In summary, we believe that Dick's Sporting Goods is a relatively low-risk investment with the opportunity for capital appreciation. The company's dividends also provide a decent level of income. We look forward to tracking the firm's growth for our valued clients and readers.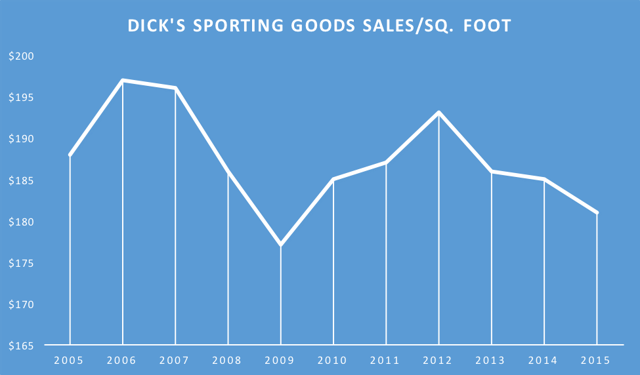 Image 7: Dick's Sporting Goods Sales/Square Foot
Please subscribe to our Sporting Goods Monitor research service for regular updates on Dick's and many other companies in the sector!
Valuation Details & Earnings Estimates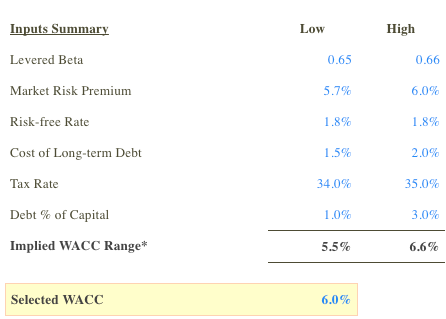 WACC model courtesy of Finbox.io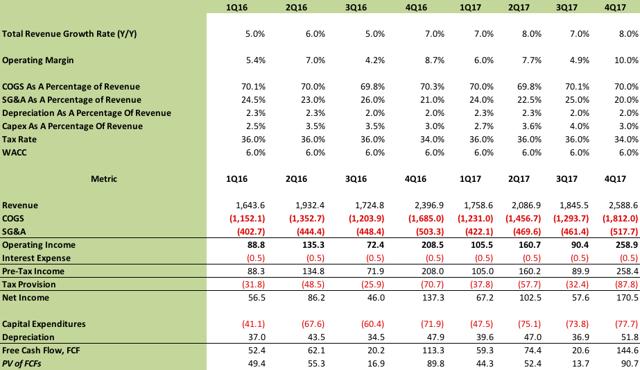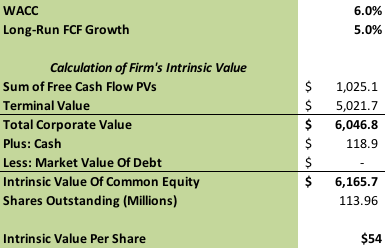 1 Dick's Sporting Goods. 3/25/2016. 10-K filing.
2 Dick's Sporting Goods. 3/13/2016. Bank of America Merrill Lynch 2016 Consumer and Retail Tech Conference presentation.
3 Brian Costa. 3/7/2016. People Want to Play Golf-Until They Try It.
Disclosure: I/we have no positions in any stocks mentioned, and no plans to initiate any positions within the next 72 hours.
I wrote this article myself, and it expresses my own opinions. I am not receiving compensation for it (other than from Seeking Alpha). I have no business relationship with any company whose stock is mentioned in this article.