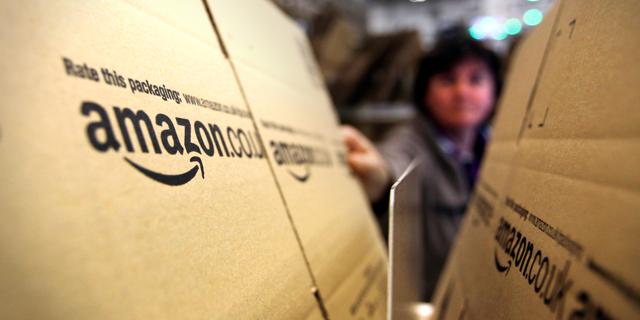 Click to enlarge
This week, Amazon (NASDAQ:AMZN) CEO Jeff Bezos was seen in Australia, apparently meeting with the Australian AWS team. This led many in the local media to speculate that he was in the country to finalize plans for a full Australian Amazon e-commerce store. At present Amazon.com.au is purely for Kindle books and Audible audiobooks, with Australians forced to use Amazon.com for any purchasing of physical goods.
When the Australian dollar was at parity with the U.S. dollar, consumers would flock to the U.S. Amazon site to do a lot of their shopping, as the prices would invariably be cheaper than shopping locally. But now, this is simply not the case. In the last 18 months, the Australian dollar has weakened considerably against the U.S. dollar. Although there has been a rally, thanks in part to the Fed not raising rates and the iron ore price surging, it is still a good 19 percent lower than where it was in October 2014.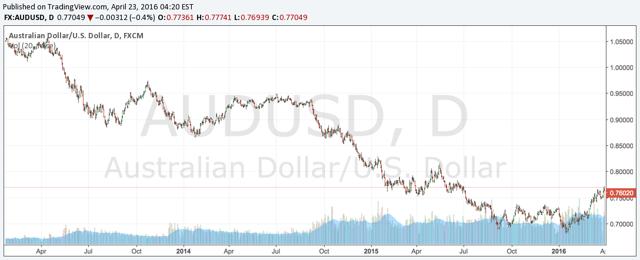 Click to enlarge
Sourced from DailyFX
Amazon still has strong pricing power for a lot of items even after currency conversion, but when you factor in both delivery costs and delivery times, it just can't compete with local retailers such as Harvey Norman (OTCPK:HNORY) and JB Hi-Fi Limited (OTC:JBHHY).
Now, the Australian e-commerce market is not the biggest market in the world by any means. It is currently estimated to be worth $19.2 billion per year, but has been growing at a CAGR of 14.6% for the last five years. In our opinion, a full Australian Amazon store would accelerate this growth by a fair bit. There is nothing locally like Amazon for consumers to utilize for shopping, which means online retail sales are just 6.6 percent of the size of brick-and-mortar retailing.
According to the NY Times, Amazon currently accounts for a massive 26 percent of all U.S. e-commerce sales. If the company were to replicate this success in the country - which we believe it can, as Australians already know and trust the Amazon brand - that would be an extra AUD $4.99 billion to the top line. At today's exchange rate, that would be USD $3.84 billion.
We feel Amazon opening up a full Australian e-commerce store would be a great move. There would be a number of logistical issues to get around, and it would no doubt require a reasonable investment, but we can see the company creating a decent IRR from it ultimately. But is Bezos' presence in Australia just a coincidence?
Well, the Australian stock market didn't seem to think so. In a week which saw its ASX 200 index rise by 1.5 percent, there was a sharp sell-off in a number of retail stocks like JB Hi-Fi, Harvey Norman, and Myer (OTCPK:MYRSY) when reports surfaced of Jeff Bezos' presence in the country. These retailers would be very likely to feel significant pressure on both sales and margins if Amazon were to enter the market, so investors were, unsurprisingly, worried. It is arguably a great time to enter the market, following the bankruptcy of a poorly managed electronics retailer by the name of Dick Smith. It is due to shut its doors at the start of May, leaving market share up for grabs.
Although just a small market compared to other regions, if Amazon can gain a substantial market share in Australia, it should go some way to helping it continue to grow its annual revenue growth at the incredibly high rate it currently is achieving.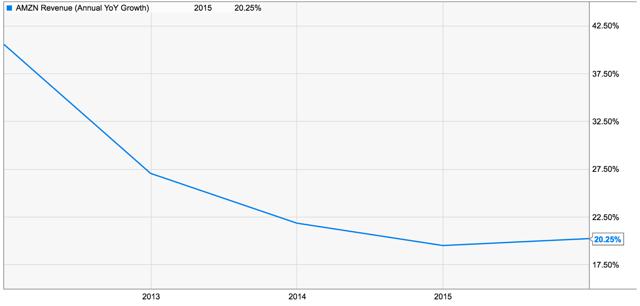 Click to enlarge
Sourced from YCharts
We feel it makes good business sense to open up a full Amazon store now, especially with potentially slowing sales from the country due to the weaker currency, and news that Jack Ma's Alibaba (NYSE:BABA) has opened up an office in Sydney this last week. This led to even more speculation in the media, this time saying that Alibaba will be opening up in Australia soon too. In our opinion, it would be best for Amazon to get a foot in the market ahead of Alibaba.
Well, next week when Amazon releases its first-quarter results, we may learn more about its plans. We're not especially bullish on the quarter following disappointing results across the board, so we're resisting an investment today with an eye on picking up shares on any post-earnings decline, if one is presented to us.
Amazon's revenue growth is what attracts us to the company and justifies the high multiples it trades on. By maintaining this growth rate, we see the shares breaking through $700 at long last this year.
All the best with your investments!
Disclosure: I/we have no positions in any stocks mentioned, and no plans to initiate any positions within the next 72 hours.
I wrote this article myself, and it expresses my own opinions. I am not receiving compensation for it (other than from Seeking Alpha). I have no business relationship with any company whose stock is mentioned in this article.
Editor's Note: This article discusses one or more securities that do not trade on a major U.S. exchange. Please be aware of the risks associated with these stocks.