I expect USD to be supported ahead of the Fed, RBNZ and BoJ meetings but the support should remain temporary. The Fed only introducing cosmetic changes to its previous statement may be seen by market participants as a sign of the Fed wanting to remain flexible, not yet taking the option off the table to hike rates in June if necessary. DM bond yields have been moving higher once again, which could be just the result of a portfolio shift as investors are developing a reflationary mindset, or higher yields could be the result of a shift in demand and supply of capital coming on the back of better economic activity. The problem is that recent data are not supportive of this view.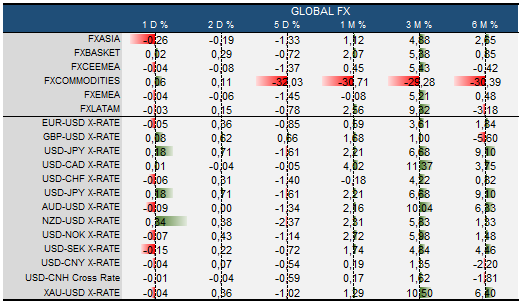 Treasuries opened a bit stronger after overnight losses in Asian and European stocks and commodity prices and an unexpected dip in the German Ifo, but after the gains were initially extended slightly in early New York trading, there was a reversal to small losses between about 8:15 and 9:15, in part driven by pre-auction positioning. After that, yields didn't move much the rest of the day, with only a minor, temporary positive reaction to a disappointing 1.5% drop in new home sales in March to a five-month low of 511,000 and small, temporary losses in response to an unusual, though minor, tail at the 2-year auction that started this week's run of Treasury supply. Net result at the close was a mild further backup in nominal yields of up to 2 bp to add to last week's 9 to 15 bp selloff in nominals and little change in TIPS inflation break-evens. Investors were largely waiting for the key events later in the week, the FOMC meeting, BoJ meeting, and GDP, ECI, and core PCE inflation figures, while also preparing for the upcoming 5- year and 7-year Treasury auctions and then the quick turnaround to month-end index duration extension.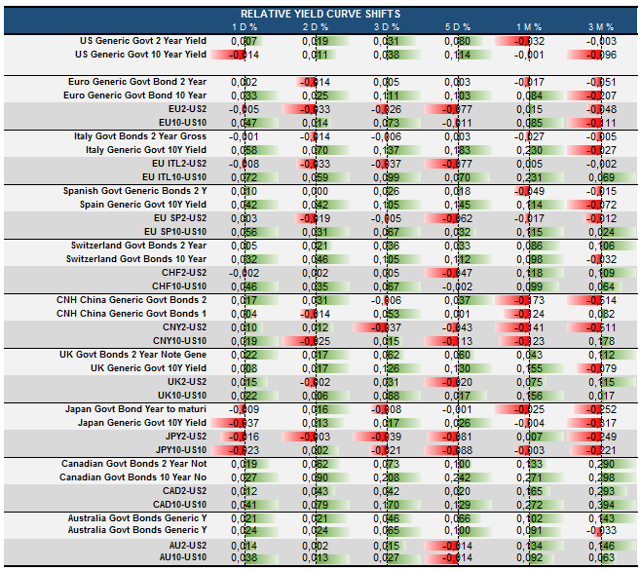 Click to enlarge
Not much is expected from the FOMC, but expectations for the Bank of Japan on Thursday remain high. Dollar/yen came off a bit after surging Friday in response to reports that the BoJ is considering setting negative rates on loans extended under its Loan Support Program (LSP) Interestingly the GPIF's president Norihiro Takahashi has today said they are looking to hedge USD and EUR based investments. Remember hedging would involve buying the JPY and the GPIF held 36% of their portfolio in foreign investments last year. We would use any USDJPY rally at the end of the week as selling opportunities. The market expects a variety of easing measures from the BoJ this week: raise the monetary base target from the current ¥80 trillion a year to a range of ¥90-100 trillion, increase purchases of ETFs, JGBs, and J-REITs, add purchases of municipal and government agency bonds and potentially corporates, cut the low end policy rate from -0.10% to -0.20% or -0.30%, and cut the rate on loans to banks under the LSP to or below the lowered negative policy rate.
With just a statement this time and no press conference or forecast update, the question for the FOMC meeting is whether something will be inserted into the statement to put a June rate hike back on the table. That probably comes down to whether or not a balanced risk assessment is reinstated after being dropped in the FOMC statements in January and March, when the FOMC minutes indicated about half of the meeting participants saw risks to slightly lowered growth and inflation outlooks still tilted down and half balanced. If a balanced risk assessment is reinserted, June is put back into play; if not, it's not. We don't expect it will be, in line with continued low market pricing of June rate hike risk. July 16 fed funds at an unchanged 0.42% is consistent with a 20% chance of a June hike. Even with much of the severe tightening in financial conditions in January and February having reversed and some tentative signs that global growth risks might be easing, I think the 1% GDP growth over Q4/Q1, an expected move down to 1.5% core inflation in March, an unemployment rate that's been stalled at 5% since last summer, and inflation expectations that are too low and survey-based measures recently falling don't provide any reason for the FOMC to be considering rate hikes at this point just on a standard dual mandate basis. And while market prices have rebounded, Chair Yellen highlighted falling corporate earnings along with China uncertainty as more lingering drags on the outlook. They may be beating a low bar, but S&P 500 earnings are still coming in down significantly year/year for a fifth quarter in Q1, and a turn in the credit cycle to what's likely to be a large multi-year default cycle is just getting underway.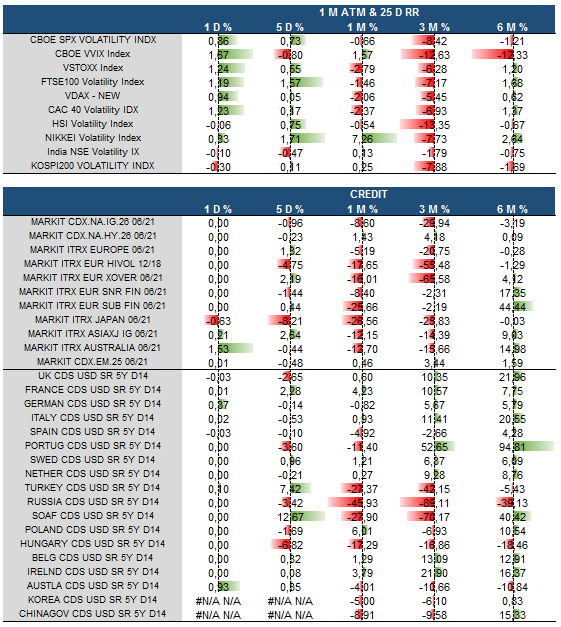 Elsewhere the global economic story is not looking any better. 1MDB, Malaysia's state fund, failed paying interest rates on a USD1.75bln outstanding bond. Korea's Q1 GDP growth coming in at 2.7% showed sluggish demand and investment. The Philippines reported imports falling from a 30.8%Y rate in January to 1.2%Y in February. Yesterday, we highlighted Korea's biggest shipper asking for debt-restructuring seeing its share price falling by 30%.The region has too much debt and its falling return of investment make it more difficult to maintaining this debt unless debt service costs come down. 60% of the Asian yield moves can be explained by developments in US markets.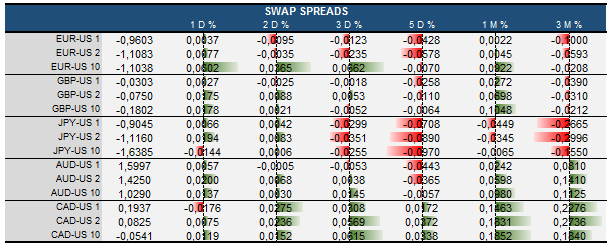 Financial conditions have also become a concern for the ECB, beyond their worries about inflation expectations continuing to fall. Their corporate bond purchase program has allowed local borrowers to pay almost nothing for new issues. Yesterday a AAA corporate was able to issue a bond with a zero coupon and only a few basis points of yield. However for the FX investor it will be the ability of the EUR to turn into a global funding currency that will help to determine its direction. At the moment it is still favorable for a US corporate to issue in EURs vs. USDs. Should this Yankee issuance activity pick up, supported by low market volatility, then it will be easier for the EUR to fall as the funds raised may be swapped into foreign currencies.
Disclosure: I/we have no positions in any stocks mentioned, and no plans to initiate any positions within the next 72 hours.
I wrote this article myself, and it expresses my own opinions. I am not receiving compensation for it (other than from Seeking Alpha). I have no business relationship with any company whose stock is mentioned in this article.