We are up $427 on our Chevron trade (NYSE:CVX) thus far and I see stronger gains ahead long term. However Chevron stock is up 20%+ since the end of February (see chart) and with the company about to announce earnings on the 29th of this month, now may be a good time to take some capital off the table. Why? Well if we look at a chart of crude oil, we can see that we are about 6% above the 200 daily moving average which hasn't happened since June 2014.

Either we consolidate for a while or oil moves down into a half cycle low. I have written in previous articles that I believe the bottom in oil is in and that we have started a brand new intermediate cycle. Intermediate cycles usually have 3 daily cycles and we are on the 2nd one (lows printed in early April). Daily cycles usually last around 50 days so Chevron should have plenty more upside as I don't see this intermediate cycle topping for another 8 to 10 weeks at the earliest.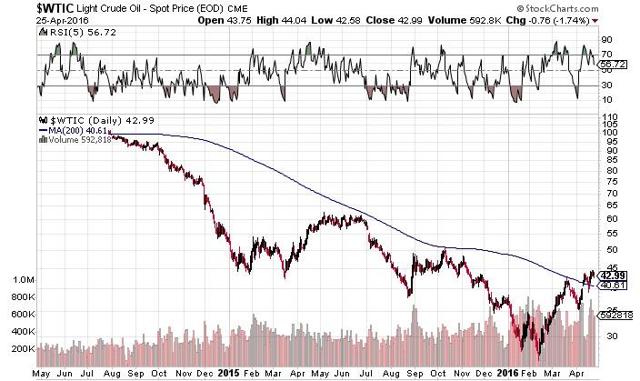 Click to enlarge
The reason why I believe Chevron may drop in the short term is the dollar, which looks to have printed its own intermediate bottom at the start of this month. If this is the case, we may have 20 weeks of rising dollar prices ahead of us. The line in the sand is around 94 on the dollar index (we are at 94.50 as I write).
Some of my followers scaled into Chevron around the $95 level so they are well up on the trade. Here is how you should play it if you want to take some of your profits off the table.
With earnings being announced in 3 days time (on the 29th before opening bell), it gives option traders an excellent opportunity to sell some call options against their long stock. If you are holding long stock and want to bring in some extra income by selling a covered call (the same as renting out your shares), the best time to sell the option would be before the market closes on the 28th as this will be the time when volatility will be at its highest. If we take a look at the chart below, we can see that volatility has always spiked in Chevron when the company announced its quarterly reports. As the chart shows, implied volatility is under 30% but if history repeats, this metric could easily spike to 50% in the next few days. Inflated volatility means inflated premium so it makes much more sense to wait until earnings are announced before selling a long call in 2017 for extra premium.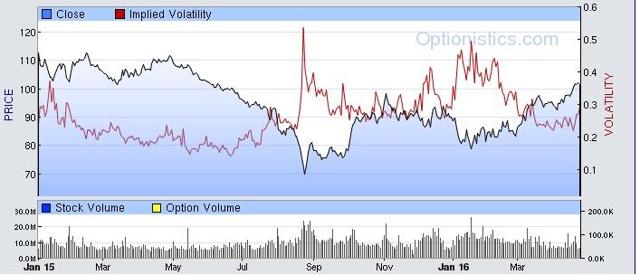 Click to enlarge
On the earnings front, I'm not expecting earnings to be great but I don't see the market punishing the stock. In fact the oil major is expected to post an EPS of -$0.14 on $22 billion of revenues which would be well down on the same quarter last year. Chevron has a few things going against it this quarter. Firstly the crack spread fell in the first quarter which will put pressure on downstream earnings and secondly the price of crude hit $27 a barrel in mid February before launching quickly to $40+ over a 6 week period. The rally at the end of the quarter will undoubtedly help but it may not be enough to avoid reporting a loss.
Nevertheless Chevron investors have to remain patient. The market is pricing in higher earnings (Chevron is heavily dependent on its upstream earnings) and have no doubt they will come. Remember that oil prices remained pretty stable between 2010 and 2012 but Chevron's EPS went from $9.48 in 2010 to $13.32 in 2012. The longer the company drills in one place, the more profitable it becomes. In the initial stages, patience is required but Chevron is still positioned to do very well in a rising oil price environment due to it keeping its production elevated right throughout the cycle.
To sum up, the trade explained above would be for investors who want to potentially take some capital off the table in their Chevron positions. However as our portfolio only is holding 100 shares, we will sit tight as I believe we will see higher oil prices over the next 8 to 10 weeks. I'm going to be adding a few good dividend and growth stocks to the elevation portfolio over the next several weeks, when I see value. It's imperative that they are not correlated and all don't have similar valuations, to ensure that income is brought in every month, which, over time, will increase our share count. Follow along by pressing the "Follow" button above.
Disclosure: I am/we are long CVX.
I wrote this article myself, and it expresses my own opinions. I am not receiving compensation for it (other than from Seeking Alpha). I have no business relationship with any company whose stock is mentioned in this article.