Independence Realty Trust (NYSEMKT:IRT) is an apartment REIT focused on building a portfolio of well-located apartment properties that generate attractive risk adjusted returns, stable occupancy and the potential for property appreciation through rent increases and improved operating efficiency.
The REIT is externally managed by a subsidiary of RAIT Financial Trust (NYSE:RAS), which is a multi-strategy commercial real estate company with a vertically integrated platform and significant experience owning, operating and lending against apartment properties.
We have often stated that externally-managed REITs start out with a higher hurdle to prove to investors that they will be managed in the interests of the shareholders, not the management team and the management agreement. That said, we are keeping an open mind on this high yield, multifamily REIT.
Properties
IRT focuses on the Midwest and Southeastern markets and has been acquisitive within these markets, most recently acquiring Trade Street Residential ("TSRE"). The focus on "non-gateway" markets lowers the number of larger competitors in the REITs markets and the development (or over development) of these markets, which should lead to a more stable occupancy profile as well as the ability to increase rents.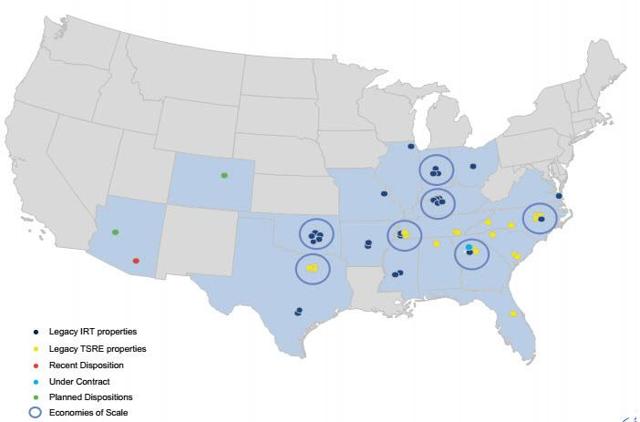 Click to enlarge
The acquisition of Trade Street (2015) increased the number of properties in the IRT portfolio by 55%, and added a significant number of newer units to the portfolio. TSRE added nineteen properties with 4,989 units to the IRT portfolio.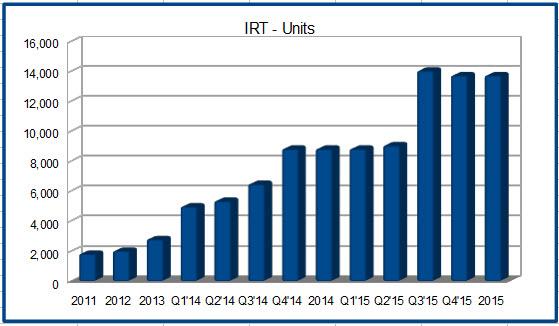 In addition to the newer construction, the Trade Street acquisition increased the percentage of class A properties within the portfolio.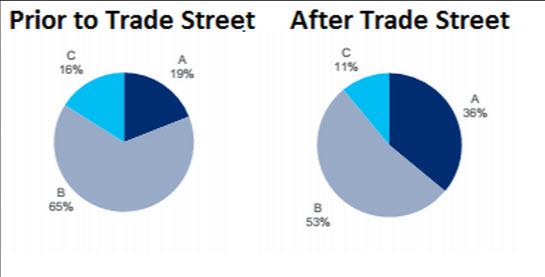 The portfolio has performed well on a rent per unit basis, and we expect that the new additions will continue to help drive rents.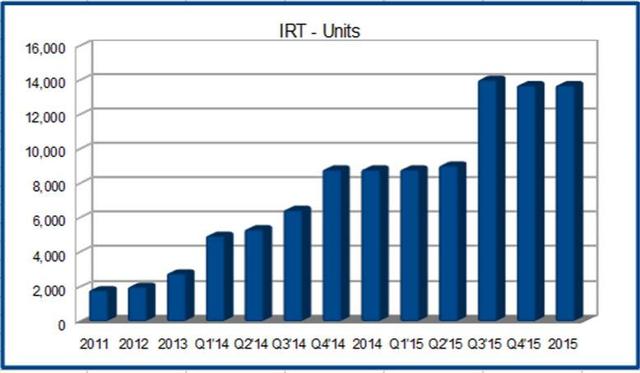 Click to enlarge
Property Bottom Line: IRT has been increasing the quality of their portfolio, focusing more on class A and B properties, which should serve them well going forward. They have done a decent job of driving rent per unit and keeping occupancy stable. Their focus on "non-gateway" markets means that rent per unit will be lower than those REITs focused on the coastal markets, but at the same time competition will be lower and cap rates will be higher.
Financials
While properties are where the rubber hits the road, the financials are the gas that keeps it going. Prudent financing of the enterprise will help a company survive and thrive, which means that it must be capitalized prudently. A snapshot of the multifamily peer group's debt profile is as follows:

Click to enlarge
This is where we thing IRT has to regroup and stabilize their balance sheet. Simply put, they have too much debt for their balance sheet and the amount of EBITDA the portfolio generates.
Having 72% debt/capitalization and nearly 13x debt/EBITDA is over leveraged. Note that the bigger players (and investment grade players) have debt/EBITDA ratios below 7x, and the biggest players are closer to 5x.
That said, they are in line with the smaller (but growing) multifamily peers such as NXRT, BRG and APTS. This is something we typically find with smaller REITs, a greater use of debt in order to lever the returns to shareholders with the goal of "growing into" their balance sheet.
REITs can't retain that much cash to pay for properties, so the choice is debt and/or equity and as larger REITs will balance around 40% debt/60% equity, smaller players doing the same could be significantly dilutive. This does create a risk and it must be understood.
As IRT's debt summary shows, their debt has a low cost and will drive returns to shareholders by lowering the cost of capital to the REIT:

Click to enlarge
Importantly, IRT maintains an interest rate cap, which caps 1-month LIBOR at 3.0% on $200 million in notional. This agreement has a maturity date of October 17, 2017.
This is approximately half of their outstanding floating rate debt as of 12/31/15. While rates are not expected to increase significantly during 2016, protection could be more valuable during 2017 (although it is approximately 250bps higher than 1 month LIBOR currently).
The REIT also plans on reducing some of their floating rate exposure with fixed rate financing, as they refinance some of the interim loans used to acquire TSRE.
The REITs debt maturity schedule is decently laddered, with no near-term maturity that they shouldn't be able to refinance when the time comes (assuming current market conditions). 2018 is their biggest near-term "lump," which is $275 million - large for the REIT, but not extremely difficult (especially if they bring their debt levels down, as we believe they should).

Click to enlarge
Having covered the debt aspect of the REIT, here are a couple operating (income) stats:
Click to enlarge
Note the growth in NOI and EBITDA that has resulted from the REIT's acquisitions and increased rent/unit. This growth is the REIT's "growing into" their balance sheet we referred to earlier. Debt is used to acquire properties and the resultant EBITDA is designed to support the debt.
As their acquisitions begin to help drive their NOI/FFO and the synergies (if any, but we believe IRT's profile of synergies with TSRE was modest and in-line) increase margins.
Financials Bottom Line: We view IRT as a REIT with too much leverage at current levels. Property dispositions and the application of NOI to debt repayment (as they have used their revolver) should help bring it closer to where it should be (at their point in the growth phase, below 10x would be more appropriate). The REIT has stated that it is their intention to reduce some of the TSRE debt with proceeds from dispositions in order to rightsize their leverage.
Metrics/Valuation:
The property portfolio and balance sheet/financials of the REIT lead to its valuation. The following chart compares various metrics and data-points to their peers in the multifamily sector:

Click to enlarge
As the table above shows, Independence Realty Trust has the second highest dividend yield in the sector (the highest being BlueRock, which we wrote about here), coming in north of 10% at current levels.
You'll also notice that SNL estimates that the FFO payout ratio will be close to 100% during this current year, which is consistent with the levels earlier shown in the operating stats table.
We expect that on an AFFO (or what the company calls CFFO) basis, the dividend payout will be closer to 80% with the adjustments. This is high relative to the peer group (except BRG), but again, the REIT should be able to grow into the dividend - assuming they don't increase it from current levels.
The focus of most investors on this REIT is dividend yield, not dividend growth. At current levels, the dividend is sustainable, but there isn't as much of a cushion as we would like.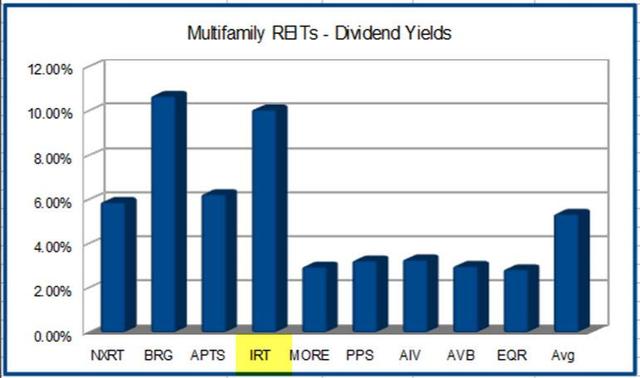 Click to enlarge
IRT also trades at one of the lowest FFO multiples of the peer group. We expect that there should be some margin expansion as FFO increases and the dividend gets a better coverage ratio. The high debt level and low payout cushion have been acting as limiting factors with this REIT's valuation, and only time and results will change investor perception.
It is due to the balance sheet leverage and tight dividend coverage that the stock has underperformed: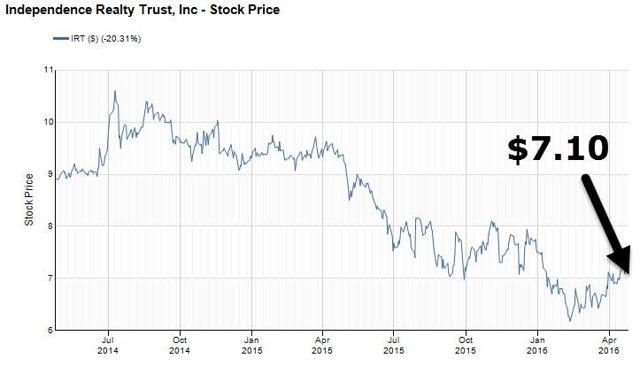 Click to enlarge
The tone of the last shareholder call (transcript) implied the market's concern regarding leverage and a possibly dilutive equity raise (to pay debt down) with IRT's CEO, Scott Schaeffer's comment:
Finally, let me reiterate that we simply do not need to nor will we issue equity to retire the interim loan. We have a clear path to extinguish of this debt before the end of the second quarter.
Seems he knows what investors are concerned about and tried to reinforce the company's position on debt and an equity raise. IRT continues to state that it would like leverage to be between 50-60% of asset value and a single digit multiple of EBITDA - both of which we believe would put this REIT on firm ground.
As well, the REIT addressed their dividend coverage and the dividend itself when asked about a need to cut the dividend:
No, we don't. It is covered, the portfolio was very stable, we are reasonably projecting increases in NOI going forward. So there is no need to look at the dividends or to look at cutting the dividend. Remember that this is a relatively small company and any savings that would be or capital retention that would be achieved through a dividend reduction is nominal.
Both responses and comments are music to our ears.
Ultimately, we believe this REIT is undervalued at its current price and multiples. The proof will ultimately have to be in the pudding for the REIT accomplishing their leverage reduction and payout cushion, but we believe they are on track to follow through with their goals.
While we prefer to wait for more evidence they are on track, we believe that this is a REIT that investors can leg into, starting a position at current levels and adding as the company follows through on their plan.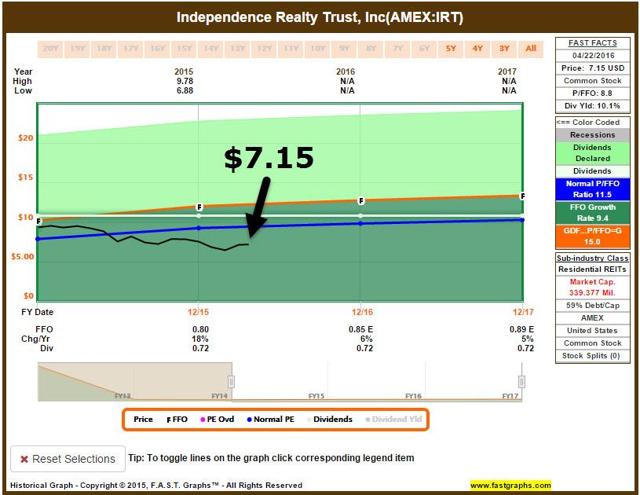 Click to enlarge
So to answer our question:
With a yield north of 10%, is Mr. Market saying this REIT has too much risk and is a "sucker yield"? If it is saying this, is the market right?
We believe that this REIT has been held to too much of a discount compared to its peers. Its property portfolio, while not in the sexy coastal cities, is being upgraded and continues to perform. Leverage is high, which is a valid concern, but management seems to be focused on reducing leverage and has viable targets in mind.
Bottom line is that we think the market has been too tough on this REIT and its results going forward should bear this out. We are not jumping in blindly or quickly, but believe that establishing a position at these levels is appropriate for all but the most conservative investor.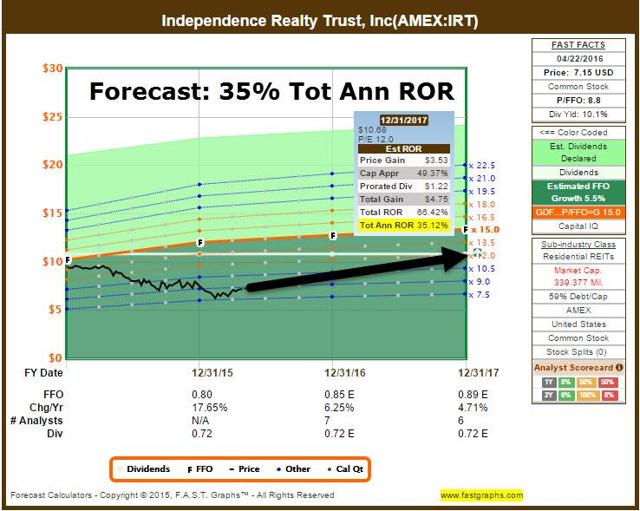 Click to enlarge
Author's Note: I'm a Wall Street writer, and that means that I am not always right with my predictions or recommendations. That also applies to my grammar. Please excuse any typos, and I assure you that I will do my best to correct any errors if they are overlooked.
Finally, this article is free, and my sole purpose for writing it is to assist with my research (I am the editor of a newsletter, Forbes Real Estate Investor) while also providing a forum for second-level thinking. If you have not followed me, please take five seconds and click my name above (top of the page).
The only guarantee that I will give you is that I will uncover each and every rock I can, in an effort to find satisfactory investments that "upon thorough analysis promises safety of principal and satisfactory return. Operations not meeting these requirements are speculative." (Ben Graham).
Sources: SNL Financial, FAST Graphs and IRT Filings.
Disclaimer: This article is intended to provide information to interested parties. As I have no knowledge of individual investor circumstances, goals, and/or portfolio concentration or diversification, readers are expected to complete their own due diligence before purchasing any stocks mentioned or recommended.
Disclosure: I am/we are long O, DLR, VTR, HTA , STAG, GPT, ROIC, HCN, OHI, LXP, KIM, WPC, DOC, EXR, MYCC, BX, TCO, SKT, UBA, STWD, CONE, BRX, CLDT, HST, APTS, FPI, CORR, NHI, CCP, CTRE, WPG, KRG, SNR, LADR, HCP, PEB.
I wrote this article myself, and it expresses my own opinions. I am not receiving compensation for it (other than from Seeking Alpha). I have no business relationship with any company whose stock is mentioned in this article.