Click to enlarge
Snap-on (NYSE:SNA) is known for high quality tools and equipments that professionals use around the world. The company is present in over 130 countries with 11,500 employees and franchisees. This nearly 100 year old company has $3.4 billion in sales, which derives from 38% tools, 29% commercial & industrial segment, 27% repair systems and information and finally 6% from financial services. In the last five years they have managed to grow earnings double digits, while sales have stagnated.
The business
The company's products are sold directly by the company, throughout distributors and with the help of the franchisees. Franchisees purchase Snap-on's products at a discounted price and resells them to customer's at a higher price. They carry all their inventory that can be transported in trucks and drive around the area they are representing. There are over 4800 routes around the world, including 3500 in the U.S. A large part of the tool sales comes from the franchisees and in order to operate they pay ongoing monthly fees to Snap-on.
Snap-on is known to observe workers and trying to find ways to make difficult tasks easier with innovative tools. These tools can prevent injuries, put less stress to the worker and improve productivity. However the controversy around Snap-on is that the products are clearly more expensive compared to competitors. The tools are known for high quality and they are mainly manufactured in the U.S, however they consistently raise prices and the customers that needs these tools, might consider the alternatives that are a lot cheaper.
Performance
The company's past performance has been outstanding with extremely low volatility. The stability of the business, constant positive financials and increasing dividend has rewarded shareholders with way above the market returns. I'm fascinated that are they selling more products every year or are the constant financial improvements only done by the price hikes. Unfortunately they don't provide sales figures expect in value.

Source: Google Finance
Snap-on reported first quarter earnings 4/21 and the same pattern continues, revenue misses the estimates but beats on the EPS. They have incredible track record of improving the profitability two to three times compared to the revenue. I expect that the profitability improvements are partly due to constant price hikes. When you need to produce about the same amount, while increasing the value of the products sold it usually flows straight to the bottom line.
Growth comes from the leveraging
The one key element for double digit earnings growth has been financial services. Snap-on provides to the customers and franchisees the possibility to finance their purchases and businesses with extended-term payment plans. This leveraging in the past ten years has been a huge growth driver for Snap-on.

Source: Snap-on IR
Growing annually at a rate of 26.9% for the past 10 years really gives an perspective when comparing to 3.8% in sales. Even though the financial services revenues are just over $240M or 6% of the total sales it contributes $170M or 35% to the total net earnings. The total receivables from these financing operations has increased from 923M in 2011 to 1567M in 2015. It's currently around 45% of annual sales and the maturities range from 13 to more than 60 months. This indicates a long-term steady stream of income to continue for Snap-on. Financing operations are one of the necessities for the franchisees to start their businesses and for customers to get the tools they need. Same risks are associated like any other loan, however Snap-On has been able to increase the size of the portfolio without major risks. In 2015, there was only 3% in non performing loans.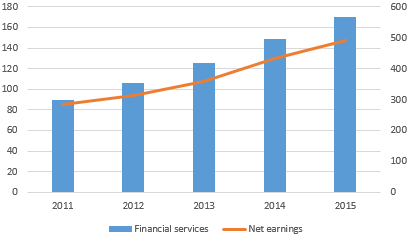 Source: Snap-on IR
Conclusions
The company's stock is valued at a reasonable price with a small premium to the overall market. Forward P/E is around 18, if they manage to deliver the $ 8.91 EPS as estimated. Currently Snap-on's dividend yield is at 1.52% and they are most likely going to raise it in Q3. They have a conservative payout ratio of around 30% and a strong balance sheet, so there's no constraints in raising the dividend. I believe that Snap-on will continue to stagnate in sales, while growing the bottom line around 10% in the medium term.
Disclosure: I/we have no positions in any stocks mentioned, and no plans to initiate any positions within the next 72 hours.
I wrote this article myself, and it expresses my own opinions. I am not receiving compensation for it (other than from Seeking Alpha). I have no business relationship with any company whose stock is mentioned in this article.