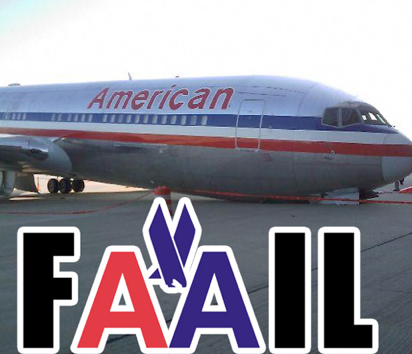 (Source: GDiapers)
"Sell in May and go away." Seasonal analyses of the stock market show this phrase to be winning investment advice. Nevertheless, this phrase does not apply to every company.
A smarter strategy is to analyze the stock market, company by company, finding the best entry and exit points for each stock. This information can give investors planning to sell a better exit point and investors looking to buy a better entry point. It also helps those on the sidelines pinpoint stocks that tend to outperform in certain months or seasons.
In this analysis, I return to American Airlines (NASDAQ:AAL). I have previously written about this stock, preferring Delta (NYSE:DAL). Still, the AAL - DAL wars that rage on among investors are arguably as strong as the inane arguments between MSFT supporters and AAPL supports - except comparing AAL and DAL is not inane. Today, I will look exclusively at AAL, as the recent earnings report has drawn me back to the stock.
The stock dropped 6% after earnings, despite the company beating on earnings and meeting on revenue. The drop is primarily due to the next quarter's guidance, which expects a continuation of the monthly 5-10% revenue drop. This forces investors to ask: "Is now the time to sell? Or are we looking at a good entry point?"
Three factors point to the answer to this question: "AAL is a sell!"
Buybacks
From the highpoint of its outstanding shares, American Airlines bought back 20% of their stock:

Click to enlarge
All things being equal, this should have bolstered the stock price. Yet from that apex, AAL is down -6.84%.
Likewise, in the last quarter, AAL bought back over 5% of its own stock. Again, all things being equal, the stock price should have risen. Yet from that point, it is down -4.84%.
If buybacks cannot save this company, what can? The buyback strategy is the hail Mary of stock price inflation. It artificially raises EPS, making each share worth more.
The buyback is one of the two swan songs of a company that does not know what to do with its money. A buyback period that corresponds to a period of time in which the price of a stock is falling shows that something is fundamentally wrong. I am reminded of the Bank of Japan's attempt to save the economy by cutting interest rates from 8% to NIRP: Keep throwing money at the problem and maybe it will go away.
Not in this case. That money would have been better spent on dividends or upgrades.
Debt
The second swan song of a failing company relates to debt. A highly indebted company such as AAL is forced to make one of two choices: Pay down debt or risk bankruptcy. AAL's debt and how the company plans on dealing with this issue are two questions on the minds of most AAL investors.
Both options are poor - but AAL finds itself in the position of having to choose one. If AAL pays down debt, they are sacrificing their cash flow, which a company should be using to invest in ROI-producing business activities. A company that is paying down debt hand over fist essentially tells investors: "Put your money elsewhere while we fix our balance sheet."
But if a company does not pay down debt, that debt builds. If the most important metrics for a company - PRASM for AAL - we could see the company go bankrupt or is forced into the former situation.
AAL have opted for the latter, which increases the company's downside in the long-term but also increases business activities in the short term. This should worry long-term investors.
Seasonality
Now, let's look into AAL's seasonal patterns: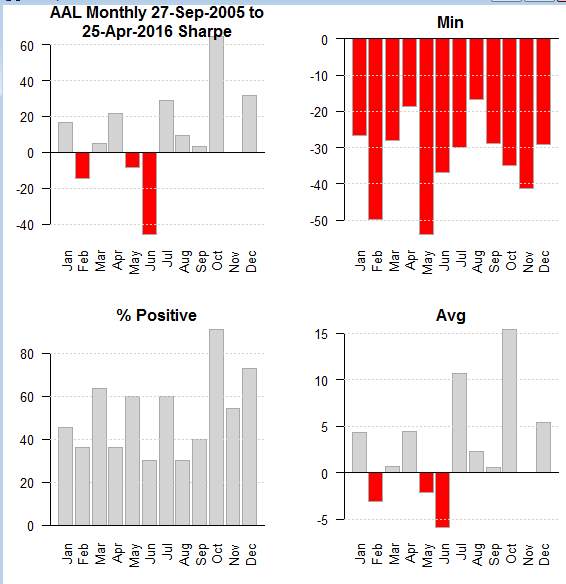 Clearly the May-June period is the worst for this stock. Both May and June have negative Sharpe ratios. But May has the largest historical drawdowns, reaching over 50%.
On average, both May and June produce negative returns for AAL.
Hold, Sell, or Short?
With the post-earnings gap, some investors might see a cheap entry point. I do not. I see a breakaway gap.
Clearly, buybacks haven't saved AAL's declining price. And seasonality does not give us a good picture for the months ahead. The dividends only produce a 1.0% yield, even at these low prices, making AAL a poor choice for buy-and-hold dividend portfolios.
Ultimately, to hold is a bad decision. To sell and reinvest your capital is a lot smarter. And perhaps shorting is the best decision, if you don't mind the risk and the dividend payments.
A superior strategy would be to short via options, allowing you to avoid the dividend payment. Because volatility is at a high, we want to avoid positive vega options: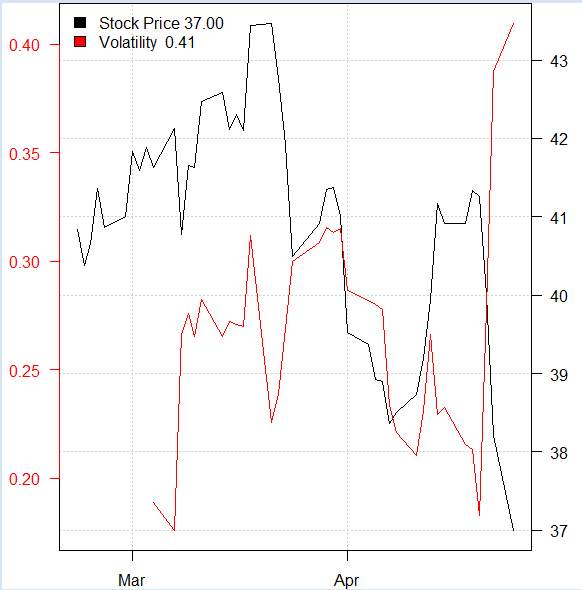 Thus, I suggest a synthetic short strategy, such as the following:

Click to enlarge
The above strategy uses a strike price far in the money so that you can also add an inexpensive (e.g., of $5) protective call to limit risk and reduce your margin requirements.
Watch the video below to understand this strategy in more depth:
Learn More about Earnings
My Exploiting Earnings premium subscription is now live, here on Seeking Alpha. In this newsletter, we will be employing both fundamental and pattern analyses to predict price movements of specific companies after specific earnings. I will also be offering specific strategies for playing those earnings reports.
We have accurately predicted EPS surprises 100% of the time (5/5).
In the most recent newsletter, we are predicting how Amazon (NASDAQ:AMZN) will react after its upcoming earnings report.
Request an Article
Because my articles occasionally get 500+ comments, if you have a request for an analysis on a specific stock, ETF, or commodity, please use @damon in the comments section below to leave your request.
Disclosure: I/we have no positions in any stocks mentioned, and no plans to initiate any positions within the next 72 hours.
I wrote this article myself, and it expresses my own opinions. I am not receiving compensation for it (other than from Seeking Alpha). I have no business relationship with any company whose stock is mentioned in this article.