The software company Blackbaud Inc. (NASDAQ: BLKB), which offers software solutions to non-corporate clients, has been doing a great job over the years. Not all companies offering similar services can survive in this niche. This company has caught my attention because I noticed a continual uptrend in its share price over the last two years or so: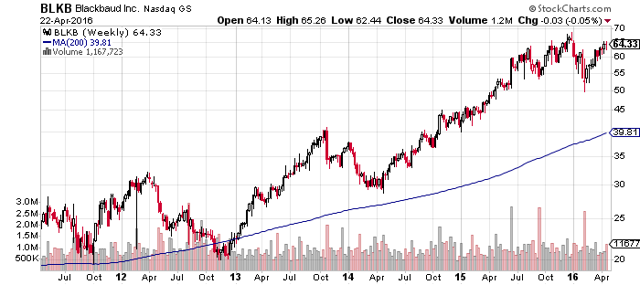 Click to enlarge
(Source: StockCharts.com)
Nevertheless, I think it is time to sell the stock after the strong run-up in its market price since 2012. I will explain my reasoning in a few moments. For the time being, let us check its FY 2015 financial results:
Full Year 2015 versus Full Year 2014 Highlights
• Total revenue growth of 13.0% to $637.9 million
• Non-GAAP organic revenue growth of 6.1%; 7.7% in constant currency
• Recurring revenue represented 76.1% of total revenue
• Income from operations increased 0.8% to $46.7 million
• Non-GAAP income from operations increased 19.9% to $122.0 million
• Cash flow from operations growth of 11.8% to $114.3 million
(Source: Last10k.com)
The results seem to be good when viewed in isolation. However, if we check historical annual data, we will notice that the company's operating margin has been in a continuous decline: since 2016, it fell from 24.85% of revenues to a meager 7.32%. Take a look at the data below:

Click to enlarge
(Source:gurufocus.com)
Blackbaud's competition includes other software developers focused on non-commercial solutions, CRM developers such as Salesforce.com (NYSE: CRM), and multibillion-dollar companies like Microsoft (NASDAQ: MSFT) and Oracle (NYSE: ORCL). Each one of these companies offers similar solution to non-commercial organizations.
Blackbaud's operating margin beats only Salesforce's numbers. Other companies on the list above are a lot more profitable and stable in terms of key financial metrics. The company faces a risk of becoming a dog (i.e. it is not particularly profitable and does not have a sizeable market share) in the future.
Blackbaud has an optimistic strategic plan in place that aims to bring the company to the next level. However, any deviation from the plan's expectations can make the company's share tumble in the future.
These are the three key takeaways from the company's growth strategy:
(1) Further transitioning towards the cloud technology is paramount. This sound like a reasonable idea. However, companies like Demandware (NYSE: DWRE), Splunk (NASDAQ:SPLK), and Marketo (NASDAQ:MKTO) have all failed to implement the technology in such a way as to gain a critical mass on the market and achieve a competitive advantage. Because of that, the companies' market valuation has fallen a lot recently. If Blackbaud does not want to end up in the same pack, it has to pull it really hard.
(2) Increasing sales growth is a key factor of success. This can be a key catalyst to drive the share price higher. However, there is a condition to that: the company cannot spend more on SG&A and R&D than in the previous year, if it wants to grow margins and become attractive from this standpoint, as well.
(3) Widening the non-GAAP operating margin from 19.4% of sales to 19.9% in 2016 is a major short-term goal. Unfortunately, the non-GAAP figures can be easily manipulated. Moreover, they do not represent real cash flows to the company. Furthermore, if the company fails to grow the margins, the market can react rather negatively.
Given the historical trend and the lack of real initiatives, it is unlikely that the company will be able to achieve its short- and mid-term results, satisfying investors' expectations at the same time. Therefore, I think that the stock is currently overvalued and, from the technical point of view, offers investors a good entry point to start a short position in it.
Disclosure: I/we have no positions in any stocks mentioned, and no plans to initiate any positions within the next 72 hours.
I wrote this article myself, and it expresses my own opinions. I am not receiving compensation for it (other than from Seeking Alpha). I have no business relationship with any company whose stock is mentioned in this article.