My wife had a feeling that today's trading update from Procter & Gamble (NYSE:PG) could have been particularly good.
She was wrong -- but not entirely wrong.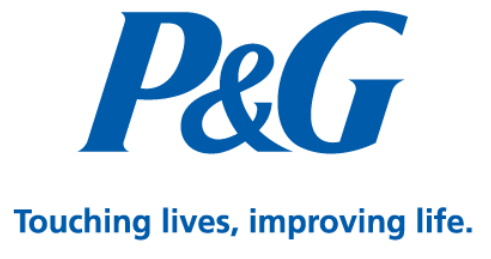 In its third fiscal quarter, which ended on 31 March, PG had to beat organic sales growth at 1% for the comparable quarter of 2015. And organic sales growth came in at 1% in Q3.
"I need to see higher organic volumes" before joining those in the bull camp, I argued on 26 January as second-quarter results were released.
Before we delve into its financials, I'd flag the feedback I received from a value investor at the time I covered its second-quarter results earlier this year:
"Alessandro, you may be overcomplicating things. Listen to your wife. Sometimes too much information is a bad thing. It clouds your brain and prevents you from seeing the forest for the trees."

"There are only two decisions that investors need to make regarding Procter & Gamble. Buy or hold."
My reader wasn't wrong based on its +3.3% stock performance since 26 January. PG shares, however, have underperformed the S&P 500 by 6.4 percentage points during the period, excluding dividends.
Given a projected payout ratio close to 80%, a possibly rising net leverage at over 1.4x, and a forward price-to-earnings ratio of almost 23x (based on annual EPS at $3.56), a relatively decent quarterly performance is just not good enough to attract new income investors, in my view, particularly because PG recently announced a rather disappointing 1% increase in the quarterly dividend over the previous quarter.
Its shareholders are not having sleepless night, of course, although, needless to say perhaps, currency headwinds continue to weigh on its reported figures.
But a few institutional investors have started to feel a bit more nervous, I gather.
Lucky Days
In this context, a few consumer staples companies have already reported their quarterly results, and have had mixed fortunes thus far -- take The Coca-Cola Company (NYSE:KO), whose valuation plunged over 4% last week on the announcement.
Today the spotlight in early trade in London was on British American Tobacco (NYSEMKT:BTI), whose stock rose 2.4% after delivering a solid operating performance. At the time of writing, BAT had given up all of its gains but the trading desk of Royal Bank of Canada noted that "the company reported Q1 16 organic revenue growth of 6.1%, beating consensus of 5.1%, on the back of organic volume growth of 2.4% (1.1% excluding the effect of inventory movements in the comps) vs. consensus at -0.1%."
Unfortunately, P&G's performance was more subdued. Incidentally, I still prefer BAT, with its higher forward yield.
Trading Update
Pre-market, PG stock traded some 1% higher at $82.2 in the wake of the announcement, but soon fell to $81.1 from $81.4. As I prepare to file this story, it changes hands at $81.8 -- the market doesn't seem to know what to make of its trading update.
Net sales came in at $15.8bn, a decrease of 7% "versus the prior year including a five percent negative impact from foreign exchange, a two percent impact from the Venezuela deconsolidation and a one percent impact from minor brand divestitures. Organic sales grew one percent," PG noted.
It retains pricing power in a difficult environment given its geographical mix, but its most profitable units -- beauty and grooming -- are not faring particularly well in terms of volumes, as the table below shows. Both are key value drivers.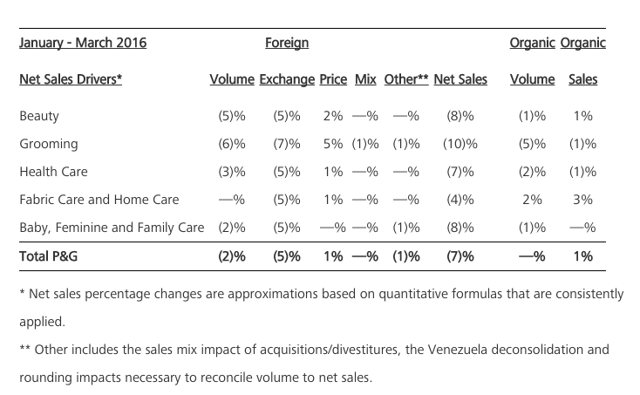 Click to enlarge(Source: PG's 3Q results)
Here are some more details about its performance by units:

Click to enlarge(Source: PG's 3Q results)
Outlook
In fairness, it doesn't look great, although PG is carefully managing its cost base.
Reported gross margin increased 250 basis points. It said that on a currency-neutral basis, "core gross margin increased 340 basis points," driven by "230 basis points of productivity cost savings, 130 basis points from lower commodity costs and a 60 basis point benefit from pricing, partially offset by unfavorable geographic and product mix and by negative scale leveraging due to lower volume."
On a currency-neutral basis, core selling, general and administrative (SG&A) costs rose 80 basis points, but on a reported basis SG&A as a percentage of sales they decreased 70 basis points.
It looks a lot like PG is scraping the bottom of the barrel.
Meanwhile, it maintained guidance, but the outlook is mixed.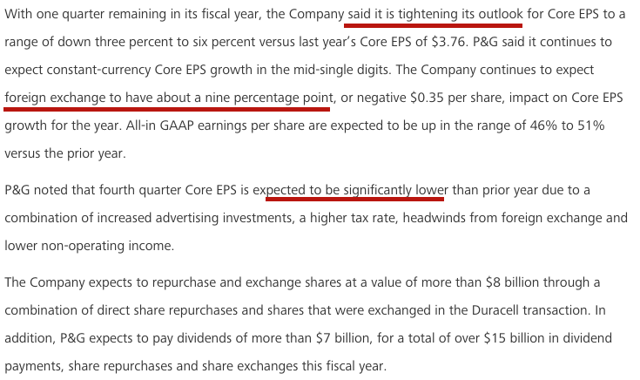 Click to enlarge(Source: PG's 3Q results)
Where We Stand
Since the turn of the year, its shares rose 4% to the end of business on Monday, but they are essentially flat during the trailing one- and two-year periods. Its two-year low of about $68 was reached in the summer of 2015 -- ever since, shareholders have enjoyed the ride even during the equity market pullback in January, when PG stock proved to be particularly defensive, trading between $80 and $75.
At 3.3%, its forward dividend still is the main attraction for investors -- the 10-year US Treasury yield hovers around 1.9%.
But president and chief executive David Taylor has some serious work to do.
Fair value
PG is slimming down but as it shrinks by selling assets it aims to become more profitable at operating cash flow and earnings levels without growing much on a comparable basis. There are a few bulls in town who believe that around $80 a share PG will continue to be incredibly resilient, possibly delivering some serious capital appreciation -- but that also hinges on the direction of volatility and broader market conditions.
Its previous trading update, which managed to surprise a few bears, showed that PG's organic sales -- which exclude the impact of foreign exchange and acquisitions and divestitures -- increased at a mildly higher rate of 2% than in Q3.
While another $10bn cost-cutting round would be welcomed, how Procter intends to preserve margins is equally important, and it's unclear where additional savings will come from. It'd be great if more details emerged from today's call with analysts.
On 8 April, PG pointed out that the dividend increase marked "the 60th consecutive year that the company has increased its dividend, demonstrating its commitment to - and extending its long-term track record of - returning cash to shareholders."
Higher volumes and bigger savings -- keep an eye on news and trends concerning both before buying.
That would be my advice. My wife disagrees, of course.
Disclosure: I/we have no positions in any stocks mentioned, and no plans to initiate any positions within the next 72 hours.
I wrote this article myself, and it expresses my own opinions. I am not receiving compensation for it (other than from Seeking Alpha). I have no business relationship with any company whose stock is mentioned in this article.