Westar Energy (NYSE:WR) is up 84% over the past five years. The stock has done particularly well in recent months as speculation of a merger or acquisition involving Westar Energy has gained momentum.
Westar Energy is a well-run company that went through a turnaround after the departure of David Wittig in 2002. Management has done a good job of improving the business and expanding into alternative energy.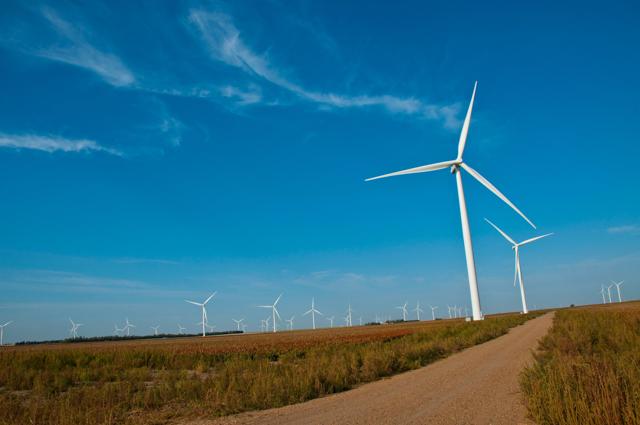 Photo Courtesy of Westar Energy.
Westar Energy plans to grow renewable energy generation to 17% of generation this year, up from 9% of generation last year. The company has reduced its dependency on coal. Coal was nearly 50% of generation at one time but is now about 44%. The company expects to be at 22% renewable generation in 2017 and coal will drop to 41%.
Westar Energy is expected to report first quarter earnings on May 3. The consensus is for $0.47 per share, up 23% over the $0.38 per share recorded in Q1 2015. On the plus side, Westar Energy implemented a $78 million increase in electric utility rates in Q4 2015, but the company has been hurt by mild weather. The temperature has a tremendous influence on electricity usage. Westar Energy benefits most from extremes of cold and hot. Mild weather is a heart breaker for earnings.
Living in Topeka, I can honestly say my Westar Energy electric utility bills have been cheaper in Q1 2016 over Q1 2015.
Michael Hooper's Westar Energy Bills Paid in First Quarter 2015 and 2016:
| | | |
| --- | --- | --- |
| 2016 | 2015 | Difference |
| January $142.73 | January $177.42 | -$34.69 or -19.5% |
| February $98.45 | February $129.78 | -$31.33 or -24.1% |
| March $63.46 | March $129.07 | -$65.61 or -50.8% |
| Total: $304.64 | Total $436.27 | -131.63 or -30.1% |
My bills were -30.1% cheaper in Q1 2016 over Q1 2015. However, my daughter moved out in late January 2016 to attend college. So her electric space heater did not run this winter. Nevertheless, the average temperature in Q1 was warmer this year. Here's a look at average temperature in Q1 2016 compared to Q1 2015.
| | | |
| --- | --- | --- |
| Topeka Average Temperature Q1 2016 | Topeka Average Temperature Q1 2015 | The difference |
| January 2016 30.9 | January 2015 31.5 | 0.6 colder |
| February 2016 40.7 | February 2015 27.0 | 13.7 warmer |
| March 2016 51.0 | March 2015 46.9 | 4.1 warmer |
Source: National Weather Service. Temperature in Fahrenheit
The data show that Topeka was warmer in February and March 2016 than in 2015. And January 2016 was slightly colder than in January 2015. February was substantially warmer this year.
Kansas has been going through a mild weather cycle. Westar Energy blamed mild weather for hurting earnings in the fourth quarter of 2015.
"We estimate weather cost us $0.06 to $0.07 for the quarter when compared to normal and $0.05 for the year," said Tony Somma, chief financial officer for Westar Energy."Compared to 2014, weather also hurt us the same $0.06 to $0.07 for the quarter, but about $0.11 for the year."
It's difficult to predict an exact number for EPS in Q1, but it's likely to be the same or slightly lower than a year ago due to mild weather. So Westar Energy will fail to meet the EPS consensus estimate of $0.47 per share on May 3.
Westar Energy stock is up 18% year to date because of speculation the company is subject to merger or acquisition. Bloomberg reported that interested buyers of Westar Energy are Ameren (NYSE:AEE), Borealis Infrastructure Management and Canada Pension Plan Investment Board. I previously wrote that Westar Energy would fit well with Berkshire Hathaway (NYSE:BRK.A) (NYSE:BRK.B) Energy Group.
As a shareholder, I plan to attend the Westar Energy annual meeting 10 a.m. May 19 in Topeka. I expect shareholders will be asking about the merger possibility for the company.
Westar Energy is the largest utility in Kansas. Growth in the economy has been stagnant. Many Kansans are frustrated with the state government for making cuts in roads, education and child care. I personally know several people who have moved out of the state to Colorado, where the economy is growing.
In 2012, Gov. Sam Brownback eliminated income taxes for 330,000 businesses. State revenues have failed to cover expenses. The current shortfall of $228 million is expected to come from more cuts in roads, education, child care and state pensions.
Conclusion
Westar Energy stock is trading at a 23 Price/Earnings ratio, a high multiple. The five-year average yield on the stock is 4%, but at the current price level, the yield is 3%. We will know very soon whether or not Westar Energy is going to be acquired by a larger enterprise. I give a merger possibility a 50-50 chance. Even though Westar's earnings will likely fail to meet analysts' expectations for Q1, I believe the stock will hold up in the near term because of merger speculation.
If the company does not participate in a merger, I expect the stock to fall in price substantially, perhaps 10% to 15%. A good entry point for this stock is around $39 to $41 per share. I plan to hold existing shares and look for an opportunity to buy more. Weather changes all the time in Kansas. We may be in a mild pattern now, but summer could be very hot, and that could mean higher sales of electricity for Westar Energy.
Disclosure: I am/we are long WR, BRK.B.
I wrote this article myself, and it expresses my own opinions. I am not receiving compensation for it (other than from Seeking Alpha). I have no business relationship with any company whose stock is mentioned in this article.