Click to enlarge
After shares of Relypsa (NASDAQ:RLYP), maker of the hyperkalemia treatment Veltassa (pictured above), spiked 67% earlier this month on a buyout rumor, we wrote about a way Relypsa longs could lock in most of their gains (Relypsa: Protecting Your Gains). Subsequently, we reached out to biotech analyst Julia Skripka-Serry via Twitter (NYSE:TWTR), and, based on her comments, we have a course correction for Relypsa longs to consider. We'll relay Skripka-Serry's comments, recap the hedge, and then present the course correction below. We'll lead off with some background on our correspondent.
Julia Skripka-Serry on Relypsa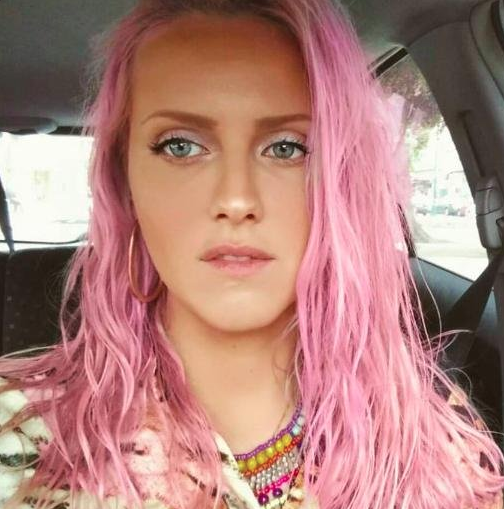 Julia Skripka-Serry (pictured above; photo via her Twitter profile) has a master's degree in computational drug discovery from the University of Edinburgh, and a master's in synthetic biology from Imperial College in London. She works as a biotech analyst for a hedge fund in Israel. Readers of our article on the collapse of Tetraphase Pharma (NASDAQ:TTPH) last year may recall she weighed in there with some insightful comments.
On April 16th, we asked her what she thought the end game for Relypsa was. In her response, screen captured below, she referred to ZS Pharma (NASDAQ:ZSPH), Rockwell Medical (NASDAQ:RMTI), Sucampo Pharmaceuticals (NASDAQ:SCMP), and Ironwood Pharmaceuticals (NASDAQ:IRWD). "PDUFA" refers to the Food & Drug Administration's Prescription Drug User Fee Act. Following up while writing this article, we asked if she were long any of these stocks; she said she's been long RLYP for 7 months.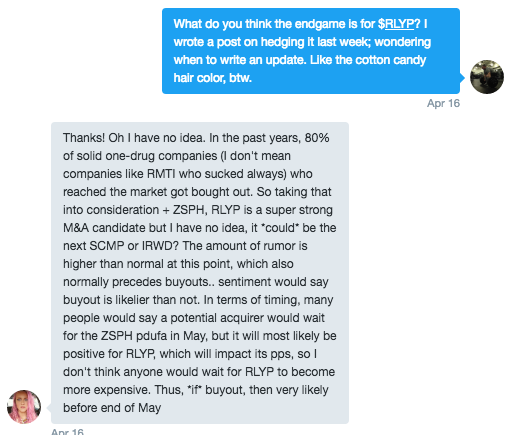 In our subsequent correspondence on the 18th, Skripka-Serry offered more reason to consider the possibility of a Relypsa buyout: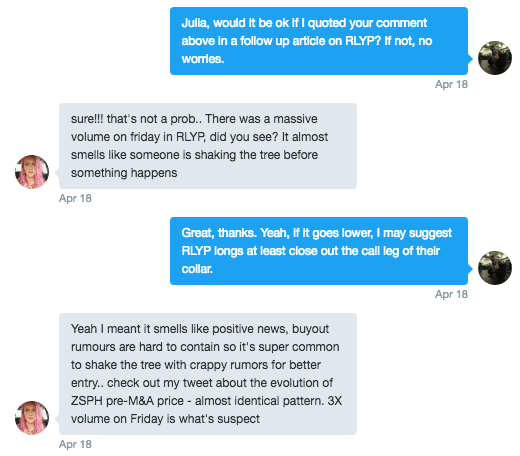 This is the tweet she alluded to above regarding ZSPH: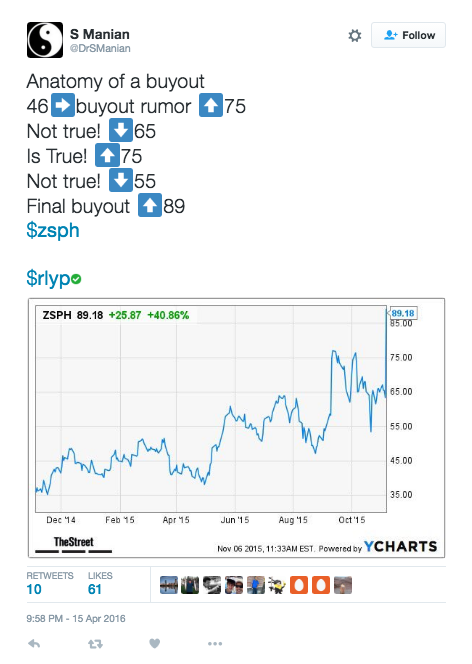 Recap Of Our April 8th Relypsa Hedge
On April 8th, we used the Portfolio Armor iOS app to find optimal puts and an optimal collar to hedge RLYP (for a refresher on hedging terms, please see the section titled "Refresher On Hedging Terms in this article on hedging Apple (NASDAQ:AAPL), Hedging Apple Ahead Of Earnings). The optimal puts were extremely expensive, so we just presented them for illustration purposes. The optimal collar had a negative cost though, as the screen captures below show.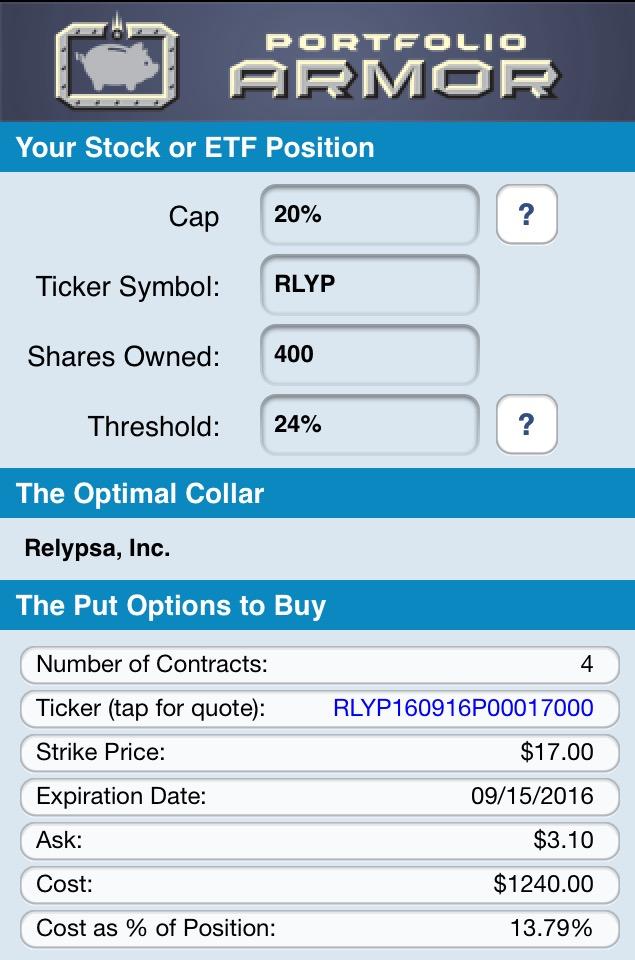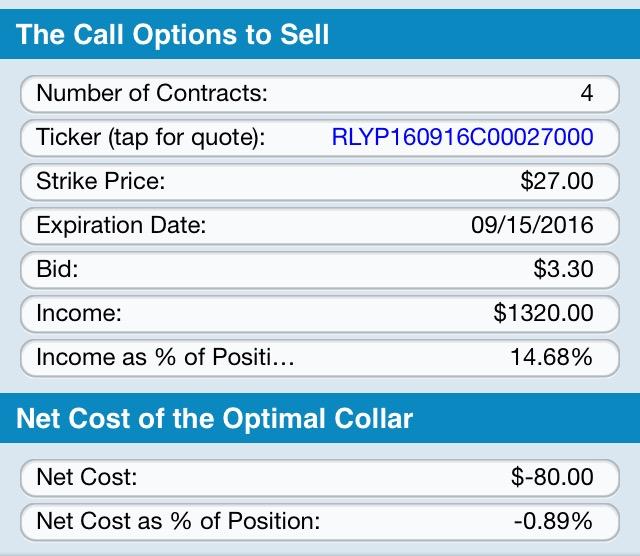 A Course Correction To Consider
If you're hedged with the collar above, and Julia Skripka-Serry's bullish scenario comes to pass and RLYP is bought out for more than $27 per share, your upside will be limited to getting $27 per share. Note that the bid price of the call leg in the collar was $3.30 on Friday. Since you can often sell a call at some price between the bid and ask, chances are, an investor opening this collar on April 8th received more than $3.30 per contract for the call leg.
If you can buy back the call leg for significantly less, now that the underlying stock has slid 17%, that may be worth considering. As of April 25th, the bid price on that call had dropped to $0.50, with a rather ambitious ask price of $4.90. So if your RLYP position is collared as above, you may want to try putting in a limit order to buy-to-close the call for some price considerably closer to the bid than the ask.
If your order gets filled, you will have eliminated your upside cap at a cost less than what you received for selling the call leg; if your order doesn't get filled, you still stand to gain up to 20% from April 8th's price if RLYP gets bought out, and in any case, by continuing to hold the put leg, your downside risk will remain strictly limited.
Disclosure: I/we have no positions in any stocks mentioned, and no plans to initiate any positions within the next 72 hours.
I wrote this article myself, and it expresses my own opinions. I am not receiving compensation for it (other than from Seeking Alpha). I have no business relationship with any company whose stock is mentioned in this article.