This article's spotlight is Titan Pharmaceuticals (NASDAQ: TTNP), a South San Francisco based pharmaceutical company. The company's proprietary long-term drug delivery platform, ProNeura is being developed to provide long-term steady state delivery of drugs for chronic diseases. We are initiating coverage on Titan Pharmaceuticals with Buy rating and common stock price target of $ 7.16 - $10.20. The stock price had a run-up recently but appears to have more upside over next 3-4 years.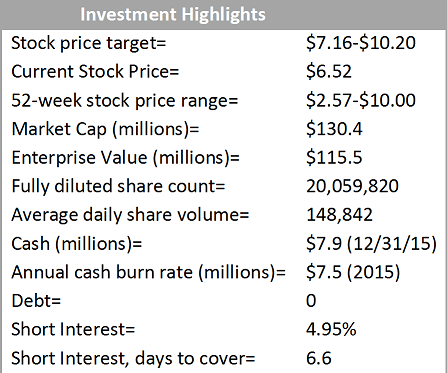 Figure 1: Investment Highlights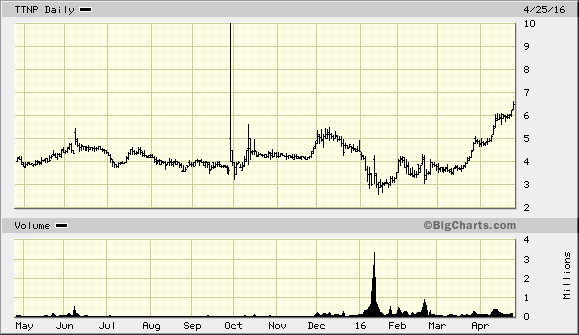 Figure 2: Daily stock price chart for Titan Pharmaceuticals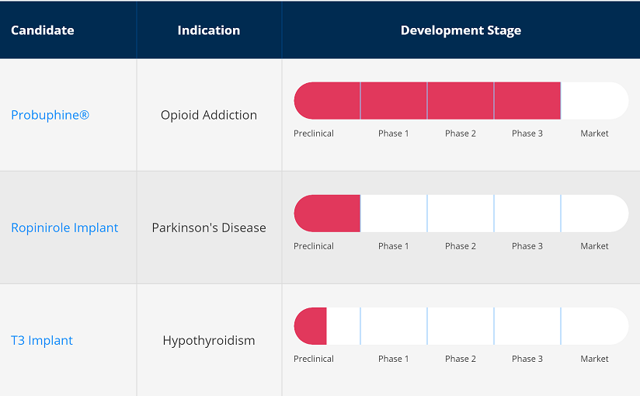 Click to enlarge
Figure 3: Titan Pharmaceuticals Product Pipeline
Investment thesis: Titan Pharmaceuticals' first product candidate, Probuphine utilizes the Proneura platform to provide steady state blood levels of buprenorphine (BPN) for six months after a single treatment in form of 4 subdermal implants. Opioid addiction and abuse is an epidemic in the United States. (BPN) is a partial-µ opiate agonist which is used in various forms like oral tablets and sublingual tablets in maintenance treatment of opioid addiction. (BPN) had advantages over full agonists like methadone since its produces a mild withdrawl syndrome and has less chances to overdose. Over 10.7 million prescriptions for (BPN) were dispensed in 2012. About 1 million patients received prescription for (BPN) tablets or films in 2012 (source).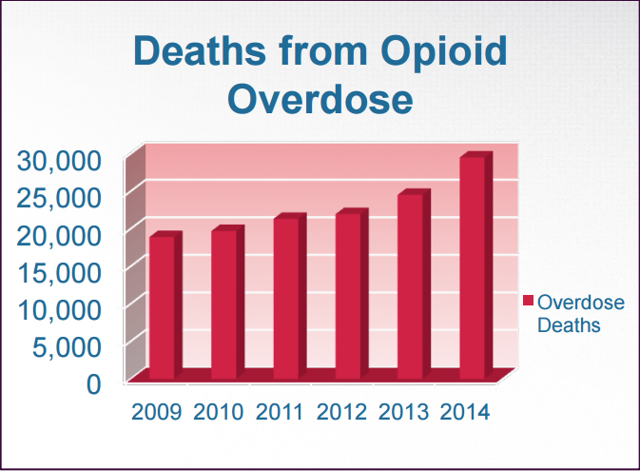 Click to enlarge
Figure 4: Deaths from opioid overdose (source)
(BPN) tablets and films are still abused and diverted. Titan Pharmaceutical's Probuphine is being positioned as a convenient alternative to current (BPN) formulations. Four Probuphine implants are inserted subdermally in inner, upper arm in a brief out-patient office procedure. Probuphine is the only potential treatment for opioid dependence that produces non-fluctuating blood levels of (BPN) around-the-clock for a period of six months. The subdermal implants have no risk of diversion or abuse and are supposed to increase patient compliance to the therapy. The implant has no reservoir and so there is no risk of drug dumping. The company received a complete response letter from (FDA) in April 2013 in its initial New Drug Application for Probuphine. (FDA) found that the plasma (BPN) levels achieved from the Probuphine implant were not adequate to replace daily dose of 12-16 mg of (BPN). Subsequently, Titan Pharmaceuticals decided to position the implant for maintenance treatment of opioid addiction in addicts who were stable on daily dose of (BPN) of 8 mg or less (which represents 50-60% of the addicts on (BPN), source). The rights to commercialize Probuphine were granted to Braeburn Pharmaceuticals.
In another phase 3 study (study 814) conducted after the (FDA) (CRL), the Probuphine implant was found to be non-inferior to sublingual (BPN) (96% response rate vs. 88 % response rate in control arm, p value= 0.03 on intent-to-treat basis), meeting its primary and secondary end-points. The implant group was also more likely to be free from illicit opioids at 85.7% vs. 71.9% in the sublingual (BPN) group (source).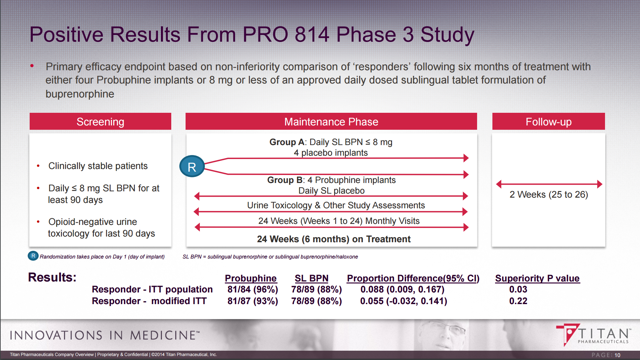 Click to enlarge
Figure 5: Results of the PRO 814 phase 3 study (source)
After successful completion of the study, a New Drug Application for Probuphine was submitted to the (FDA) in August 2015. On January 12, 2016, the Psychopharmalogic Advisory Committee of (FDA) voted 12-5 in favor of approval of Probuphine. The (FDA) action date for the (NDA) was extended to May 27, 2016 (source).
On review of the (FDA) briefing meeting documents (source), FDA's primary concern with the Probuphine implant was safety concern associated with insertion and removal of the implant. Titan Pharmaceuticals has launched a Certification program to train the practitioners like Internists, Family Practitioners, Psychiatrists and mid-level providers in the insertion and removal of the implants.
Other products in the pipeline:
Titan Pharmaceuticals is also testing a subdermal implant to provide long-term delivery of ropinrole, a dopamine agonist for the treatment of Parkinson's disease using the ProNeura platform. The implant was tested in an animal model and in December 2015, pre-IND (Investigational New Product) materials were submitted to the FDA. The company expects to submit the IND in the fourth quarter of 2016 and possibly start a proof of concept clinical study after that.
Titan Pharmaceuticals is also developing the ProNeura implant to provide long-term delivery of T3 hormone (Tri-iodothyronine) in patients with hypothyroidism. A pre-IND meeting with (FDA) is planned in the fourth quarter of 2016 and a proof of concept clinical study in the second half of 2017. About 15 percent of patients currently on levothyroxine (T4) for hypothyroidism have inadequate control requiring addition of T3 containing preparations. Titan Pharma believes that a T3 implant might help to prevent side-effects seen with daily dosed T3 formulations.
Intellectual property: Patents have been issued for using Probuphine for the treatment of opioid addiction till June 2024 in the U.S. Patents have also been issued in other countries.
Other potential applications of the ProNeura implant technology could be benign prostate hypertrophy, type-2 diabetes, attention-deficit hyperactivity disorder and pre-exposure prophylaxis to prevent (HIV) (as per the company's annual report).
Management:
Marc Rubin, Chairman of Board: Formerly Head of Global R&D for Bayer-Schering Pharma; Formerly Senior Vice-President of Global Clinical Pharmacology and Discovery Medicine at Glaxo-Smith Kline; M.D. from Cornell Medical College.
Sunil Bhonsle, C.E.O./ President: Formerly Vice-President at Bayer Corporation; M.B.A. from University of California, Berkeley.
Competition (source: company annual report):
Probuphine: Currently, no six monthly implant formulations of (BPN) are in the market or under development. Competitors to Probuphine implant are sublingual (BPN) tablets or films, buccal patch of (BPN) (FDA approved, marketed by BioDelivery Sciences, NASDAQ: BDSI). One month depot formulations of (BPN) are under development and are likely to take another 2-3 years before FDA approval. Braeburn Pharma has licensed the rights to some of these products and Titan Pharmaceuticals is entitled to low single digit royalties on their net sales. Alkermes PLC (NASDAQ: ALKS) is marketing Vivitrol, one-month depot injection of naltrexone for the maintenance treatment of opioid dependence.
Ropinrole implant: The main competitors to the ropinrole implant are likely to be the daily doses formulations of levodopa-carbidopa and dopamine agonists. Abbvie (NASDAQ: ABBV) is marketing Duodopa that delivers 16-hours of carbidopa-leveodopa for the treatment of motor fluctuations in advanced Parkinson's disease through a catheter directly in the duodenum. In addition, pumps delivering levodopa-carbidopa in subcutaneous and subdermal forms are in mid-stage clinical development.
Financials and Valuation of the common stock:
In calculating Titan Pharma's future revenue from Probuphine, we included the future likely regulatory and sales milestones payments from Braeburn Pharmaceuticals (source: annual report 2015). Other assumptions in the (DCF) model are also described below.
- 15 million milestone payment upon (FDA) approval of Probuphine NDA.
- Royalties on net sales of Probuphine=mid-teens to low 20s (range used=15%-24%).
- $ 35 million in regulatory milestones were divided between 2 years.
- $ 165 million in sales milestones from Braeburn were spread over 5 years.
- The risk factor used in calculating the future revenues from Probuphine was 0.7-0.8. The Milken Institute model (source) suggests a risk factor of 0.8 after the (FDA) favorable review. We added another 10% risk in view of the extra training needed to train practitioners in the implant procedure.
- Revenues from Probuphine are expected to start in 2017.
- Revenues from Probuphine are expected to start declining at 3% per year after the patent expires in 2024.
- Future revenue from the ropinrole implant was also included in the model at 10% risk factor.
- The discount rate (cost of capital) for Titan Pharmaceuticals was calculated = 12% as per the (CAPM) model. We also used a discount rate of 15% in the model (as suggested by the Milken model) in the sensitivity analysis.
- Any future revenue from the single digit royalties from competing products by Braeburn was not included in the model.
Calculating market size for Probuphine: The sales of daily dose formulations of (BPN) in the US are estimated=$ 1.8 billion. We estimated that about 50% of these patients are stable on a daily (BPN) dose of 8 mg or less (This estimate was taken from an estimate of one of the members of the FDA committee in (FDA) briefing documents, source). Peak sales of Probuphine were expected to range between $300-$ 500 million (source: company corporate presentation).
Calculating market size for Ropinrole implant: The prevalence of Parkinson's disease is expected to be about 1 million patients in the U.S. Sales of dopamine agonists in the treatment of Parkinson's disease were $ 286 million in 2012 and expected to double to $ 414 million in 2022 (source). The implant was assumed to be in the market in 2022.
Royalty revenues from Fanapt (loperidone): Vanda Pharmaceuticals has acquied the rights to this drug and Titan Pharmaceuticals has sold the rights to royalty revenue from this drug to a third party in exchange for cash and debt. Therefore, the company expects no revenue from Fanapt in future (source: company annual report).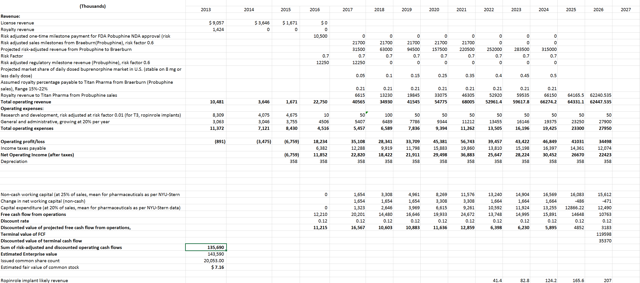 Click to enlarge
Figure 6: Discounted cash flow model with projected future revenues.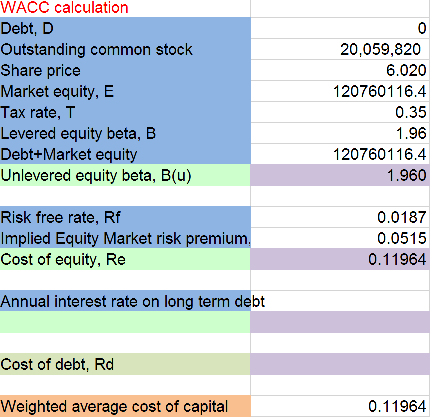 Figure 7: Inputs in calculating the weighted average cost of capital for Titan Pharmaceuticals
The link to the spreadsheet with the (DCF) model is here. I encourage investors to try their own assumptions in the model.
- Risks in the investment: Like any other pharmaceutical company in the development stage, any investment in Titan Pharmaceuticals has risks. There is no guarantee that (FDA) will approve Probuphine implant or the implant will be commercially successful and covered by insurers. The company's future royalty revenue from Probuphine are dependent on the implementation of a successful marketing program by Braeburn Pharma. There is also the additional risk in training the practitioners in the procedure to insert and remove the implant. The company is also likely to require significant capital in near future with the risk of debt and equity dilution.
Conclusion: In conclusion, we are initiating long position in Titan Pharmaceuticals in our model portfolio as of 4/24/15 at an average price of $ 6.24 (with a price target of $7.16-$10.20). A suggested capital allocation is 1% of the portfolio capital.
Company

Price when included in the model portfolio

Current stock price

Price target range

Ocera Therapeutics

(NASDAQ:OCRX)

$2.89 (4/13/16)

$2.98

$3.40 - $5.57

Titan Pharmaceuticals

$6.24 (4/24/16)

$6.50

$7.16 - $10.20
Disclosure: I am/we are long TTNP.
I wrote this article myself, and it expresses my own opinions. I am not receiving compensation for it (other than from Seeking Alpha). I have no business relationship with any company whose stock is mentioned in this article.
Additional disclosure: This article represents my own opinion and is not an investment advice or solicitation to buy or sell any security. Investors should do their own research and consult their financial adviser before making any investment.