There are still some companies out there with great cash flow in the current operating environment. Advantage Oil and Gas (NYSE:AAV) is one of those companies that not only has fantastic cash margins but also has excellent prospects to grow earnings more while keeping leverage relatively modest.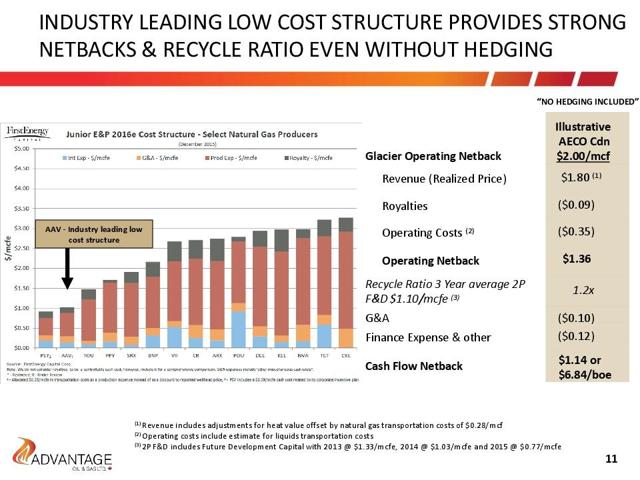 Click to enlarge
Source: Advantage Oil and Gas April, 2016, Investor Presentation
While one can argue about the assumptions, the fact is that this company has a cash margin of 65% based upon a realized price of C$1.80 and a cash netback of C$1.18. That margin is huge in any currency. In a low commodity price environment, a margin such as that is extremely hard to find and nearly always indicates great profitability going forward. There is plenty of room for gas prices to decline and this company will remain very profitable.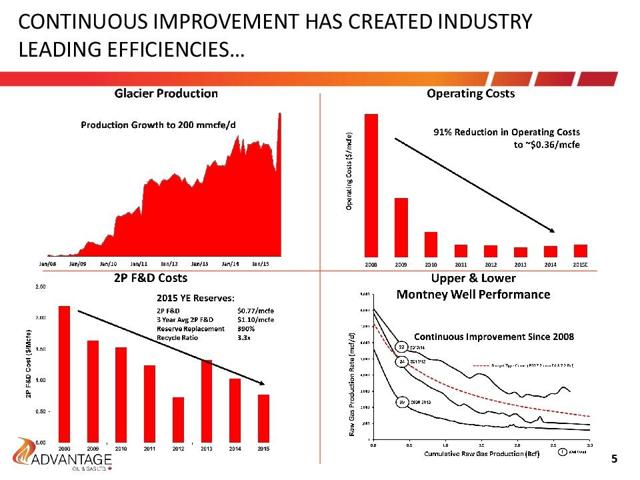 Click to enlarge
Source: Advantage Oil and Gas April, 2016, Investor Presentation
From the above slides, the company has finding and development costs of C$.77/MCFE. If those costs are subtracted from the projected cash margin in the slide above of C$1.18/MCFE the remaining amount of C$.41/MCFE represents a margin of 22% on the realized price of C$1.80. That is a tremendous before tax margin on the realized price and it leaves a lot of room for writeoffs and other accidents and non-recurring items that happen from time to time.
Plus the company is financially conservative.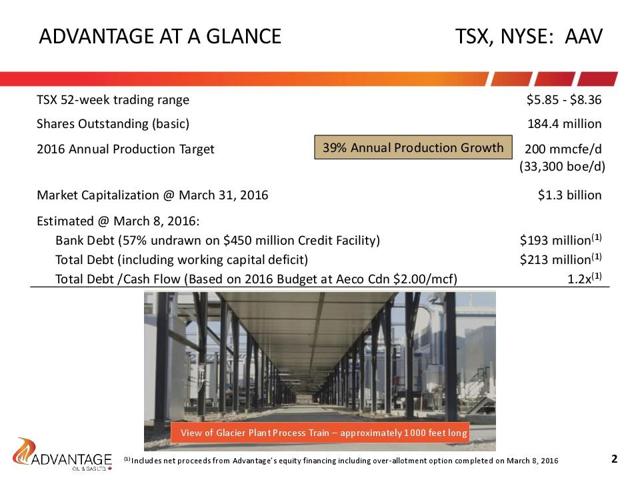 Click to enlarge
Source: Advantage Oil and Gas April, 2016, Investor Presentation
The company recently issued equity that netted more than C$100 million (see footnote above, the rest of the presentation, and multiple press releases on the website) to pay down its debt even though the bank reaffirmed the credit line and there was more room to borrow. Clearly, the ratios above are conservative even though this company operates with a working capital deficit from time to time, it has the ability to change that deficit anytime management chooses simply by utilizing the credit line.
The company issued about 13 million shares which diluted shareholders equity about 8% (based upon roughly 170 million shares outstanding in the fourth quarter). However, the company will grow production this year 39%, so the additional shares on average will not reduce earnings. The reduction in gas prices has a far larger effect on company earnings than does the dilution from the share offering. Plus by keeping the financial ratios fairly conservative and the lenders satisfied, the company minimizes problems ahead of time should industry conditions deteriorate more than they already have.
But the big thing that differentiates this company from much of the industry is that it is projecting to make good money in the future in the middle of one of the worst industry downturns in recent memory.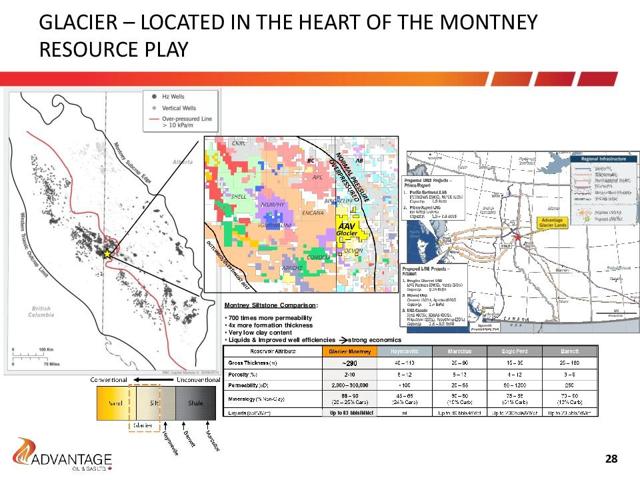 Click to enlarge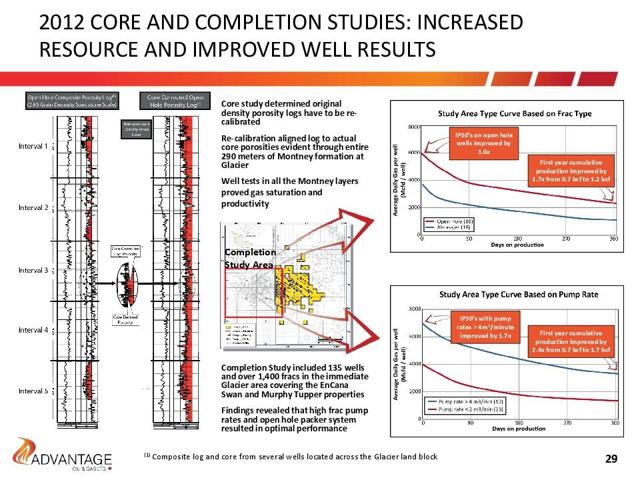 Click to enlarge
Source: Advantage Oil and Gas April, 2016, Investor Presentation
The company drills for mostly dry gas in Canada. It has properties that border between Alberta and British Columbia in the Glacier Montney Resource Play. While some additional acreage does have liquids, the main play where the company's gas plant is located is generally dry gas. The company has minimized costs by integrating vertically where possible and focusing on lowering costs even though its costs are already among some of the best in the industry.
From the top slide, the company has acreage that is located between some very low cost players in the industry. Currently wells are projected to cost C$5.1 million, though management will undoubtedly lower that cost this year. Plus management has worked on improving the budgeted flow rate of 7.2 MMCF/D initially and is working on decreasing the decline rate.
The top slide also demonstrates that company operates in an area that more than competes with some of the more significant unconventional plays in the United States. Plus the company demonstrates in the second slide how it improves operations, and management is aiming for more significant improvements. This implies production increases on far less cash outlays than just a few years back. Depending upon the progress of operational improvements, management could beat its own projections (both for budgeted costs and production increases).
Since the properties offered a minimal acceptable return at current commodity pricing, the improvement goals could well turn these properties into gold mines before hedging even at current commodity pricing.
Since reported costs are weighted average historical costs, the more newer and improved wells drilled, the lower the costs will be in the future even without the projected improvements for the year. So this company has a very bright future.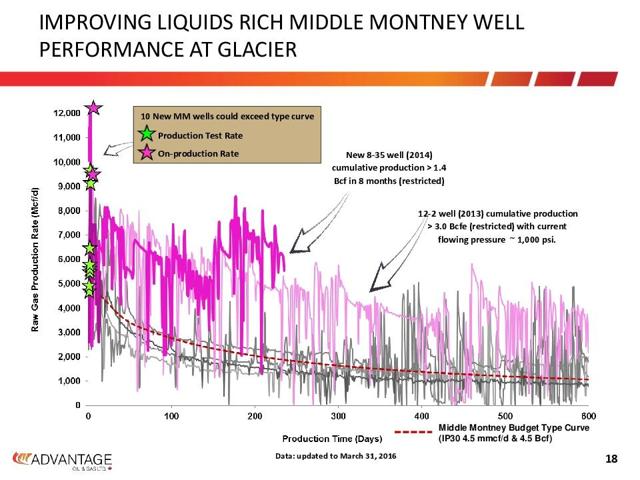 Click to enlarge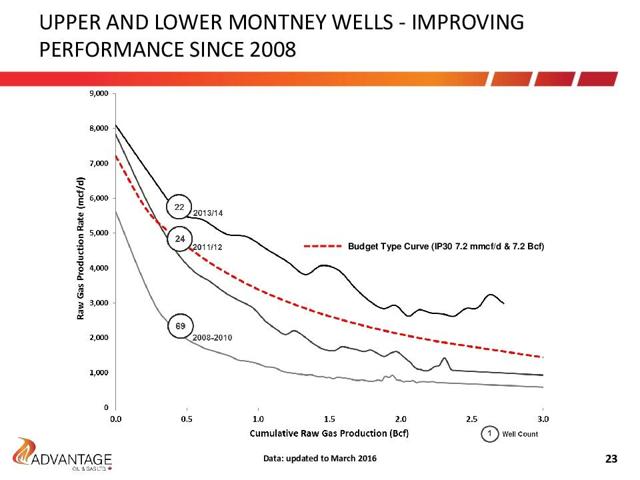 Click to enlarge
Source: Advantage Oil and Gas April, 2016, Investor Presentation
The company has some very significant improvements coming as shown in the top chart, costs can be expected to decrease significantly over the next year or so based on the improved well performance. The bottom chart shows the well performance improvements for the last few years. As the new wells age, their production will be superior to the older wells and continue to lead to lower costs for some time.
Last year, the hedging added C$.64/MCFE to the profits of the company, which resulted in cash netbacks of C$2.40/MCFE. This year the company has more than half of its production hedged at prices significantly higher than the current market price, so cash flow should continue to be very generous under most projected market scenarios. The hedging turns minimal profitability into very good profitability for this company. There will be a lot of companies that go broke before this company suffers much.
Bank debt at year end 2015 was less than 30% of shareholders equity. After the recent offering of equity in Canada, that percentage dropped to under 20%. At year end, the company had a positive working capital balance. However, throughout its history it relied on a working capital deficit to reduce interests costs knowing that the credit line was available for additional funds if needed. The first slide showed a long term debt to cash flow ratio projected of around one-to-one. Indeed last year the funds flow from operations was approximately C$113 million which calculated out to a year end ratio of more than two-to-one before the recent equity offering. The current year cash flow is budgeted at C$163 million. Management has given itself several very viable ways to achieve that figure. Given the company's hedging program, the cost reductions targeted, and past management achievements, the long term debt to cash flow ratio will remain conservative in the future. It would take one huge variance from management projections for the company to have a cash flow squeeze.
With a current market value of about C$1.3 billion that is about eight times cash flow and adding in the long term debt would raise that figure to about nine times cash flow, an investor purchasing common shares has a position in one of the most profitable companies in the industry. Further the company expects to grow production this year from about 141 MMCFE/D to 200 MMCFE/D with further growth to 235 MMCFE/D in 2017. That is the kind of growth that one would normally expect from a high tech company with a considerably higher cash flow ratio for these qualities. In short this very superior company is cheap by many measures. Investors in the oil and gas industry would be hard pressed to find a company with as good or better prospects. This is a company whose stock will at least double over the next few years without any help from commodity price rallies.
Disclaimer: I am not an investment advisor and this is not a recommendation to buy or sell a security. Investors are recommended to read all of the company's filings and press releases as well as do their own research to determine if the company fits their own investment objectives and risk portfolios.
Disclosure: I/we have no positions in any stocks mentioned, and no plans to initiate any positions within the next 72 hours.
I wrote this article myself, and it expresses my own opinions. I am not receiving compensation for it (other than from Seeking Alpha). I have no business relationship with any company whose stock is mentioned in this article.