Introduction:
The Perfect Portfolio is held in a taxable account that is intended to generate additional income to supplement my Social Security benefit. As such, dividend received are taken in the form of cash and not reinvested.
As someone who practices the strategy of Dividend Growth Investing (NYSE:DGI) my tax deferred accounts, I do reinvest dividends and many of the companies that I am purchasing in my taxable account are also companies that I am purchasing in my tax deferred accounts.
The reason for the duplication is that I believe that these companies meet the common metrics of DGI. That is, they are companies that increase dividends annually and are companies that are part of the universe known as Dividend Champions, Contenders, and Challengers, that are updated regularly by David Fish (CCC Stocks link). Two of our recent purchases are Dividend Growth stocks, but have not achieved CCC status as of today.
What You Should Know:
This portfolio and the activity in it is designed to be transparent in what we are doing, every month, moving forward. So, we will highlight those companies that we are considering for purchase before we purchase them and we will report which ones we have added to our portfolio, when we make those purchases.
In keeping with that promise, here are the companies that we mentioned in our last article (link here) as our current "target list"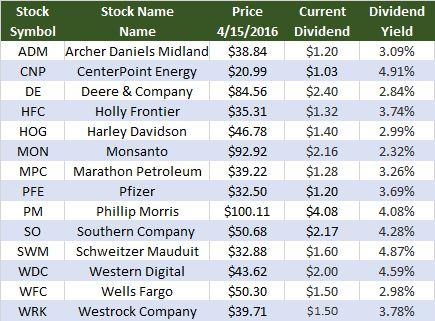 On Friday, April 22 rd, we initiated purchases of 6 of those companies and here is the recap of those purchases.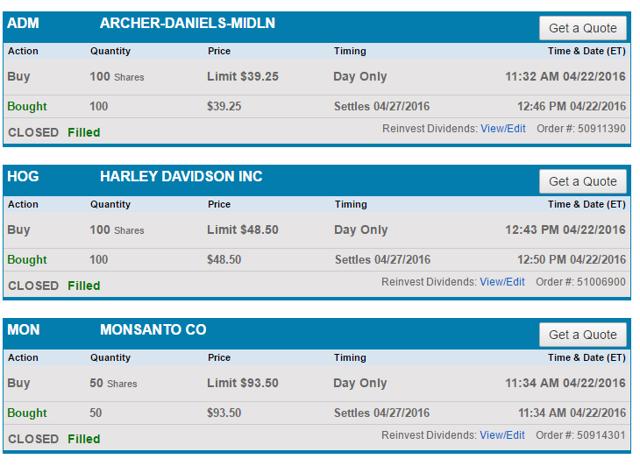 Click to enlarge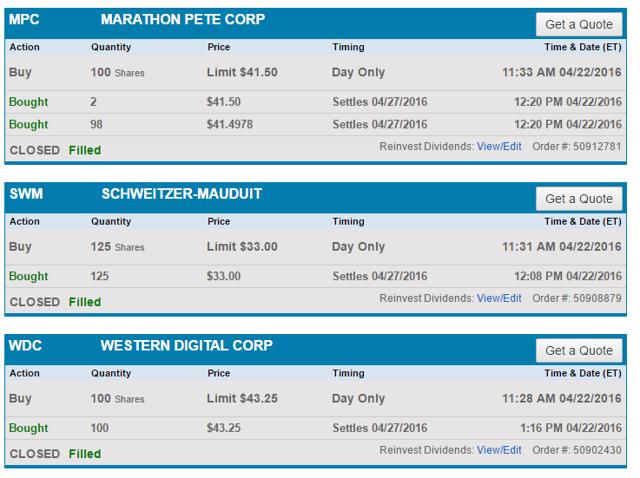 Click to enlarge
A Snapshot View of our Recent Purchases:

All 2016 Purchases Made: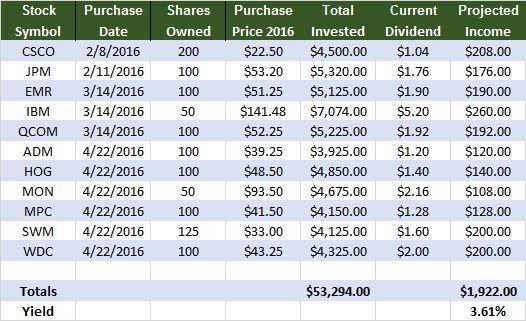 What You Should Know:
When we sold a home that we owned in California, we had a capital gain on that property. Once the tax consequences were taken care of, the decision was made to set aside a portion of that money so that we could invest it in the stock market.
Another portion of the money from that sale was allocated to purchases that may or may not be considered "investments" but we purchased real estate in the Gulf Shores area and a couple of toys for our own use and pleasure.
But, there remains a portion of the income that needs to be invested to provide for our retirement years.
The intention of The Perfect Portfolio is that creation of an income stream. For the most part, we are looking at stock in companies that we feel comfortable owning for the longer term.
While value is where you find it, that does not preclude us from making purchases in companies that may be cyclical in nature, nor does it prevent us from making the decision to sell a given purchase and taking the profits as that particular company might be something other than a pure DG play.
Summary and Conclusion:
So far this year, we have purchased shares in Cisco Systems (NASDAQ:CSCO), JP Morgan Chase (NYSE:JPM), Emerson Electric (NYSE:EMR), International Business Machines (NYSE:IBM), Qualcomm (NASDAQ:QCOM), Archer Daniels Midland (NYSE:ADM), Harley Davidson (NYSE:HOG), Monsanto (NYSE:MON), Marathon Petroleum (NYSE:MPC), Schweitzer-Mauduit (NYSE:SWM), and Western Digital (NASDAQ:WDC).
The markets gave us a wonderful opportunity to purchase shares in different companies over the last 6-8 months. There was a time when it seemed, however, that the market was not going to correct to the upside.
For some investors, the erosion of their portfolio "value" was cause for concern and some investors chose to sell their positions in an effort to take whatever profits they might have had and to minimize any further losses.
While I have no idea where the market is headed in the short term, call me an optimist as to my belief as to where the markets are headed in the long term. (Which I believe is up).
Regardless of how things play out, buying DG stocks and reinvesting dividends where you do not need the income currently, makes a lot of sense to me and is something that I've been doing since the early 1980's.
There were market booms and market busts all along that historic time frame, but in the longer term, the markets have been on a long term move to the upside.
That may very well change in the near term, but I will continue to look for opportunities to invest my money and stay focused on the fact that the intent is to increase the dividend portion of this portfolio for immediate needs.
Disclosure: I am/we are long CSCO, EMR JPM QCOM, IBM, ADM MON MPC SWM HOG.
I wrote this article myself, and it expresses my own opinions. I am not receiving compensation for it (other than from Seeking Alpha). I have no business relationship with any company whose stock is mentioned in this article.