El Pollo Loco's (NASDAQ:LOCO) recently released Q4 2015 financial results were rather weak compared to the data from year ago. Revenues in Q4 2015 totaled $86.3M compared to $90.0M in Q4 2014, which is a nasty decline. To be fair, Q4 2014 includes an extra work week, which has added $4.6M in revenues to the quarterly results.
The company's net income was $5.4M in Q4 2014, or $0.14 per share, compared to $4.6M, or $0.12 per share a year ago.
Adjusted EBITDA came to be $15.2M compared to $16.3M in 2014. Because of the effect of the extra week, the EBITDA in 2014 is inflated by about $1.0M.
Despite the increase in net income, we see that the company has shown a decline in EBITDA, which is a proxy for cash flow. I think that the "extra week" excuse does not justify the lack of growth in the top line and the margin, and the company's management deserves the blame. Even if we remove the data from the extra work week, the numbers will not suddenly become all rosy again. I think that one of the reasons why the company is not doing that well is that it does not have a strong market positioning. To me, El Pollo Loco has always been a restaurant chain just like any other in its price zone.
However, some recent changes made me look at the company from a different angle. I am not as pessimistic about its future prospects as I used to be before. The recent price auction, which catapulted the stock above the 200-day moving average line, has made me think that the company's shares may continue growing in the medium term: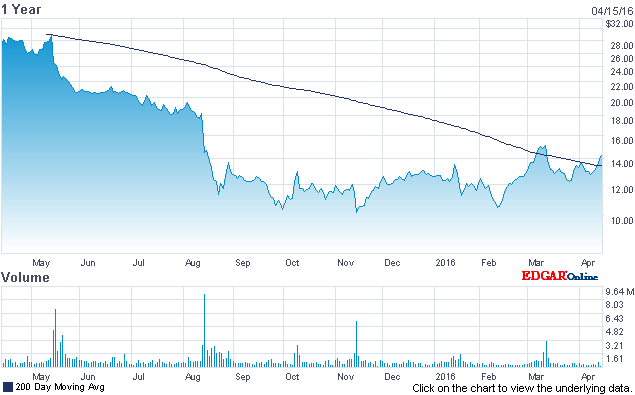 I believe that the uptrend was caused by two events:
El Pollo Loco's Chief Operating Officer, Kay Bogeajis, left the company. Apparently, other top managers had issues with him that could not be resolved. The past financial reports made me think that the company is successful in many things but not in terms of its finances (Source: Nasdaq Globe Newswire).
William R. "Bill" Floyd and Carol "Lili" got seats at the Board of Directors:
"We are thrilled to have the opportunity to add two talented individuals to our Board of Directors. Both Bill and Lili bring strong leadership qualities as well as valuable operational and restaurant industry experience to the table. I'm confident that Bill and Lili will make enormous contributions to our organization, and we look forward to working with them as we continue to grow and strengthen our brand."
(Source: Corporate newswire)
Both people have a lot of experience in the restaurant business. I think that their acquisition is a major wise decision taken by the company. In my opinion, they have the expertise to add real value to the company. The structural changes in the company's business are coming, and this is a good thing.
Moreover, the company's CEO, Steve Sather, does understand that the company needs serious tuning:
"He [Steve Sather] was taking the necessary steps to reengage our value customer" and improve the customer experience. He also said that recent initiatives would take time to show results, but he believes they are "beginning to gain traction."
(Source: Nasdaq.com)
Besides that, many analysts are also bullish on this stock: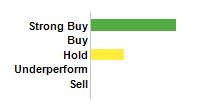 (Source: Nasdaq.com)
Conclusion
El Pollo Loco is an average restaurant chain in a red ocean environment. Its valuation has been falling throughout the year which has been disappointing for investors. However, the company has made some radical changes, which, hopefully, will change its life in the long run and helps its share price rise to new levels.
Disclosure: I/we have no positions in any stocks mentioned, and no plans to initiate any positions within the next 72 hours.
I wrote this article myself, and it expresses my own opinions. I am not receiving compensation for it (other than from Seeking Alpha). I have no business relationship with any company whose stock is mentioned in this article.