I am not an Under Armour (NYSE:UA) bear or hater. I see everybody at the gym wearing their shirts, just like you do. In the summer I prefer their breathable athleisure shirts, and I've been wearing their gym shirts for 10+ years. I like Kevin Plank, and see the explosive growth — but the stock is still too overvalued for my taste.
Their last quarter was strong. It was the 24th straight quarter with 20%+ growth. Not all growth is created equal though. UA has been an apparel company and apparel grew at 20%. What's going to drive Under Armour to the next level is shoe sales, foreign sales, and arguably women's sales.
Footwear
First-quarter Footwear revenues increased 64% to $264 million from $161 million in the prior year's quarter. 64% growth is great but it's coming off a low base and $264 million is still a drop in the bucket compared to rival Nike (NYSE:NKE).... Which is both good and bad. Can they continue that growth? I'd argue yes, which is a strong positive.
Another peeve of mine is reading an Under Armour article gushing about how cool the company and Steph Curry are. His shoe has done well, but let's talk about what you don't know. In 2015 UA had 4 running shoes that sold above $100. This year they will have 8, and next year they plan on having 14 hundred dollar shoes. Besides the cleats, in my opinion their shoes don't have a great reputation, so having an MVP wearing them does give the company some valuable street cred.
But what's coming down the line? Under Armour is building a new 100,000 square-foot headquarters in Portland to steal employees from Nike give access to talent.
They also came out with the UA Architect, a 3-D printed midsole shoe that sold out in 19 minutes with a price tag of $300. Under Armour reports more to come on that front.
Again, footwear has been very strong, and if this stock IS going to continue to do well, footwear will be a major reason why. I give the company a check mark for footwear, and appreciate their innovation for the future.
Foreign sales
China, China, China. In the first 90 days of 2016, Under Armour earned more revenue in China than they did in all of 2014. The company bet on China and so far it's paying off. Footwear was 1/3rd of the business in China (they love the NBA) so that's a double whammy.
International revenues increased 56% to $149 million, 65% on a currency neutral basis. 14% of total revenues are now coming outside the United States and the goal is to have that up to 18% by 2018.
UA now operates 26 global websites and direct-to-consumer revenues grew 33% to $266 million.
Foreign sales are doing well and they will have to for the stock to continue its ascent. I'd argue that foreign sales are more of a "sure thing" than shoe sales because much of the foreign sales are from apparel where UA's products are proven fantastic. Shoe sales, the jury is still out on their products.
The Bad
Margins decreased from 46.9% to 45.9%.
Selling, general and administrative expenses grew 27% to $446 million compared to $350 million during the first quarter of last year.
Part of that were investments in growing the direct to consumer business, a 14% growth in marketing, and increasing staff to support their apps.
Their apps are a big disappointment to me thus far. If Kevin Plank was on shark tank I could see Mark Cuban telling him to focus on what's working right now, not spending $710 million on 3 fitness apps. Keep selling shirts and shoes, keep making money, don't waste it on something that wont help the bottom line. From the April 21st Seeking Alpha earnings transcript:
On the balance sheet, total cash and cash equivalents for the quarter decreased to $157 million compared with $225 million at March 31, 2015. Inventory for the quarter increased 44% to $834 million compared to $578 million at March 31, 2015.

Accounts receivable grew 43% to $566 million compared to $396 million at the end of the first quarter of last year, while total debt increased to $935 million as compared to $669 million at March 31, 2015.
Look, I get it, they are a growing company, and they have to invest to grow, sure, but for what the stock is trading for now, I don't want to see cash going down, debt going up, and inventory rising.
Valuation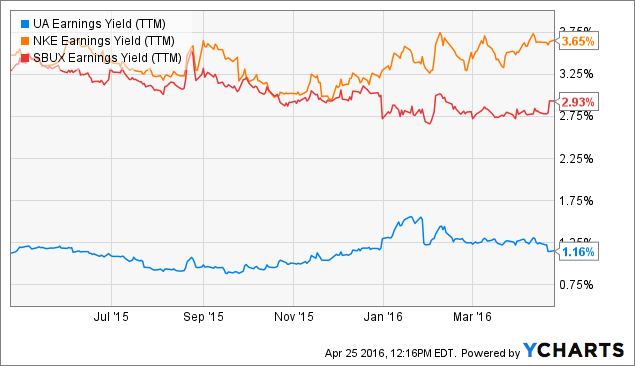 I compared Under Armour to Nike and Starbucks (NASDAQ:SBUX) due to direct competition with Nike, and strong growth with Starbucks. Under Armour's TTM earnings yield is 1%. If I'm paying that much for a company I better be see a company firing on all cylinders.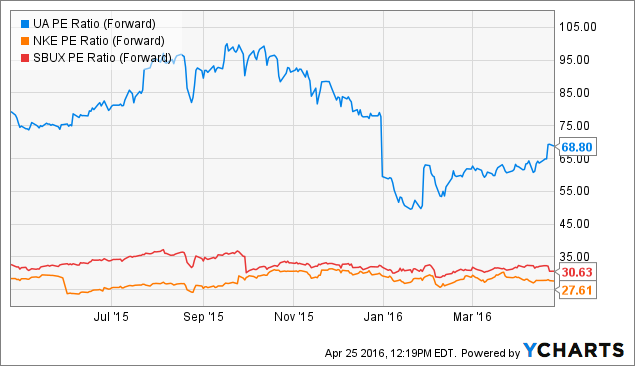 Some people prefer looking at PE instead of earnings yield. Here is a forward PE which already bakes UA's fantastic growth into the cake.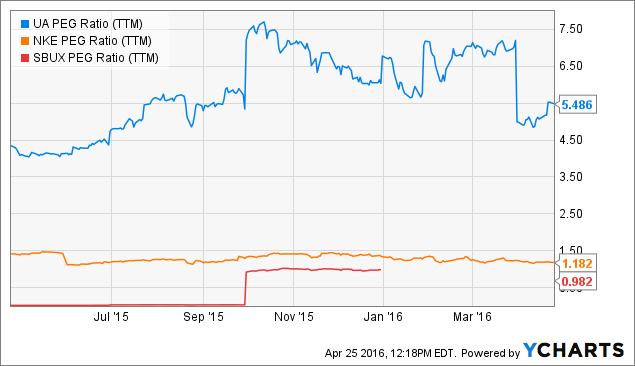 I'm hoping the PEG ratio is screwed up with UA post split because even at 50% of that it's too high.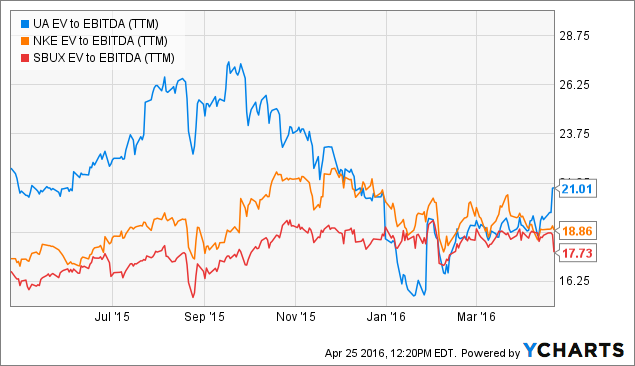 EV to EBITA looks more reasonable when compared to the peer group.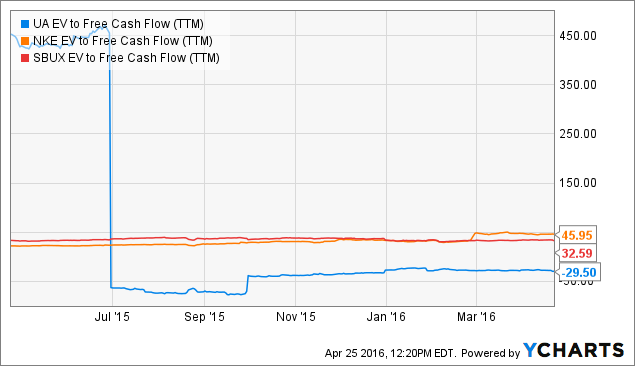 EV to FCF is negative.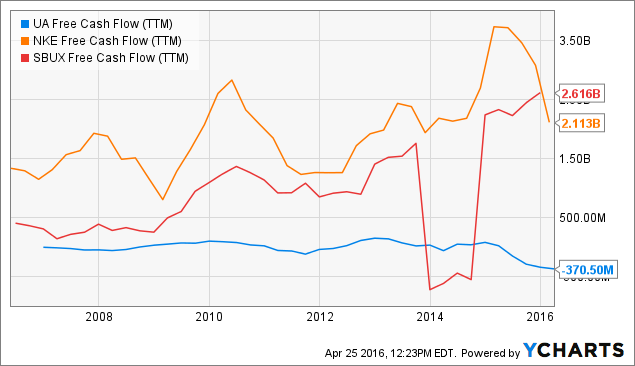 FCF is moving the wrong way. I get it, the company is in growth mode and you have to invest to grow, but given the other valuation metrics the risk isn't worth the reward at this price.
Summary
It might have been the CFA Institute books, but somewhere I read that equity analysts usually increase their prospects on a stock after talking with the CEO. They look at the numbers and come to one conclusion, then they meet the CEO, visit the headquarters and get swooned. Kevin Plank is maybe the best salesman out there and he's backed it up. BUT that's precisely why the stock of overvalued now.
Less cash, more debt, rising inventory is NOT what I want to see for a stock that's trading with a 1% earnings yield.
The biggest complaint I have is they've spent a tremendous amount of revenue, $710 million, on something they've received little to no quantifiable return on thus far. I could be wrong, and Plank has made all the right moves thus far, but I'd prefer a growing business to go where the money is.
Under Armour continues to be on my follow list but it's a no-go at these price levels.
Disclosure: I/we have no positions in any stocks mentioned, and no plans to initiate any positions within the next 72 hours.
I wrote this article myself, and it expresses my own opinions. I am not receiving compensation for it (other than from Seeking Alpha). I have no business relationship with any company whose stock is mentioned in this article.