On Monday, Ocean Rig UDW (NASDAQ:ORIG), or simply Ocean Rig, announced that it had bought the 6th generation UDW drillship at an auction, through a subsidiary, for just $65 million in cash. The Cerrado unit had been owned by the Schahin Group, a Brazilian industrial firm that filed for bankruptcy protection last year after Petrobras (NYSE:PBR) announced numerous contract terminations with the company, however it is not clear if Cerrado was purchase from a direct auction, but the details seem to suggest this. Furthermore, Ocean Rig had been under contract to manage the Cerrado unit since September of last year. This purchase price is a major discount to both newbuild prices and comparable sales regarding similar units, although there is no contract attached to this sale and the market has drastically deteriorate in recent months. This rig was built in 2011, yet as the market for offshore drilling units has dried up Ocean Rig is acting to purchase this rig at a fire sale price. Of course, while this rig purchase represents an attractive deal for Ocean Rig, it does not bode well for the market valuation of its own remaining fleet.
Ocean Rig specializes in UDW drillships and while these units typically command sizable dayrates, as major E&P players have cut back substantially on CAPEX, exploration activity has decreased significantly which has put pressure on drillship and general offshore drilling unit dayrates. The company's fleet is entirely comprised of UDW drillships and UDW semi-submersible rigs and while the $65 million purchase price for the Cerrado was done in an auction as a result of its former owner's bankruptcy and without a current contract, it still raises questions about the true market value of the company's other rigs in this market. Ocean Rig has over $6.3 billion listed in drilling assets on its balance sheet across its eleven drillships, two semi-submersible rigs and related equipment. There can be major discrepancies in the carrying value and the market value of illiquid assets such as drilling units. While companies typically review impairment needs annually or even more frequently, the purchase of such a similar drillship to its existing units for only $65 million may ultimately lead the company to review this carrying value. Furthermore, Ocean Rig has contracts for the delivery of three UDW drillships with deliver of one rig per year in 2017, 2018 and 2019. Leading up to this latest purchase of the Cerrado, Ocean Rig has been active in trying to create shareholder value with a number of notable developments in recent months.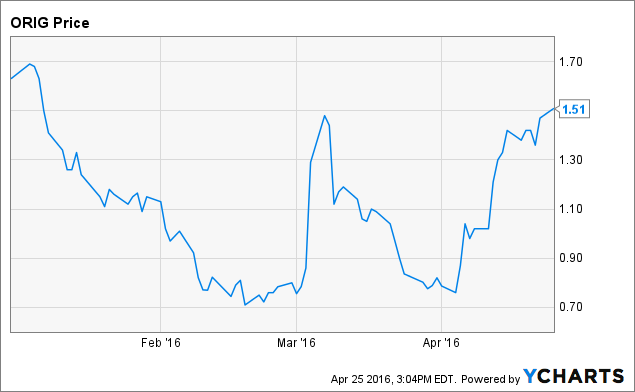 In early April, Ocean Rig announced that a subsidiary of the company would purchase all of Dryships' (NASDAQ:DRYS) shares it held in the offshore driller for $49.9 million. The deal for over 56 million shares amounted to a major share buyback that eliminated roughly 40.4% of the company's outstanding shares. Ocean Rig has seen its share price rise substantially since then and has engaged in a number of other beneficial transactions. The company also announced that it had bought back roughly $709 million in face value debt for a substantial discount that has brought about a gain of approximately $314 million. These developments illustrate the company's commitment to creating shareholder value through beneficial transactions and the purchase of the Cerrado drillship is the latest evidence of this. The company has also made significant strides in reducing operating costs in order to reflect the changing industry conditions.
Ocean Rig is in a unique position as it has a sizable cash balance relative to its market cap and with limited near term debt maturities. These circumstances put the firm in a strong position to engage in opportune transactions during this prolonged market downturn. The offshore drilling market has significantly deteriorated and with a number of bankruptcies and distressed firm, it seems like an opportune time to purchase high quality drilling assets. The rig contracting market will likely remain weak for some period of time after oil prices rebound, however Ocean Rig's fleet is young and as the company can maintain ample liquidity, it should be able to weather the storm and emerge from this downturn as a stronger company.
Please follow my ongoing Seeking Alpha publications by clicking the Follow button next to my name at the top of this article. Thank you.
Disclosure: I/we have no positions in any stocks mentioned, and no plans to initiate any positions within the next 72 hours.
I wrote this article myself, and it expresses my own opinions. I am not receiving compensation for it (other than from Seeking Alpha). I have no business relationship with any company whose stock is mentioned in this article.