Home improvement stores and residential construction companies are both part of the SPDR S&P Homebuilders ETF XHB. After getting an interesting comment on one of my building permit articles I decided to write an article about it. The comment included a link to a Hedgeye article about the secular trend where home improvement is outperforming residential construction.
The article discusses a few reasons that influence this trend.
A rising average age of homes and a falling mobility rate are examples why home improvement is outperforming the actual construction of homes. Another reason is the economy. In my country, The Netherlands, we saw a huge shift during the housing crisis. People renovated their homes rather than moving into new houses.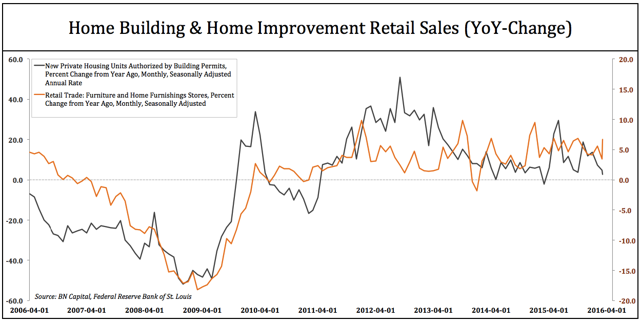 Click to enlarge
The divergence between home improvement sales and building permits increased this year.
The two companies that are interesting on the long side are Home Depot (HD) and Lowe's (LOW). Both companies are home improvement heavyweights with stores in almost every state and some exposure in Canada and Mexico.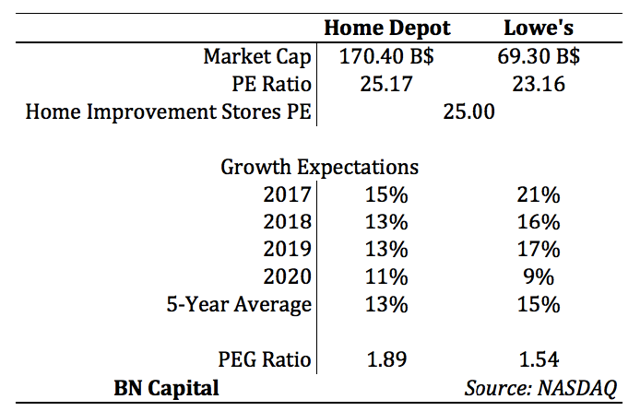 Click to enlarge
Both companies are large cap stocks. However, Home Depot is more than 100 billion USD bigger than Lowe's.
Both companies have PE ratio's close to the industry average and are expected to growth about 13-15% over the next 5 years.
According to the PEG ratio, Lowe's stock has a 'cheaper' valuation. If you take some standard deviation into account we can neglect the difference since we look far into the future and the expected growth has a 2 point difference. Furthermore, the Home improvement PE is based on four companies. Home Depot, Lowe', Tile Shop Holdings (TTS) and Lumber Liquidators (LL).

Click to enlarge
Home Depot has higher returns and higher margins. Profit margins are 3.6 points higher than Lowe's. Both companies have no problems servicing short term liabilities.
A huge part of Home Depot's growth has been financed by debt which is displayed in a higher debt/equity ratio.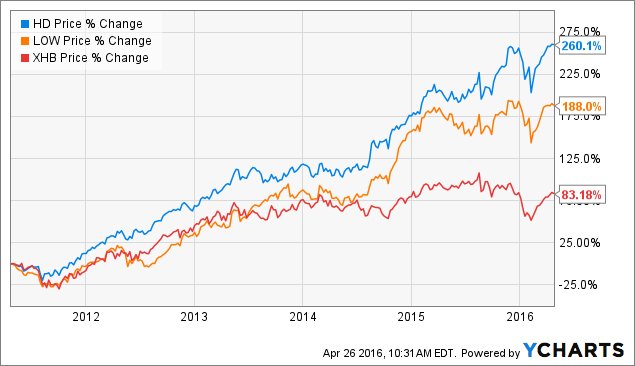 HD data by YCharts
On the 5-year chart we see that Home Depot is outperforming Lowe's. Both companies are outperforming the homebuilders ETF. This picture does not change on either the 10-year or MAX chart.
I expect that this picture is not going to change. HD will keep outperforming LOW and XHB. The difference however is really small and a long position in either companies is a smart investment.
On the long side it makes sense to short a residential contractor. In this case I chose CalAtlantic (CAA). The company is the result of Standard Pacific Homes and Ryland Homes.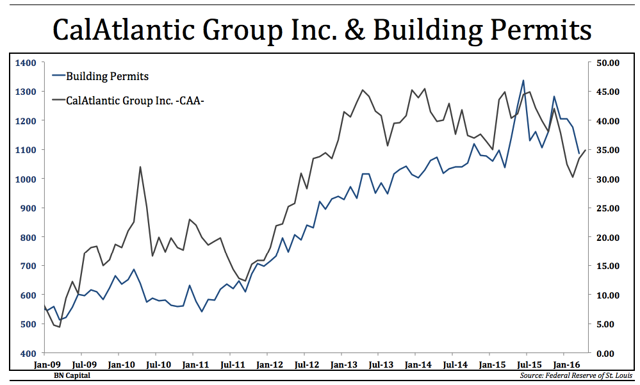 Click to enlargeCAA has been rallying from July 2011 till January 2013. The stock price hasn't gone anywhere since then. Building permits however kept soaring. At this point it looks like permits are falling which puts more pressure on CAA.
Falling building permits and a rising spread between home improvement sales and residential building has a positive influence on a long home improvement, short residential contraction trade.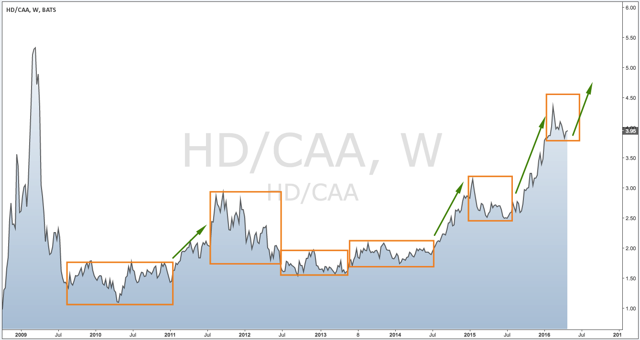 Click to enlargeSource: Tradingview
The rallies in the ratio spread HD/CAA started at the beginning of during widening spreads between building permits and home improvement sales.
I have put this trade on my watchlist. The trade is market neutral and is influenced by secular market/economy changes. The biggest risks are unsystematic risks that lie within the company.
Disclosure: I/we have no positions in any stocks mentioned, and no plans to initiate any positions within the next 72 hours.
I wrote this article myself, and it expresses my own opinions. I am not receiving compensation for it (other than from Seeking Alpha). I have no business relationship with any company whose stock is mentioned in this article.