The investment thesis for Agrium (NYSE:AGU) is simple, solid and straightforward. It can be summarized in four words, which are also its slogan: "Feeding a growing world."
Continued global population growth, plus a growing middle-class in emerging markets with changing diets, is spurring an ever-increasing demand for increased food production. According to the United Nations, the current world population of 7.3 billion is expected to reach 8.5 billion by 2030, 9.7 billion in 2050 and 11.2 billion in 2100. To meet the needs of this growing population, with its changing diets, food production will have to double in 30 years to help solve the current food crisis. Agrium offers investors exposure to the growing global demand for agricultural products.
This increased food production will have to occur on less available arable land. This can ONLY be accomplished by intensifying production. The world will not be able to meet its food production goals without fertilizer. Today, commercial fertilizer is responsible for delivering 60% of the world's food production.
Agrium Inc. is a diversified global leader in agricultural products and services, with revenue of $14.8 billion in 2015. Agrium is diversified geographically as well as through its business model, as it operates through two complementary business units - Retail and Wholesale. This is a unique competitive advantage for Agrium. None of its fertilizer competitors has a retail business.
Agrium Wholesale owns 16 production facilities in North and South America, two mines, and a distribution and storage network throughout North America and internationally through Agrium Europe. Agrium Retail operates a growing number of retail locations, currently about 1,400, plus 57 terminals, 8 plants and 18 distribution centers in North and South America, and Australia.
Agrium Wholesale produces, markets and distributes nitrogen, phosphate and potash products for agricultural and industrial customers around the world. The primary end customer for Agrium's wholesale products is the agriculture market to enhance crop yields and quality.
While the majority of Agrium's production is used for agricultural purposes, about 15% goes to industrial applications. The bulk of Agrium's wholesale industrial sales volume comes from ammonium nitrate, ammonium sulfate, ammonia, phosphoric acid, nitric acid and urea, produced at its North American nitrogen facilities and sold in Canada and the U.S. Urea, for example, is used for the production of resins in the construction industry and potash for the recycling of aluminum.
Agrium's competitive advantages are anchored by its unique business model, combining primary fertilizer production and manufacturing together with the world's largest direct-to-grower distribution network. This unique business combination enables the company to achieve higher plant operating rates, leverage its size and scale with suppliers, achieve significant logistics and distribution synergies and gather detailed market intelligence globally from all levels of the crop input chain. In addition, because Agrium is the largest agricultural retailer in the world, its retail segment has significant purchasing power.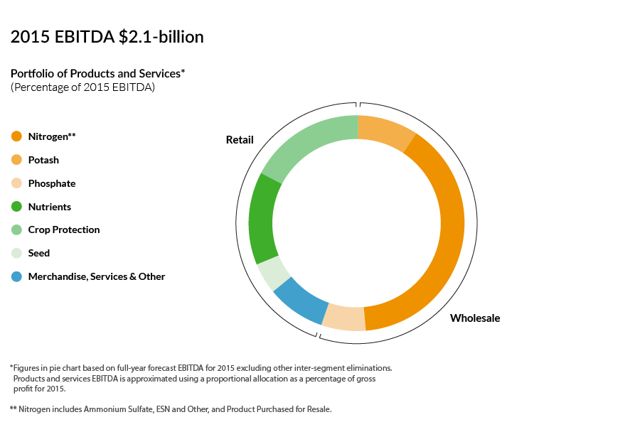 (Source: Agrium)
Agrium's shares may not be for every investor, as each individual investor has their own unique investment and cash flow objectives. To understand why I am recommending Agrium now as a long-term hold, it is helpful to have some knowledge of my investment approach, which can be summarized in four compound words: long-term, large-cap, value-oriented, dividend-growth. For additional details, please refer to my recent interview in the business section of The Globe and Mail newspaper, entitled "A Long-Term Outlook Helps This Investor Weather Market Volatility".
I focus on companies that fit this four-phrase portraiture - companies in which I hold a position, or companies I am researching for the purpose of making an investment decision. I currently hold an underweight position in Agrium (3%). Last week, I purchased additional shares of Agrium at C$107.29. Given my long investment horizon, I considered the timing was favorable last week to add to my position. The stock had sold off from a 52-week high of C$139.99 ($110.21) and entered a technically attractive range last week, trading below the RSI buy signal of 30. Given the recent run-up in the TSX, Agrium was one of only two stocks on the TSX at that time with an RSI buy signal - the other being Empire Co. Ltd. In neither case were the stocks trading above their respective 200-day moving averages.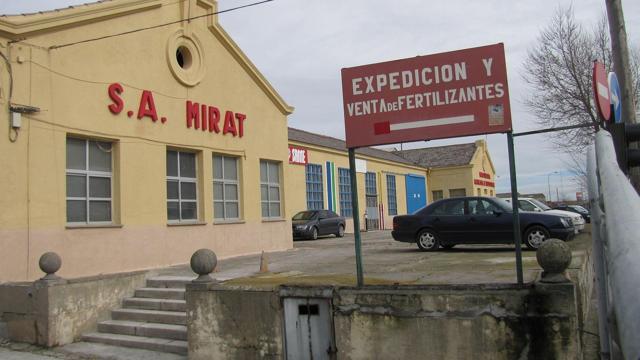 Management of soil fertility has been the preoccupation of farmers for thousands of years. Ancient civilizations used minerals or manure to enhance the productivity of their farms. Mirat, a producer of fertilizers and founded in 1812, is the oldest industrial business in Salamanca. (Source: Wikipedia)
The US is the third-largest consumer of crop nutrients and second-largest importer. With its production and sales channels, Agrium is positioned to benefit from the demand. Agrium Retail operates in Canada and in 45 states across the U.S., while expending in Brazil and Australia.
Agrium has built the most diverse, vertically integrated agricultural input business. And it is a strong and steady cash generator. The company has a clear path to earnings growth from both its retail and wholesale businesses, which will translate to robust and rising cash flows, with lower volatility than its peers. Agrium's free cash flow will grow smartly through 2016 and beyond, resulting in the company returning a significant amount of cash to shareholders through a combination of share repurchases and dividend increases.
Agrium reported strong 2015 results. Net earnings for the year were $988 million, up from $798 million in 2014, and earnings per share were $6.98, versus $5.51 in 2014. Both the wholesale and retail businesses performed well, despite challenging pricing conditions. Agrium derived 66% of its revenue from the U.S. in 2015, while Canada provided 19%. The remainder came from the company's international business. (Source: Agrium 205 Annual Report)
Free cash flow reached $8.59 per share last year, which easily covered the dividend. The company currently pays out $3.50 annually, providing room for growth in the distribution. Analysts are expecting $1.4 billion in free cash flow, or $10 per share by 2017-18.
Dividends are a priority for Agrium. The company has increased its dividend from $0.225 paid semi-annually ($0.45 annually) for the January 2012 dividend to $0.875 quarterly ($3.50 annually) for the July 2015 dividend, at the same time, increasing its target dividend payout ratio to a still reasonable 40% to 50% of free cash flow, an increase from the previous target of 25% to 35% of free cash flow.
Using $10 per share of free cash flow, this would result in a dividend of up to $5 per share, from $3.50 currently. Although we remain in a challenging agricultural environment, I expect Agrium's free cash flow to continue to improve because of the company's stable retail cash generation and declining capital-expense program. Given the difficult ag environment, management will likely take a prudent approach to dividend increases and may wait until late 2016 before making a decision on its next dividend increase. In the meantime, new investors can pick up a current 4.1% yield while they wait for the cycle to turn in the fertilizer sector.
Fertilizer markets faced oversupply and weak demand through the first quarter, with the added uncertainty for potash of a still unsettled 2016 benchmark contract price in China. Bumper crops of corn and grains have led to excess supply, particularly in the U.S., overhanging the market. This reduces the incentive to invest in fertilizers and compresses crop prices, which have faced steady downward pressure over the past two years. This impinges farm income, which, in turn, impacts fertilizer spending. The increase in planned corn acreage for 2016/2017 has added to the concern about rising inventories, creating something of a vicious circle.
Other macro factors have affected fertilizer pricing as well, including generally weak global economic conditions and currency weakness in many countries, which is dampening demand, as crop nutrients are priced in U.S. dollars. (However, the recent weakening of the U.S. dollar is providing some support for fertilizer pricing.)
While prices appear to have stabilized over the past several weeks as the planting season gets underway, the outlook for the rest of the year continues to be uncertain. The S&P 500 Fertilizers & Agricultural Chemicals Index has fallen by 26% in the past 12 months (although it has had a bounce recently).
Given this environment of swelling supply and slumping demand, the market does not at present have an optimistic view of fertilizer companies:
On April 13, Scotia Capital revised its outlook on stocks it covers in the sector, downgrading Agrium from "Focus Stock" (a Top Pick) to "Sector Perform" and reduced its 12-month price target from $105 to $100 per share. At the same time, the brokerage downgraded Mosaic (NYSE:MOS) from "Sector Outperform" to "Sector Perform" and lowered its price target from $33 to $31.
Then on April 14, Cowen Research, the equity research division of Cowen and Company, lowered its outlook for fertilizer stocks and the sector closed deeply in negative territory that day. Agrium lost the most. It fell by 5.6% from the previous day's close, settling at $83.20, while the S&P 500 was flat compared to the previous day.
Cowen also lowered its 12-month share price target for Agrium from $90 to $86; however, it maintained its "Market Perform" rating on the stock. At the same time, Cowen downgraded Mosaic to "Underperform" from "Market Perform" and lowered its price target from $32 to $23. Cowen also downgraded Potash Corp. (NYSE:POT) to "Underperform" from "Market Perform" and lowered its price target to $14 from $16 per share. CF Industries (NYSE:CF) was also downgraded to "Underperform" from "Market Perform," with its price target cut to $25 per share from $44.
Also on April 14, TD Securities lowered its target price for Potash Corp. from $17.50 to $17.00, but held its price target unchanged for Agrium at $88.00. It maintained its "Hold" recommendations on both companies and stated that it expects both Potash Corp. and Agrium to lower their EPS guidance ranges for 2016.
These downgrades and/or price target reductions highlight near-term pressure for other players in the industry as well. Mosaic fell 4% that day, Potash Corp. fell 2.6%, CF Industries fell 2%, and Israel Chemicals (NYSE:ICL) fell 1.4% during the day as well.
For the value-oriented, dividend growth investor with a long investment horizon and specific focus on companies with strong fundamentals, financial metrics and quality values (e.g., broad economic moat), I believe Agrium is a good investment opportunity at the present time. As Baron Rothschild opined, the key to making money is to "buy when there's blood in the streets." Markets reward timing, patience and sometimes a contrarian view. The way to get it right is to carefully build a position in strong companies in strong sectors when everyone is selling.
While I expect to see continued pressure on the fertilizer stocks in the short term, I believe the long-term fundamentals are highly favorable, driven by strong, lasting sectoral tailwinds. Being early cannot only be rewarding, but also puts us in a good position to understand and take advantage of a sectoral trend and subsequent move.
Despite the recent volatility in the fertilizer market, demand over the long term must necessarily remain strong. In addition to population growth, economic growth in many developing countries has resulted in improved nutrition and human diets are shifting from low-protein, starch-based foods to more animal-based protein. The developing world still lags behind the developed world in meat consumption, but citizens of these countries are making the shift towards consuming more meat.
Commercial fertilizer is necessary to maintain global crop productivity at current levels and will be even more crucial if yields are to increase. In many countries, fertilization is inadequate and unbalanced, which negatively impacts both crop yield and crop quality. Even if the biotechnology industry can deliver on its promise to contribute to increased crop yields, fertilizer is still critical to avoid degradation of soil nutrients and soil quality.
As one of the largest global distributors of fertilizer, Agrium produces and markets 10.8 million tonnes (metric tons) of nitrogen, phosphate and potash to help growers worldwide increase the quality and quantity of their crops to feed the world. Agrium's business model is strengthened and the risk mitigated through the company's broad geographic exposure, diversified portfolio of inputs for a wide variety of crops and continued proprietary product growth.
And because Agrium operates in both the wholesale and retail sectors of the global fertilizer industry, this gives it a broader, more diversified business model than its peers.
Its retail business is a "stable gem," delivering consistent performance, which enhances the resilience of Agrium's overall business model. Not only is it less volatile than the wholesale side, which is more exposed to commodity price cycles, but it also serves as a proprietary channel for the sale of seed and crop protection products to a global network of farmers. The integrated structure makes the overall business less volatile and represents a competitive advantage compared to the pure-play wholesale producers.
Agrium believes the strength of its retail segment is in its countercyclical cash flow generation and stability in earnings as well as enhanced acquisition profile - it can pick off retail acquisition targets in bite-sized chunks. It plans to continue to expand its high-margin proprietary brand offerings and continue acquisitions to increase its retail distribution footprint. Agrium will continue to grow its retail segment operations through small tuck-in and bolt-on acquisitions.
Agrium is my favored name in the fertilizer sector for its competitive advantage from its unique wholesale-retail business model, low-cost production, global reach, strong cash generation and steady growth profile. Although I expect market conditions to remain challenging in 2016, the retail segment's strong sustained cash flow generation should help buttress Agrium.
Potential Risks
Key risks include the health of global agricultural markets; demand and prices for agricultural inputs, which can be volatile, as the impact of weather and global economic factors are difficult to predict. These factors can result in lower than expected demand, resulting in a negative impact on earnings.
Other risks include changes to governing import and export regulations, subsidies, tariffs and legislative regimes; foreign exchange rates; shipping, and transportation constraints; permitting and environmental.
Looking Forward
Agrium will report its fiscal first-quarter 2016 results after the market closes on May 3 and will host a conference call on May 4 at 10:00 a.m. ET (dial-in number is 877 269-7756).
Agrium's management has guided for a slight loss for the first quarter, without being more specific. The analyst consensus is for a loss of $0.04 per share.
Analyst consensus target price is $88.00, which is based on an 8.5x EV/2017 EBITDA multiple.
Because of my long investment horizon, I purchased additional shares of Agrium last week for a registered account. This is a long-term account where I rarely do any selling, but occasional buying when the growing cash balance from the income stream in the account reaches a level where it's time to put the cash to work.
Investors with a shorter investment horizon may wish to wait for a clearer picture of the outlook from the all-important second-quarter earnings announcement. Typically, about 60% of Agrium's annual earnings are generated in its second quarter, which is the peak of the North American planting season.
Disclosure: I am/we are long AGU.
I wrote this article myself, and it expresses my own opinions. I am not receiving compensation for it (other than from Seeking Alpha). I have no business relationship with any company whose stock is mentioned in this article.