I took a long hiatus from writing Seeking Alpha articles to focus on certain career goals. Now that I have some free-time, I intend to fulfill a promise I made back in November. I promised I would write a follow up article detailing the current holdings of my incredibly lovely and wise grandmother.
For those who have not read part 1: Click here for the link.
Recap
Sagacious, kind, and devoted - Mrs. Prather is a truly special grandmother. As an alum of the University of Texas, she is a die-hard Longhorns football fan. As a retired communications professor, she is incredibly well-spoken and insightful. And, as a grandmother she is warm, caring, and gracious. Recently however, I discovered that she is also an incredibly successful investor. In my last article, I went through some of her most lucrative trades, and I outlined her thought-process and strategy for investing in and holding each stock. In doing so, I hoped to nail down a set of criteria so I could personally duplicate her investing strategy in my own portfolio.
To recap my findings - I'll include her main criteria here:
She must personally like and/or use the products or services of the underlying company regularly in her own daily life.
She doesn't focus on quick profits, valuation tricks, or macro-economic hearsay.
She buys and holds a stock as long as she likes what the company sells or provides, and she subsequently liquidates her shares when she no longer cares for whatever product or service the underlying company peddles.
Portfolio
Current Holdings: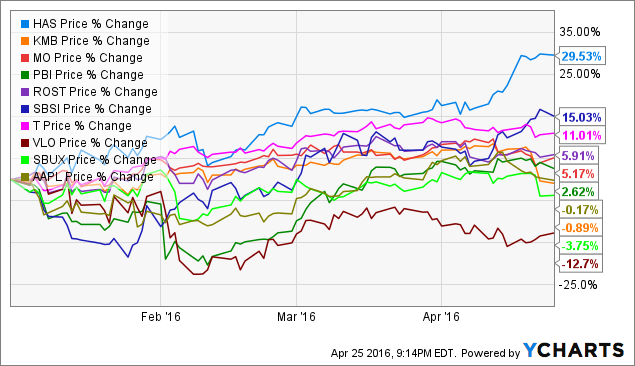 Assumptions & Notables
She and my grandfather have other (non-equity) investments (including some fixed income holdings for monthly expenses). I mention this because I consider them to be well-diversified across asset classes. However, since SA primarily is focused on stocks, I only discuss my grandmother's stock holdings.
These are her current holdings - However, I don't know exact percentage weighting (so I will assume equal weighting for each).
These positions were all taken at different times (for example: she has held AAPL and SBUX for years). However, for the sake of congruity - I am showing year-to-date figures of her current holdings (above).
Dollar amounts used in the analysis are not indicative of the actual amount of money in my grandma's portfolio. Rather, this is an exercise in portfolio theory, so I will use $100,000 per holding for visual purposes
Portfolio Analysis
Using Morningstar's S&P 500 sector weightings:
| | | |
| --- | --- | --- |
| | Portfolio (% of Stocks) | Index: S&P 500 (%) |
| Real Estate | 0 | 2.46 |
| Financial Services | 10 | 14 |
| Basic Materials | 0 | 2.72 |
| Consumer Cyclical | 30 | 11.18 |
| Cyclical (Total) | 40 | 30.36 |
| | | |
| Telecom | 10 | 4.62 |
| Energy | 10 | 6.76 |
| Industrials | 10 | 10.91 |
| Technology | 10 | 18.69 |
| Sensitive | 40 | 40.98 |
| | | |
| Consumer Defensive | 20 | 10.38 |
| Healthcare | 0 | 14.83 |
| Utilities | 0 | 3.45 |
| Defensive | 20 | 28.66 |
All in all, her portfolio is comprised 100% of U.S. equities. She is primarily invested in large-cap value companies. compared to the S&P 500 she is notably overweight: Consumer Cyclical and Consumer Defensive. She is notably underweight: Real Estate, Basic Materials, Healthcare, and Utilities. The portfolio yield is 2.76%, and The 5-year EPS Projected % growth rate is 8.61%.
From a purely analytical standpoint (not including bond investments), grandma is decently diversified. However, she could re-weight some of her consumer investments into aforementioned underweight sectors to more fully diversify her risk. Additionally, she could invest a small percentage of her overweight holdings into an international index fund to diversify some of the risk of being 100% into US equities. However, it should be noted that many of these large-cap companies are multinational corporations.
Surprises
I'm fairly unsurprised by the majority of her holdings. Valero & Southside Bancshares are very Texas oriented brands that I know she is well-acquainted with. My whole family likes to shop at Ross Stores, particularly my grandma. In fact the only two stocks that stood out to me were Altria and Pitney Bowes.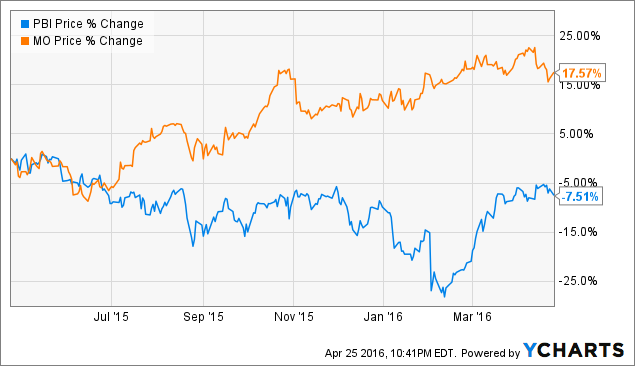 My grandparents are non-smokers, so her choice to invest in Altria (one of the world's largest tobacco & cigarette companies) befuddled me. Pitney Bowes is a relatively small (3.6 Bn market cap) e-commerce solutions company that specializes in CRM, CIMS, shipping, customer engagement, and intelligence solutions. They own over 3,500 IP patents worldwide, but they are a far cry from one of my grandmother's typical investments.
To make sense of why she owned these, I looked at their dividends. Altria has a 3.69% dividend yield and Pitney Bowes has a 3.54% Dividend yield. I strongly suspect the influence of my grandfather with these two trades. He loves companies with high dividends, and so I believe these stock choices were partially influenced by him. That's not to say they're bad investments per se. Altria has been crushing the market recently and is up almost 18% YTD. Pitney Bowes on the other hand very much confuses me. I'll be sure to follow up.
Conclusion
Time will tell how these stocks perform. My grandma's portfolio has relatively high dividends, and it is highly weighted towards the consumer sector. YTD her positions have done well, and I know her investing strategy has not changed. I'm confused by two of her choices, but the rest of her portfolio is very in tune with her past investments. I'll be fascinated to see where these stocks are at by the end of the year.
The point of this article is the same as the last. My grandma has done phenomenally well by exhibiting patience and by investing in good companies that she understands.
There is no reason you can't do the same.
Disclosure: I am/we are long AAPL, SBUX, ROST.
I wrote this article myself, and it expresses my own opinions. I am not receiving compensation for it (other than from Seeking Alpha). I have no business relationship with any company whose stock is mentioned in this article.