(Image source: QZ.com)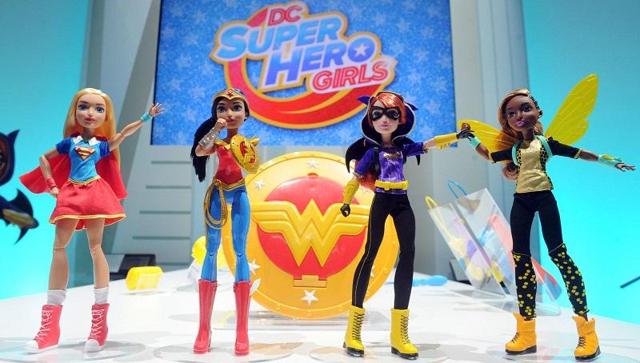 So Mattel's (MAT) first quarter 2016 results are out now, and we have an early look here at what we might be able to expect out of the rest of the year. Not in every sense necessarily, but a few key areas that have been of growing concern to investors.
Disney Princesses Largely Not A Concern
First and probably most importantly, how the loss of the Disney (DIS) Princess line has affected the company. According to remarks from Richard Dickson, Mattel's President and Chief Operating Officer; losing the princesses has not affected the bottom line in a meaningful way. In fact, he went as far to say that the increases in other categories
"...almost completely offset the loss of the Disney Princess license which represented about $100 million or 10% of last year's sales."
That's kind of a big deal.
However, it's topline growth that I know everyone is looking for. Right now the product lineup for next Christmas is largely a mystery. We unfortunately know that "Hello Barbie" wasn't as popular as the company had hoped. Not to worry though; the largest sentiment coming from management agrees with what I have long said, which is that you shouldn't worry about Barbie at all.
This idea that Barbie, as a brand, is faltering is misplaced. The greatest (perceived) damage to Barbie has been done by Mattel's own products; that's Monster High and American Girl. When they do well, Barbie suffers, and vice versa.
So what is new and exciting?
To be perfectly frank, it's going to be a little slow for the next half year. First and second quarter have never been Mattel's big product rollout time. Expect some slowness for a while. The company says that the reaction to its new line of DC Comics figures for girls has been largely positive, but for the time being, sales are confined exclusively to Target (TGT) stores. They'll be released to the broader market in June.
It does look like there is some effort to create content for the recently revealed "Thingmaker" in terms of 3-D printed toys. As far as other products, looking through the list of recently registered trademarks, I don't really spot names that I could associate with any current brands, but product titles like "Snow Thrasher", and "Sonora Shredder" to me sound more like boys toys than girls.
A person could infer from these registrations that the company is focusing more resources into the boys category, where traditionally rival Hasbro (HAS) has been stronger.
Current Currency Concerns.
Problems with currency fluctuations were the largest issues in the first quarter. Looking at the earnings report, you'll see for example things like "Worldwide gross sales down 1% in constant currency, and down 6% as reported." That means that had there been no currency fluctuations, then sales would have been down globally 1% over the year before. Now you might be saying to yourself "Yeah but they're still down, right?" Bear in mind though, this is with the loss of a major license to sell Disney princess merchandise. The company may be taking a small hit to gross sales, but the costs to secure those licenses is also completely erased.
That said, there were fluctuations and we really can't just ignore that. It took the loss per share down from an adjusted 13 cents to a real 21 cents. The company recorded a $26 million one-time expense due to currency devaluation in Venezuela. Unfortunately, these kind of issues Are largely out of the company's hands as long as they continue to do business in foreign countries. Remarks in the conference call state that they expect to see more trouble from this in the second quarter as well.
Currency hedges are available, but they are costly, and as many Forex traders can attest; largely ineffective against preventing such losses. On the upside, the impact of these currency problems are largely a function of the company selling merchandise that was produced a year earlier, when the U.S. Dollar was stronger. The best the company can do for right now is continue to develop and market their domestic brands. That appears to be the company's goal. The rest should work itself out over time.
Things to like, and questions that remain.
With that largely bit of negative news out of the way, the bright spots are that there were increases in Fisher-Price (+9%), and Hot Wheels (+11%) in that constant currency I mentioned above. Those continue to be strong sellers for the company. Barbie sales were basically flat year over year. Management mentioned that Monster High sales have been a little weak, but I'm not seeing the exact numbers in the quarterly report about how that brand did.
Long term debt decreased to the tune of $297 less than the year previous. That's largely due to $300 million of it being currently due, but it's not being replaced with new debt. There is less current cash on hand than the year before, but this will help to make sure those dividends keep coming.
The company says that their cost-saving initiatives have been effective, and that they will be more effective going into the second quarter, but I would like to know more about what they specifically are.
The bottom line.
Ultimately, the first and second quarter results for Mattel have never been extremely meaningful. They are typically flat or small losses. We'll probably see something similar in the second quarter.
Overall, this is a company in a transformative state, and investors who want to really profit will need to be very patient. As my readers know, I've been extremely bullish on these shares throughout 2015, and I certainly wasn't disappointed. My average return to date is 38.2%. So the real question that everyone has is, if you buy here, what can you expect?
I try to be very honest with myself when I make these assumptions. I went through my list of owned stocks recently trying to decide if there was a company that made more sense to own than Mattel. I couldn't find one. So I have no motivation to sell any of my shares, even though I can't really say for sure that anything especially exciting is going to happen for some time to come.
The current price still fetches a very lucrative 4.75% yield. Their closest competition Hasbro is half that, and their more distant competitor, Jakks Pacific (JAKK) is dead in the water. That leads me to say that I still must rank Mattel a buy, even if it seems pretty clear that the near future is going to be boring.
Sorry bears, but boring is still profitable.
Disclosure: I am/we are long MAT.
I wrote this article myself, and it expresses my own opinions. I am not receiving compensation for it (other than from Seeking Alpha). I have no business relationship with any company whose stock is mentioned in this article.