Earnings Reporter
My goal in this segment is to unlock both short-term and long-term growth in stocks that have just reported earnings. These stocks are specifically subject to enormous volatility, as earnings reports are seen (and rightfully so) as a huge aspect of a company's progression. What I offer you is an analysis of the economic well-being of the company, and whether I think the stock is a Buy, Hold, or Sell for either (or both) the short term or long term. If you are interested in unlocking more immediate growth opportunities, give me a follow! After an extensive look at numerous sources and experts' analysis of Laboratory Corporation of America (NYSE:LH), I have ranked the company as a BUY for the Long term.
Understanding the Marketplace
Before we delve into the first quarter report that prompted this article, it is essential to analyze the marketplace that Laboratory Corporation of America (referred to as "LabCorp") finds itself in. According to LabCorp's website, "Whether the needs are large or small, routine or complex, physicians and patients can depend on us for access to a full range of the highest quality diagnostic testing."
LabCorp is only one of two companies that function in the Independent Lab Testing marketplace. Their rival is a company well-known to many, Quest Diagnostics (NYSE:DGX). You may be asking yourself "don't hospitals offer these very same services?" The answer to that is a clear YES. Sure, many hospitals employ lab technicians and testers, but oftentimes these tests cost more than double than what LabCorp of Quest Diagnostics charges. The diagnostic testing market is estimated to be worth over $50 billion, a large market for LabCorp to partake in. In fact, the In Vitro Diagnostics market is expected to reach $70 Billion by next year. This is due to a few factors. One is that people are electing to go to Point of Care facilities over hospitals, increasing volume for companies like LabCorp. Another factor, according to this piece by Forbes, is the aging population. With an increasingly old population, new tests are being demanded and created to adapt to the new challenges in the healthcare field. All this creates unprecedented business for a diagnostic testing company like LabCorp. To put a cap on the marketplace segment, look at this quote by Seeking Alpha's Eric Schwer: "As reimbursement levels are lowered, hospitals and doctors will look to outsource the testing. Quest and LabCorp should be able to control cost through advantages of scale to stay ahead of the reimbursement decline."
The Q1 Results That Are Still Unaccounted For
Two days ago, LabCorp released their Q1 results, and they were fantastic. Revenue came in at $2.29 Billion, higher than estimates and up nearly 30% Year Over Year. In terms of the bottom line, the company beat estimates of a $1.96 EPS with a $2.02 EPS figure, once again shunning expectations. How did the stock price respond to these great beats? One word: meh.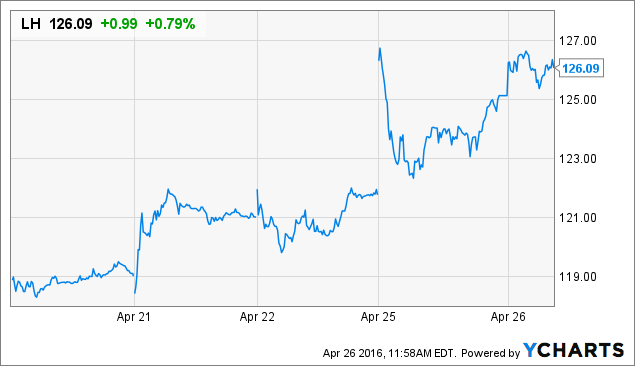 LH Price data by YCharts
That spike from April 25th's opening shows about a 3.5% increase in stock price, following incredible earnings. I believe that this does not properly reflect how incredible LabCorp has performed in the first quarter, and how they anticipate performing in the future.
Guidance
What generally boosts a company's price after an earnings report is their anticipation for future performance. LabCorp offered fantastic guidance, boosting both top and bottom line expectations. Revenue estimates now lie at a range of 8.5%-10.5% growth for 2016 (compared to the $8.51 Billion figure from 2015). This is a boost from the previous expectation of 7.5%-9.5% growth in revenue. With foreign exchange rates more a minor concert going forward, it looks like LabCorp may actually increase revenue expectations even more as the year chugs along. In terms of bottom line, new EPS expectations now lie in a range of $8.55-$8.95, a rise in $.10 for both high and low end of the previous range, which was $8.45-$8.85. Lastly, the company anticipates generating $950 Million in Free Cash Flow, $50 Million higher than the previous expectation of $900 Million. Guidance alone should help push this stop up in the near future.
Key Figures
Yes, LabCorp did phenomenally in Q1. They crushed expectations and raised revenue. But how is the financial stability of the company looking so far?
| | | |
| --- | --- | --- |
| Ratio | LabCorp | Industry |
| Quick Ratio | 1.56x | .54x |
| Gross Profit Margin | 33% | 14.72% |
| ROA | 4.18% | 3.1% |
| ROI | 4.7% | 4.5% |
| Net Profit Margin | 6.45% | 3.9% |
These figures clearly show that LabCorp is better positioned than most other companies in the industry.
Conclusion
It looks like LabCorp is a company to invest in long term. Without many competitors in the field, and significant barriers to entry, it looks like the diagnostic testing industry will mostly be an oligopoly for the future. With great guidance and incredible margins, it looks like LabCorp is a secure investment.
Disclosure: I/we have no positions in any stocks mentioned, but may initiate a long position in LH over the next 72 hours.
I wrote this article myself, and it expresses my own opinions. I am not receiving compensation for it (other than from Seeking Alpha). I have no business relationship with any company whose stock is mentioned in this article.