Recently, I had the opportunity to speak with Michael Willis. He is the President of The Index Group and portfolio manager for the S&P 500 Equal Weight Fund (MUTF:INDEX). The no-load mutual fund is approaching its one-year mark at the end of April and Willis believes that his fund's strategy could provide a means of delivering results that top the S&P 500.
As the name suggest, the S&P 500 Equal Weight Fund gives the same weight to each of the S&P 500's (NYSEARCA:SPY) components instead of the traditional method of market cap weighting its holdings. In our discussion, he talks about why he believes an equal weight strategy makes more sense than a market cap weighted one. We also talk about how this fund compares to its closest counterpart - the Guggenheim Equal Weight ETF (NYSEARCA:RSP) - and touch briefly on corporate defaults and interest rates.
My personal thanks goes out to Michael for taking some time out of his busy schedule to offer up his thoughts.
(Dierking): Tell me a little bit about The Index Group and what you feel investors should know about your company.
(M. Willis): We find the best indexes in the world and make them available to investors at the lowest cost. Our first index fund uncovers what we believe to be one of the hidden gems on Wall Street.
(Dierking): The Index Funds S&P 500 Equal Weight Portfolio is approaching its one-year mark. How was the fund and its investing style conceived?
(M. Willis): We are pleased that our Index Funds S&P 500 Equal Weight fund is reaching the one-year milestone. We believe the S&P 500 Index is the undisputed king of Wall Street as measured by name brand, assets benchmarked, popularity and performance. The exciting part is that we have discovered what we believe to be the best kept secret on Wall Street: the S&P 500 Equal Weight index. The Equal Weight version of the S&P 500 Index was created 13 years ago by Standard & Poor's. The Equal Weight strategy corrects the trading flaw inherent in Market Cap weighted indices (e.g. SPY, IVV, etc.) which require portfolio managers to "buy high and sell low". When a stock goes up in price the market cap formula requires managers to buy more, while selling off the stocks that have fallen in price.
(Dierking): Why do you think that investors might benefit from equal weighting the S&P 500 instead of the traditional style of market cap weighting the index?
(M. Wills): The EWI corrects the "trading error" inherent in the market cap indices. As companies rise in price, market cap formulas require managers to buy more stock of the high price companies and to sell stock of the companies whose prices have fallen. This is a classic "buy high, sell low" formula. With INDEX, as companies go up in value, the Equal Weight formula requires managers to sell off these positions and purchase the companies that have fallen in price. This creates an automatic "buy low, sell high" strategy. In addition, the Equal Weight version of the S&P 500 Index owns all 500 companies equally. This gives investors better diversification across all 500 S&P companies.
(Dierking): Over the long term, how has the performance of an equal weighted S&P 500 index measured against a market cap weighted S&P 500?
(M. Willis): The S&P 500 Index outperformed over 82% of all large cap managers over the past 10- year period making it the industry standard (SPIVA 2015). However, it's younger sister (Equal Weight) has beaten it 9 out of the last 13 years placing it in very elite status.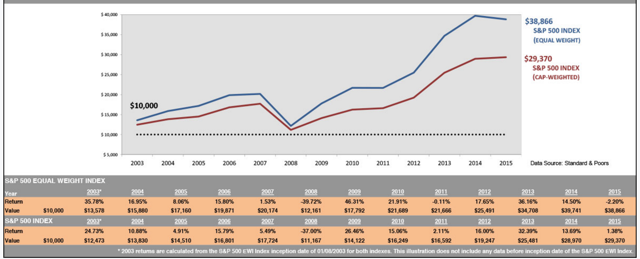 Click to enlarge
(Dierking): Do you feel that investors should be favoring equal weighted S&P 500 index funds over their market cap weighted counterparts or do both types of funds have a place in the same portfolio?
(M. Willis): In general, EW indexes are better, in our opinion. Once you've made the decision to invest in the 500 companies held in the S&P 500 Index, we believe owning them EQUALLY gives you a clear trading advantage and offers better diversification among the companies.
(Dierking): Your fund will tend to do well when the smaller components of the S&P 500 outperform the larger ones. Is that a trend you've seen playing out lately?
(M. Willis): 9 out of the past 13 years this has been true. Last year was not one of those years. However, year-to-date 2016 the Equal Weight version of the S&P 500 Index is ahead of its older sister by over 1%.
(Dierking): Your closest peer in this space might be the Guggenheim Equal Weight ETF. How does your fund compare and contrast to Guggenheim's?
(M. Willis): Same index, however we play in two different spaces. Guggenheim's Equal Weight fund is an ETF that trades during the day and can be shorted, among other things. This makes it more susceptible to intraday volatility as we saw on "Black Monday" back in August (RSP was down over 40% intra-day). The bottom line is that ETFs are geared for day traders who seek liquidity during market volatility. The problem is that this can create volatility as well. We believe most investors are not day traders and prefer to invest over longer periods of time. We cater to them (401k's, IRA's, Retirement Plans, etc.).
(Dierking): Moody's and Fitch both increased their estimates for corporate defaults recently while S&P noted that the average corporate credit rating is at a 15 year low. Are you concerned that rising defaults could negatively impact stocks in the near future?
(M. Willis): Rising corporate defaults place risk into the market and can result in a "flight to quality", which would benefit the largest 500 companies on Wall Street in our opinion. We believe the rising risks of global economic conditions are creating a perfect environment for investing in the largest 500 companies on Wall Street.
(Dierking): Janet Yellen has continued to indicate that the Fed will take a cautious approach to future interest rate hikes. Do you think we'll see another Fed rate hike before the end of the year and how will the market react?
(M. Willis): We did not see a good reason for the first interest rate hike so it's difficult to predict what the Fed will decide to do next. We would prefer to see the market determine its own interest rates rather than have them determined by a select group of people.
(Dierking): What are some themes that investors should be paying attention to for the remainder of 2016 and beyond?
(M. Willis): Investors should spend less than they earn and invest in low cost index funds. Having spent over 20 years in Wall Street, we believe Wall Street is on the edge of a $10 trillion tipping point that will see the industry transform from a high cost broker-based system to a low cost index-based system. Especially in light of the DOL Ruling.
--------------
If you liked reading this interview, you might also be interested in the interview I recently did with Global X's Director of Research, Jay Jacobs. That interview can be found HERE.
Please be sure to follow me on Seeking Alpha by clicking on "Follow" next to my name and image at the top of the article. I greatly appreciate your support!
--------------
Disclosure: I/we have no positions in any stocks mentioned, and no plans to initiate any positions within the next 72 hours.
I wrote this article myself, and it expresses my own opinions. I am not receiving compensation for it (other than from Seeking Alpha). I have no business relationship with any company whose stock is mentioned in this article.