Caterpillar (NYSE:CAT) has faced significant opposition to its business model over the last couple of years. The company's entire business model has been under immense pressure, posting big losses in all segments. Income from all three of its business segments - Construction Industries, Resource Industries, and Energy and Transportation - is falling at a considerable rate. This is now threatening its dividends and the future potential of this company.
The company's share price dipped from $111 a share in summer 2014 to only $56 a share at the beginning of this year. However, after reaching this multi-year low, the company's stock has made a 25% leap since mid-January. As a result, investors are now faced with deciding whether the stock is presenting a tasty selling opportunity or if holding this stock could result in further price appreciation.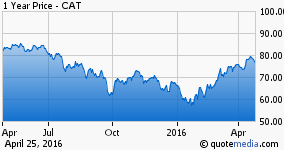 In my opinion, CAT's stock is presenting a selling opportunity. I think the company is headed for more difficult times. In addition, its stock appears overvalued based on a price-to-book ratio of 3.1 compared to the industry average of 2.5.
This recent rally, in my view, was the result of bullish market sentiment and positive movement among commodity prices, without wielding any physical impact on CAT's future business fundamentals. After trading near its decade lows, oil and other mining commodities have surged significantly in the last couple of months, a phenomenon that has added significant strength to CAT's share price.
In reality, however, these commodity prices are only increasing due to declining investments and falling supplies, a negative sign for companies like Caterpillar, whose revenue base is clearly dependent on investments from mining, energy and construction industries. Energy companies, to give one example, slashed their planned investments by over 50% last year and are looking to trim their investments by another 40% this year. The situation is almost identical for the mining industry, where companies are reducing their capital expenditures to decade-low levels.
Caterpillar's sales and earnings have been declining at high double-digit rates over the past three years. The company's revenue declined by 10% on average while its earnings plummeted by 28%. Caterpillar recently announced its first quarter sales of $9.5B, a huge drop from the $12.7B reported in the first quarter of last year. Sales from its Energy and Transportation segment dipped by 33%, while its Construction Industries fell by 19%. Revenue from its Resource Industries suffered a 26% reduction, compared to the same period from last year.
Along with the decline in sales, the company's earnings also have been falling by a huge margin. In the first quarter, its consolidated operating income dropped by 71% to only $494 million. Its earnings per share fell to only $0.46, down from $2.03 in the same quarter of last year. The company's dividends are now at risk, following a noteworthy fall in earnings and cash flows. CAT's payout ratio is now beyond its free cash flows and earnings per share. At, present, it is offering a quarterly dividend of $0.77 per share, while its earnings are only $0.46 a share.
In Q1, CAT posted operating cash flows of a mere $489 million while its capital requirements were around $357 million. Thus, it has been left with free cash flow of only $132 million, while its dividend payments were $448 million. In the following three quarters, we can anticipate parallel levels of cash generation as it has forecasted even lesser earnings and sales for the full year. As such, CAT recently lowered its sales and earnings guidance for this year to $40 billion and $3.00 per share, respectively, after experiencing slower-than-expected demand from mining and energy companies.
In Conclusion
I always suggest investors hold stocks that have the potential to generate sustainable growth in sales and earnings. In the case of Caterpillar, however, the company's revenue base is declining daily, thanks to the poor environment for its business model. The stabilization of oil and other commodity prices does not have any physical impact on the company's sales, but its revenue is linked directly to investment activities, which are likely to plunge further in this year and the next year. Therefore, I'm not optimistic about Caterpillar's dividend stability nor its ability to see share price appreciation.
Disclosure: I/we have no positions in any stocks mentioned, but may initiate a short position in CAT over the next 72 hours.
I wrote this article myself, and it expresses my own opinions. I am not receiving compensation for it (other than from Seeking Alpha). I have no business relationship with any company whose stock is mentioned in this article.