Introduction
In my latest article, I discussed the housing sector, current trends and its outlook. I looked at building permits and housing starts, leading indicators within the sector, which are growing at a solid pace year over year. Moreover, I looked at pending and existing home sales whose latest numbers came in better than expected and housing prices, which have increased 30% since 2012 suggesting higher demand for houses in general. Overall, the housing sector is on the upswing, which, I believe will positively affect stocks related to the home improvement industry.
With such predisposition, I would like to continue and look further into fundamentals of different companies, which may benefit from positive trends in this sector.
Home improvement industry - market share and concentration
Home improvement industry is a mature industry that sells a range of home repair and maintenance goods, such as hardware, tools, electrical goods, lumber and material for construction and renovations. It is highly concentrated with the dominance of big-box retailers. Home Depot, Inc. (NYSE:HD) and Lowe's Companies, Inc. (NYSE:LOW) are the largest among them. HD's market share is approximately 29%, followed by LOW, which has around 20% value share.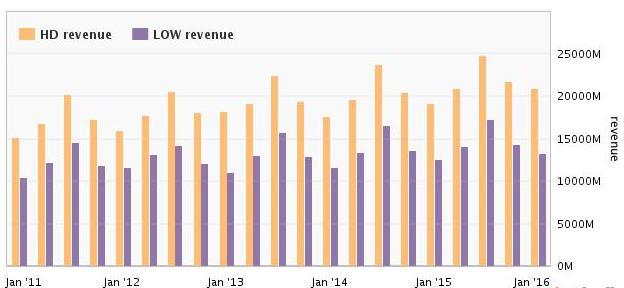 Source: AmigoBulls
In the last five to six years, industry revenue grew from recessionary lows, largely due to the rising consumer confidence in the overall economy. Currently, the industry is very well positioned to experience even more robust growth during the next five years. As fundamentals of consumer demand remain strong, home improvement product sales will see growth of 4.8-4.9% in 2016-2017 and 4.1% in 2018-2019 according to the Home Improvement Research Institute.
There are other players in the industry such as Lumber Liquidators Holdings, Inc. (NYSE:LL), Tile Shop Holdings, Inc. (NASDAQ:TTS), Williams-Sonoma Inc. (NYSE:WSM), Sears Holdings Corp. (NASDAQ:SHLD) and Wal-Mart Stores, Inc. (NYSE:WMT). They offer different products including lumber, appliances, furniture, lighting, etc. However, one of the advantages of HD and LOW is the fact that they are a one-stop home improvement store.
Home Depot leads
HD has secured its market leadership position in this industry, thanks to the wide range of products, product customization, and management efforts to offer multi-channel retailing through both online channels and stores. It is also an industry leader when it comes to the cash conversion cycle, a very important financial metric that determines the efficiency at which a company converts its inventory into sales and then into cash.
In the most recent quarter, HD collected cash from customers in 8.12 days and they took more than a month - 46.32 days to pay to its suppliers. Merchandise sits on their shelves for about two and a half months or 77.95 days. Adding together days inventory outstanding and days sales outstanding and then subtracting days payable outstanding, the cash conversion cycle of HD becomes 39.95 or roughly 40 days. When compared to its competitors, it's clear that inventory management is doing an excellent job at Home Depot.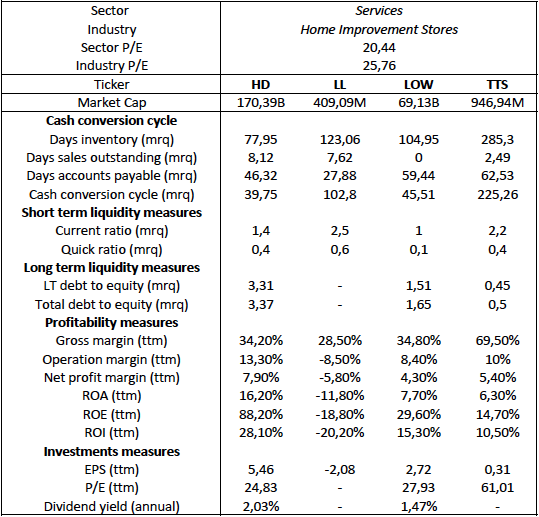 Source: Yahoo Finance, Reuters, SEC
Home Depot also beats its pears when it comes to bottom line profitability and management effectiveness. With 7.9% net profit margin, and 16.2% ROA, they are a clear winner in the home improvement industry. However, it is important to note that the company is using a higher portion of equity and debts, compared to its counterparts, to finance its assets, which may cause problems in the future if income or cash flows fall.
Lumber Liquidators Holdings, Inc. is lagging behind
An American retailer of hardwood flooring, LL is struggling to catch up with its peers. The cash conversion cycle from the most recent quarter is roughly 102 days, almost two and a half times more than HD's. Neither profitability, nor management effectiveness are any better. Revenues declined in the last quarter 13.7%, and operating margins have dropped over a year ago. The company reported a net loss last year, and it has a negative return on assets and equity (-11.80% and 18.80% respectively). Overall, there is no bullish trend noted from the fundamental analysis of LL.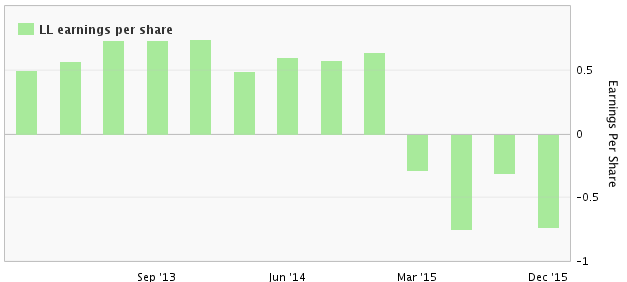 Source: AmigoBulls.com
Potential trade ideas
Stocks like HD and LOW have been outperforming the market and currently are reaching all-time highs. Both stocks had tremendous growth, and I believe there is still a good outlook given the current economic conditions. However, not all home improvement retail stores performed well. Stocks like LL are facing problems and are way under their all-time highs. Given the market outlook and above-mentioned fundamentals, trading HD or LOW versus LL would be a safe trade, as we would be hedged against any market or sector risk.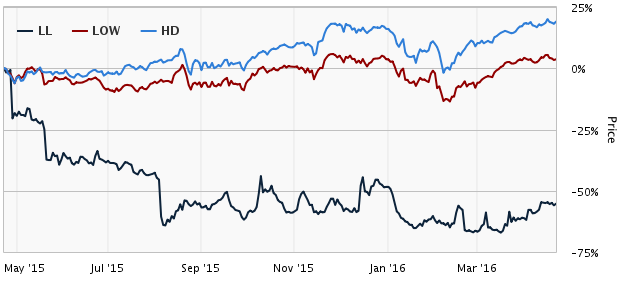 Source: AmigoBulls.com
I expect the housing sector to remain a positive contributor to the overall economic growth of the US, and stocks like HD and LOW should highly benefit from it. Moreover, I believe that the management team of HD and LOW will outperform its peers in any given market situation. Nevertheless, in order to protect oneself from the downside risk, a good idea would be to short LL. By doing so, market risk and sector risk would be eliminated.
Disclosure: I/we have no positions in any stocks mentioned, but may initiate a long position in HD over the next 72 hours.
I wrote this article myself, and it expresses my own opinions. I am not receiving compensation for it (other than from Seeking Alpha). I have no business relationship with any company whose stock is mentioned in this article.