About a year ago, I first analyzed Procter & Gamble (NYSE:PG). Back then, shares were trading around the same level as today. Back then, I wrote there wasn't any bargains to be had when purchasing PG and it was fully valued. Despite its incredible dividend growth history, is there any value to getting out of Procter & Gamble for investors? Let's find out!
Why you should consider PG in your Portfolio
I'll skip the company's review as I wrote about it in a previous article. PG is liked by all dividend growth investors for its steady and predictable course over the years. The reason to buy PG is obviously the goal of buying a well-diversified company paying a healthy dividend. The company operates in 180 countries, providing among the best geographic diversification possible. The 65 strongest brands in its portfolio across 5 different segments makes PG one of the most diversified companies you can buy.
However, the company has severely underperformed the S&P 500 over the past three years: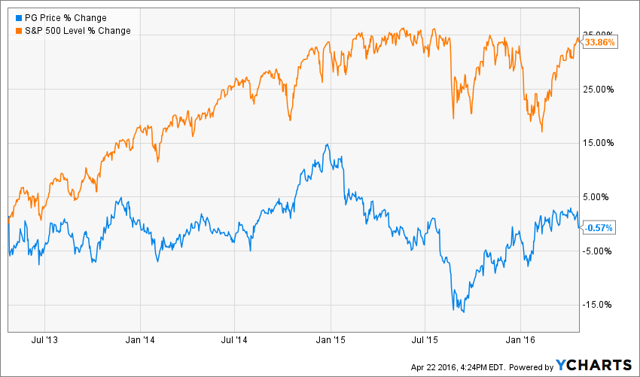 Click to enlarge
Source: Ycharts
The question I am asking now is: Should PG be considered like a bond due to its flawless dividend history, or is there anything good to consider besides this?
How Procter & Gamble Fares with my 7 Investing Principles
We all have our methods for analyzing a company. Over the years of trading, I've been through several stock research methodologies from various sources. This is how I came up with my seven investing principles of dividend growth investing. Each principle looks at a specific aspect of dividend growth investing and has been proven by academic studies. To add or keep a company in my portfolio, it must satisfy the following principles:
Principle #1: High Dividend Yield Doesn't Equal High Returns
My first investment principle goes against many income-seeking investors' rules: I try to avoid most companies with a dividend yield over 5%. Very few investments like this will be made in my case (you can read my case against high dividend yield here). The reason is simple; when a company pays a high dividend, it's because the market thinks it's a risky investment… or that the company has nothing else but a constant cash flow to offer its investors. However, high yield hardly comes with dividend growth and this is what I am seeking most.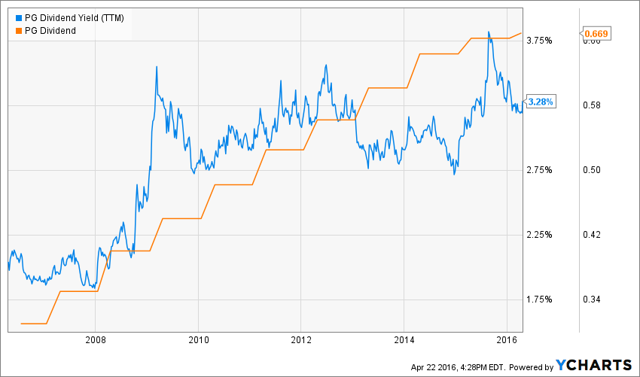 Click to enlarge
Source: Data from Ycharts.
While the dividend payment has kept on increasing, the dividend yield has remained fairly stable since 2010. We can expect PG's yield to remain between 3% and 3.5% for the upcoming years. This is a respectable yield for any dividend growth investor. PG meets my 1st investing principle.
Principle #2: Focus on Dividend Growth
My second investing principle relates to dividend growth as being the most important metric of all. It doesn't only prove management's trust in the company's future but it is also a good sign of a sound business model. Over time, a dividend payment cannot be increased if the company is unable to grow its earnings. Steady earnings can't be derived from anything else but increasing revenue. Who doesn't want to own a company that shows rising revenues and earnings?
While the company will be celebrating its 60th consecutive year with a dividend increase, we can't praise it for an incredible growth rate recently. The company faced important currency headwinds and made several decisions to rationalize its number of brands to keep only the profitable ones. This had generated restructuring costs and limited PG's dividend growth potential. Still, PG meets my 2nd investing principle.
Principle #3: Find Sustainable Dividend Growth Stocks
Past dividend growth history is always interesting and tells you a lot about what has happened with a company. As investors, we are more concerned about the future than the past. This is why it is important to find companies that will be able to sustain their dividend growth.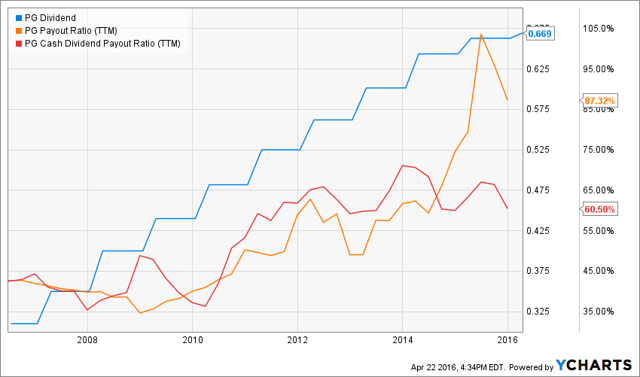 Click to enlarge
Source: Data from Ycharts.
I find it reassuring to see that the cash payout ratio is actually trending towards lower levels. The company's dividend payment along with its reasonable growth are sustainable for several years. PG meets my 3rd investing principle.
Principle #4: The Business Model Ensure Future Growth
The company has made gigantic efforts to improve its productivity over the last 3 years. While the plan has been working, their efforts have been shadowed by an important currency effect on their business. The company now shows a strong base to keep moving forward in the upcoming years.
The company's business model is mainly based on several billion-dollar brands in various markets. Being such a leader in repetitive consumable products is PG's best asset. It enables the company to generate a continuous flow of cash, year after year. The previous graph shows how cash flow is important when paying dividends.
PG's dominant position in several markets such as baby care, blades and razors, feminine protection and fabric care ensures a strong economic moat for the future. PG meets my 4th investing principle.
Principle #5: Buy When You Have Money in Hand - At The Right Valuation
I think the perfect time to buy stocks is when you have money. Sleeping money is always a bad investment. However, it doesn't mean that you should buy everything you see because you have some savings put aside. There is valuation work to be done. To achieve this task, I will start by looking at how the market valued the stock over the past 10 years by looking at its P/E ratio: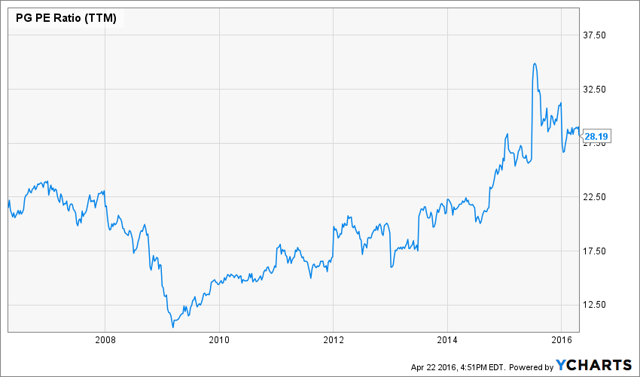 Click to enlarge
Source: Data from Ycharts.
The P/E ratio continues to be very high for what PG has to offer. We already know the company didn't perform on the stock market over the past 3 years and we keep seeing the P/E ratio going up. This is definitely not a good sign.
Using a second method, I will employ the double stage dividend discount model. I will use a 9% discount rate as the company shows a very stable and strong business model. As far as dividend growth goes, I will use a 5% for the first 10 years and then 6% afterwards. The reason why I don't use the past 5 years CAGR of 7.5% is that I believe harsher economic conditions will lead management to be more cautious about their dividend policy. Over time, the modifications they have made will improve the earnings and I think the company can maintain a 6% dividend growth in the future.
| | |
| --- | --- |
| Input Descriptions for 15-Cell Matrix | INPUTS |
| Enter Recent Annual Dividend Payment: | $2.68 |
| Enter Expected Dividend Growth Rate Years 1-10: | 5.00% |
| Enter Expected Terminal Dividend Growth Rate: | 6.00% |
| Enter Discount Rate: | 9.00% |
Here are my results:
Calculated Intrinsic Value OUTPUT 15-Cell Matrix

Discount Rate (Horizontal)

Margin of Safety

8.00%

9.00%

10.00%

20% Premium

$154.58

$103.41

$77.81

10% Premium

$141.70

$94.79

$71.33

Intrinsic Value

$128.82

$86.18

$64.84

10% Discount

$115.94

$77.56

$58.36

20% Discount

$103.05

$68.94

$51.87
Source: Dividend Monk Toolkit Excel Calculation Spreadsheet
I guess the DDM explains why the stock is trading at such a P/E ratio. Investors are giving more importance to PG's dividend history than anything else. To become blinded by the past could become a risk. For this reason, PG doesn't meet my 5th investing principle.
Principle #6: The Rationale Used to Buy is Also Used to Sell
I've found that one of investors' biggest struggles is to know when to buy and when to sell his holdings. I use a very simple, but very effective rule to overcome my emotions when it is the time to pull the trigger. My investment decisions are motivated by the fact that the company confirms or not my investment thesis. Once the reasons (my investment thesis) why I purchased shares of a company are no longer valid anymore, I sell and never look back.
The investment thesis around Procter & Gamble is fairly straightforward: you buy this stock for its dividend payment. Instead of expecting growth from this company, expect dividend growth. At this stage, PG is more like a super solid bond paying an increasing interest rate (in the form of dividends). I expect the road to additional growth for PG will continue to be harsh as local competitors in emerging markets better understand their customers and growth has been proven difficult in these countries lately. I obviously don't see a major reason to sell PG, but I don't see any strong reasons inviting me to buy more. PG continues to show a solid investment thesis as a solid dividend payer, and meets my 6th investing principle.
Principle #7: Think Core, Think Growth
My investing strategy is divided into two segments: the core portfolio built with strong & stable stocks meeting all our requirements. The second part is called the "dividend growth stock addition" where I may ignore one of the metrics mentioned in principles #1 to #5 for a greater upside potential (e.g., riskier pick as well).
Having both segments helps me to categorize my investments into a "conservative" / "core" section or into a "growth" section. I then know exactly what to expect from it; a steady dividend payment or greater fluctuations with a higher growth potential.
As previously mentioned, PG should be nothing but a dividend payer in your portfolio. Therefore, I believe it fits well as a core holding in a conservative portfolio. For its 23 billion-dollar brands, for its impressive leadership in the household product market and for its focus on dividend payments, Procter & Gamble is a strong company. PG is better than most bonds in the market, but I definitely think there are better options in the consumer defensive sector.
Final Thoughts on PG - Buy, Hold or Sell?
At this stage, I think PG is definitely a hold. There isn't any growth vector pushing me to buy more. However, we are currently looking at a solid company with a unique economic moat. Now it is up to the management team to bring something to the table and show how the company will generate growth in the years to come to push the company in the "buy" category.
Disclaimer: I hold PG in my DividendStocksRock portfolios.
Disclaimer: The opinions and the strategies of the author are not intended to ever be a recommendation to buy or sell a security. The strategy the author uses has worked for him and it is for you to decide if it could benefit your financial future. Please remember to do your own research and know your risk tolerance.
Disclosure: I am/we are long PG.
I wrote this article myself, and it expresses my own opinions. I am not receiving compensation for it (other than from Seeking Alpha). I have no business relationship with any company whose stock is mentioned in this article.