Starting a few weeks ago, I've been searching for companies that have relatively undisruptable business moats surrounding them. My criteria: wide moats, decent dividend histories, low payout ratios, predictable revenue streams and strong balance sheets.
While I was sifting through companies listed on various stock exchanges, it suddenly struck me that these exchanges themselves might be the kinds of businesses I was looking for! So I dug a little deeper, and this article is the result of what I found.
On Top of the Trade
In the world of trading, three exchanges sit at the top of the trade, as it were: Intercontinental Exchange (NYSE:ICE), NASDAQ (NASDAQ:NDAQ) and Chicago Board of Exchange (NASDAQ:CBOE). These businesses are synonymous with the very existence of capital markets, and can sometimes be overlooked as sound businesses to invest in.
ICE
The biggest of the three - ICE - has marketplaces and regulated exchanges spread across the United States, Canada and Europe, with $25 trillion market cap of companies listed on the NYSE.

Click to enlarge
Source: ICE
NASDAQ
NASDAQ, the second largest exchange in the world, is the creator of the world's first electronic stock market, and has more than 3600 listed companies with a market capitalization of $9.6 trillion.
Together, NASDAQ and ICE control the capital markets and, as such, are the go-to exchanges for companies around the world that want to raise money. The number of overseas companies listed in these exchanges are testimony to the robust capital market system the United States has, and also shows the enormous clout these two exchanges have had, continue to have and will have in the future. If you are company that's planning to go public, these are the two exchanges that you need to think about being on.
CBOE
Founded in 1973, the Chicago Board of Exchange, is the world's largest options exchange, and controls the global derivatives market.
Together, these three companies have majority control over the world's trading needs. This is a system that will live until capital markets are ready to die - and these are the companies that will help us be participants of that perpetual system.
The Yield
Source: Dividend.com ICE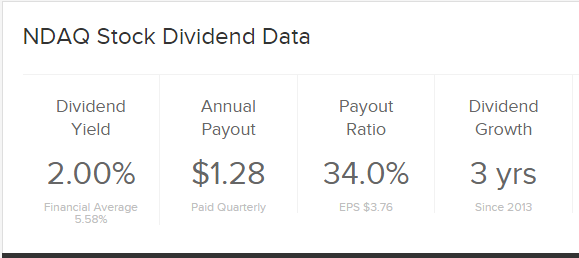 Source: Dividend.com NDAQ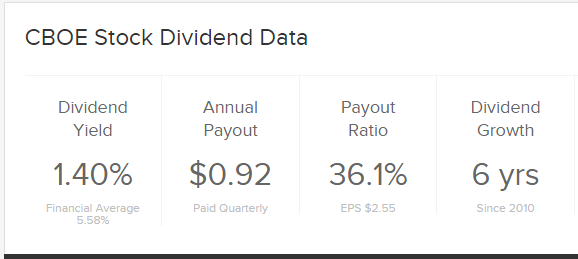 Source: Dividend.com CBOE
From a dividend yield perspective, none of the companies will look attractive. These aren't high-growth companies operating in disruptive markets - these are juggernauts that will not fail you.
Payout ratio for all three companies are well below the 50% mark -one of the most important criteria I consider before investing. A low payout ratio shows the amount of room the company has to keep the dividend growth intact, while companies with high payout ratio will have to depend more on sales growth to get that done.
Don't get me wrong: sales growth will always be the safest factor to bet on because if sales are growing steadily, dividends will typically follow. But low pay ratio shows the cushion, if you will, that a company has in case it hits rough weather. From that perspective, all three companies are in good shape.
Past Growth
All of them have steadily grown their revenues over the past ten years, ICE leading the way with a near 10X growth factor.
ICE's aggressive M&A activity has played a major role in this growth, and the company's Founder, Chairman and CEO Jeffrey C. Sprecher, has been instrumental in bringing the company to the stage and scale it's reached today.
The side effect of such top line expansion has been lower operating margins and higher capital expenses, which should stabilize as the company exploits the synergies without further growing their network of exchanges.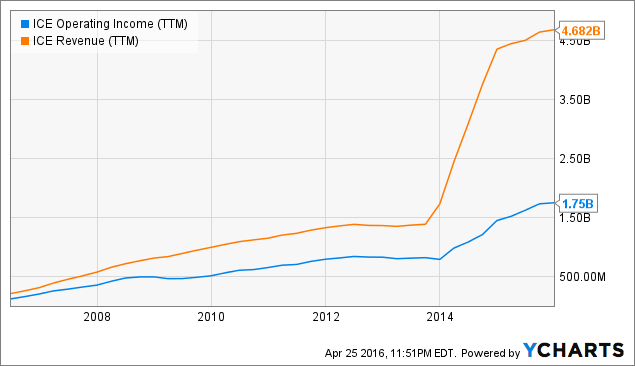 ICE Operating Income (NYSE:TTM) data by YCharts
Operating Margins for all three companies are at healthy levels - CBOE at nearly 50%, Nasdaq around 20% and ICE around 35%.
The high margins show the kind of control the companies have in the segment and the business model they have.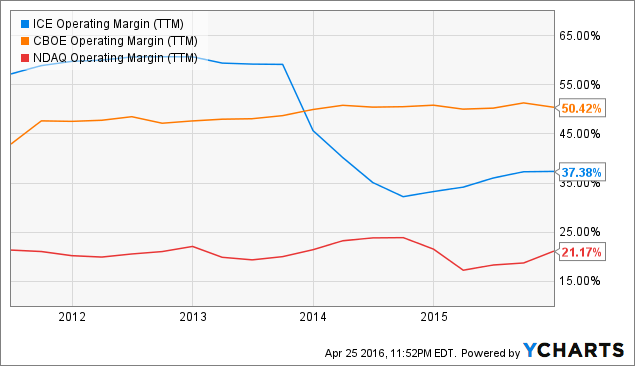 ICE Operating Margin (TTM) data by YCharts
Capital Expenses and Free Cash flow
NASDAQ has steadily improved their cash flow position, while keeping Capex growth in check. ICE, whose free cash flow jumped in sync with their top line growth, spends $1 billion towards Capex. CBOE spends about $40 million towards Capex.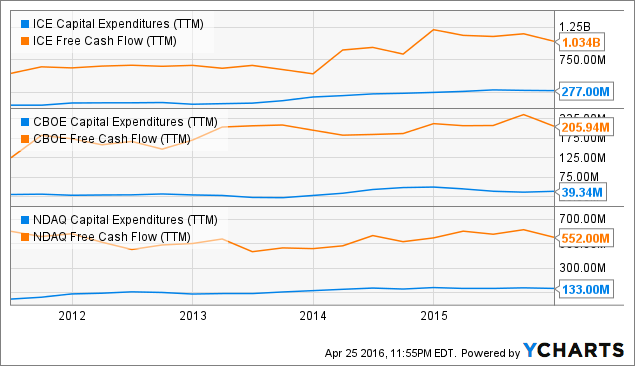 ICE Capital Expenditures (TTM) data by YCharts
Looking at their Capex against free cash flow, you can see that they have ample room for higher payout ratios but have kept funds in reserve - at least in ICE's case - for future Capex.
As such, all three have healthy financial models.
Debt Profile
CBOE's balance sheet is as clean as it gets. The company has $102 million cash on hand with total liabilities at $125 million. The good thing is that the company has kept its debt profile in check for a long time. I've noticed a general pattern that companies that get used to low or near-zero debt hardly ever change - and I hope CBOE keeps it the same way for a long time.
ICE has long term debt of $4.7 billion, with $627 million cash on hand, while NASDAQ has $2.3 billion in long term debt and $300 million in cash. With operating income for ICE at $1.7 billion and Nasdaq at $720 million, their balance sheet is strong enough to keep dividends moving to higher ground through the next decade.
Investor-speak: One Or All?
From an investment perspective, all three companies are in really good positions moving into the next decade. Their business is what capital markets are built on, and the possibility of a competitor coming out of nowhere is minimal. The moat situation here is as good as it gets.
Furthermore, their balance sheets are strong, and operating margins are some of the best you can see. Add all of that to low payout ratios and you'll see why all three companies would make ideal additions to your portfolio.
Considering the mature nature of the industry these business operate in, revenue expansion won't be rapid. These three companies have to be treated like utility companies, providing safe, predictable income streams that can nicely hedge any portfolio.
Disclosure: I/we have no positions in any stocks mentioned, and no plans to initiate any positions within the next 72 hours.
I wrote this article myself, and it expresses my own opinions. I am not receiving compensation for it (other than from Seeking Alpha). I have no business relationship with any company whose stock is mentioned in this article.