My most popular article this year was one where I disclosed a simple plan to invest in Valeant (NYSE:VRX).
My plan was to buy 300 shares in mid-March behind one of its bigger intraday losses to date, at $36 per share. I then said I would set a limit order to purchase another 300 shares if the stock fell to $27, where I thought it could bottom.
What I actually did was purchase 800 shares on March 27 at $27 per share. Tipping the Scale members get to follow along all of my transactions in the TTS Portfolio Tracker, and this position was noted at the time of its purchase in my portfolio. While the initial purchase may have looked unwise, it is important to note that at $36, VRX had already lost 80% of its value over a year's time and was very cheap compared to its EPS outlook.
Altogether, I am currently up 22% on my trade, or $7,400 in my portfolio.
That said, I make trades like this often, where I buy at one price point when value is evident, but then set a worst-case scenario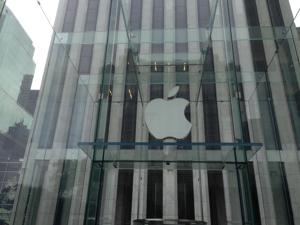 limit order as well. Notably, I also have an exit plan in the event I am wrong. Looking ahead, I now plan to implement the same exact strategy with Apple (NASDAQ:AAPL), a stock that is clearly undervalued and is being punished by investors who cannot see the forest for the trees.
Yes, Apple's earnings look bad, with a 12.8% decline in revenue, but investors must remember the comps and how big of a success the iPhone 6 was. The iPhone 6 and 6 Plus launch included two phones versus just one the year before. The product launched to a more developed 4G network in China, and it marked the beginning of annual upgrades on installment plans here in the U.S. In other words, even iPhone 5s owners were able to upgrade and buy a 6 or 6 Plus, rather than waiting two years.
At the end of the day, Apple grew revenue 28% during the 6, 6 Plus year. Even with a 12.8% decline in revenue, the company's revenue is still up significantly over a two-year span. Hence, investors need to look at revenue growth on a compound annualized basis given the many factors that led to top line strength during 2015. Furthermore, this is an "s" year for the iPhone, which means mostly software changes. Historically, it is the big hardware changes, with software, and iPhone 5, 6, 6 Plus that really perform well for Apple, not the updates it does between launches.
All things considered, I am not surprised iPhone revenue declined 18%, and that it pulled overall sales down with it (65% of total revenue). However, the company still has bright spots. Its services revenue rose 20% and is now the second-largest revenue producer for Apple, and sales in India soared more than 50%. Lastly, the iPhone SE was not included, and that creates upside opportunity moving forward due to the cheaper selling price in markets like China and India.
When you put it all together, Apple is not that bad. In fact, it is still a dominant company. The problem is that 2016 is an "s" year, and it had very tough comps; 2017 will be better.
Nevertheless, I don't see too many opportunities to invest in a company that's trading at 10x forward earnings, has a 2.4% yield, and over $230 billion in cash and equivalents that it can put to use whenever it wants. Yes, AAPL stock may be dead money for a while, but after its post-earnings loss, it is certainly creating a good long-term investment opportunity, and an even better one if it drops further.
That said, when a stock trades at these levels with the strengths of AAPL, it is wise to buy for the long haul, and if it continues to drop, buy more. With that logic in mind, I will play AAPL much like VRX earlier this year. I will add a select number of shares to my portfolio tomorrow at some point, hopefully around $95. Then, if shares fall further to $80 or $85, I will triple that position, much like I did with VRX.
As already noted, it may take a little while for this investment to appreciate, but the end result should be the same.
Disclosure: I am/we are long AAPL, VRX.
I wrote this article myself, and it expresses my own opinions. I am not receiving compensation for it (other than from Seeking Alpha). I have no business relationship with any company whose stock is mentioned in this article.