Hershey (NYSE:HSY) reported first-quarter 2016 results on Tuesday, beating EPS estimates slightly. The company has some headwinds, but remains a good dividend growth pick, I believe.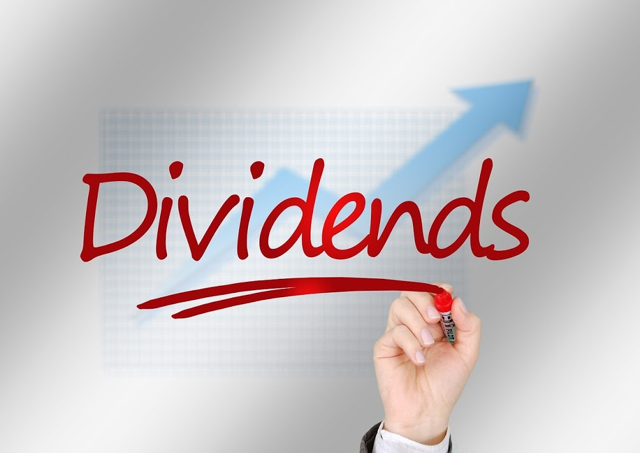 Click to enlarge
Hershey grossed revenues of $1.8 billion, down about 6% year to date. The company's operating profit was $340 million, down 11% year on year. Hershey was able to earn $1.10 per diluted share (non-GAAP earnings), which represents an increase of 1% over the prior year's quarter.
These results sound not bad, but not great either - Hershey's revenue decline was bigger than expected, but on the other hand, the company was able to grow EPS nevertheless, beating estimates slightly.
The strong dollar had an adverse impact on Hershey's reported revenues, adjusting for currency rates, the company's revenue number would have been down 4% year on year. This still does not sound great, but Hershey explains the drop with a shorter Easter season in comparison to the prior year's quarter. This, however, is a one-time item and thus it is a positive that Hershey's management believes that sales will grow by 1.5% this year. On a constant currency basis, net sales are expected to grow by 2.5% year on year in 2016. Since constant currency sales were down 4% in the first quarter of 2016, this means that sales in the remainder of the year will have to come in substantially above 2.5% in order to average that number for the 12-month period. We can calculate that sales will have to grow about 4% in each of the next three quarters in order to get to 2.5% net sales growth for 2016. It thus looks like the company has the worst behind it, and the next quarterly reports will bring a lot more positives than this year's first quarter.
We have to look at the fact that Hershey was still able to grow its earnings per share in the first quarter, which does well for the future - if Hershey is able to grow its EPS when revenues drop 4%. How will Hershey do when revenues are actually increasing? We will likely find out in the next earnings report, but Hershey has stated that the company expects this year's EPS to come in at around $4.26 (midpoint of guidance), which equals 3.5% EPS growth over 2015's number. This includes a negative (dilutive) impact of the acquisition Hershey has announced today: Hershey bought Ripple Brand Collective (for an undisclosed sum), which will add about $70 million to Hershey's sales (or about 1% of the company's total sales), and which will have a dilutive impact of $0.05 to $0.06 this year. When we exclude that impact, Hershey's EPS would thus grow by about five percent year on year, if Hershey hits the midpoint of its guidance for the current year. This is not a fast growth rate, but not too bad either, and will be enough to allow for another substantial dividend increase this year.
Right now Hershey's quarterly dividend stands at $0.5825, which means an annualized dividend yield of 2.6% right now - on par with the yield investors get from 30-year Treasury bonds. In contrast to the yield investors get from government bonds, investors holding Hershey's shares get rising payments though: Over the last five years, Hershey has increased its dividend by 11% a year. The last dividend increase was a nine percent hike. Hershey's May dividend will very likely be at the current level again, but in August Hershey will raise its dividend again (at least the company has done so in the past). Another 10% increase would bring the company's dividend yield to 2.9%, which sounds pretty attractive in the current low interest rate environment.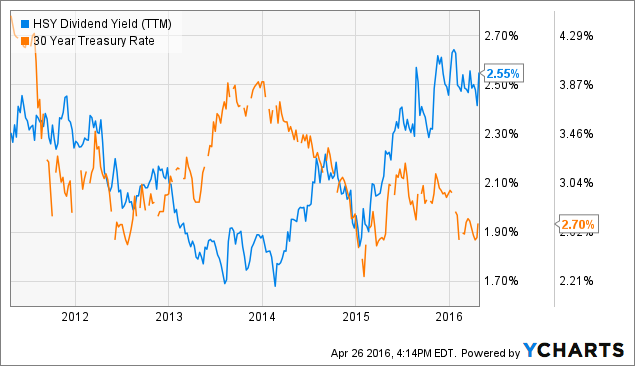 When we compare Hershey's dividend yield to the 30-year Treasury rate, we see that the two have moved in different directions over the last few years: Hershey's dividend yield is at a five-year high right now, whereas the yield on Treasuries is close to a five-year low right now - we can say that over the last years Hershey's shares have become a lot more attractive for dividend growth investors, since Hershey's shares are priced unusually low right now (relative to the income these shares provide).
Looking at the company's earnings multiples we can say that Hershey is not too expensive: The company trades at 20.9 times this year's earnings, which is about 15 percent less than the broad market's trailing P/E ratio of 24.2. Hershey's forward earnings multiple of 19.7 is not high either, and reflects the expected earnings growth over the next quarters. If Hershey chose to increase the dividend by 10% in 2016 and 2017, the company's payout ratio for next year would be 61%, which would still be low in comparison to the payout ratios of a lot of other consumer goods companies (such as Coca-Cola (NYSE:KO) or Pepsi (NYSE:PEP)). Investors who buy now would have yield on cost of 3.1%, in 2017 if Hershey did indeed increase the dividend by 10% in both years.
Takeaway
Hershey's results were a mixed bag: Revenues were down, but earnings per share as well as the outlook for the remainder of the year looked good.
I believe Hershey should be able to raise its dividend substantially this year as well as next year, and with the dividend yield near a five-year high (despite the very low interest environment we have right now) Hershey's shares look compelling for dividend growth investors.
At roughly 20 times this year's earnings Hershey is not too expensive either, and with revenue growth and earnings growth picking up in the next quarters, the outlook for the company is pretty solid.
Disclosure: I/we have no positions in any stocks mentioned, and no plans to initiate any positions within the next 72 hours.
I wrote this article myself, and it expresses my own opinions. I am not receiving compensation for it (other than from Seeking Alpha). I have no business relationship with any company whose stock is mentioned in this article.