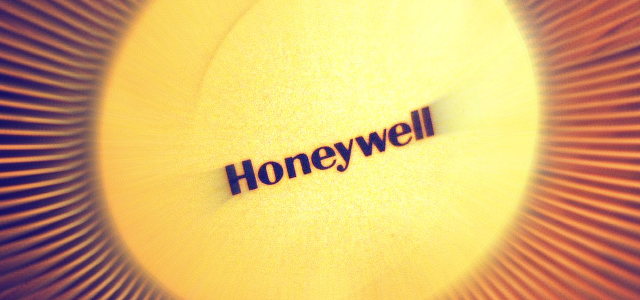 Honeywell International (NYSE:HON) has increasingly impressed me since it first really attracted my attention after its failed United Technologies (NYSE:UTX) bid. With it recently releasing its Q1 2016 results, I thought it was time to delve a little deeper to see what's what and understand how FY2016 is looking so far.
Put simply, Honeywell has shown in its first quarter the exact kind of quality performance investors have come to expect. What is more, even setting aside the compelling long-term growth opportunities, there seems to be plenty more to come for Honeywell investors in the near future too.
Let's see what I mean.
Robust Bottom and Top Line
So what about the headline grabbing results? Well, first of all, Honeywell produced robust revenue and earnings performances. Indeed, on a reported basis it saw 3% revenue and 4% earnings growth: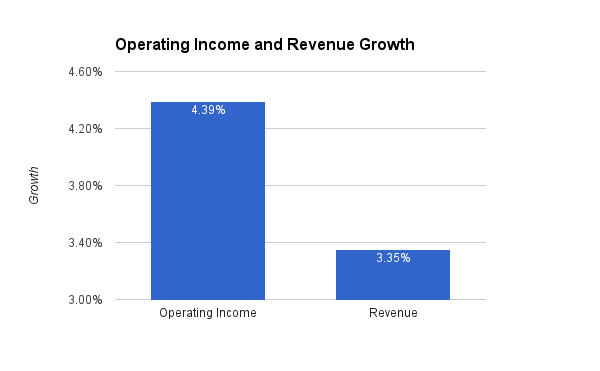 Hidden behind this revenue figures, however, were foreign exchange and acquisition effects. Stripping them out, Honeywell still put together a solid organic revenue growth of 1%.
On a reported basis, the stand-out segment performer has to be Automation & Controls: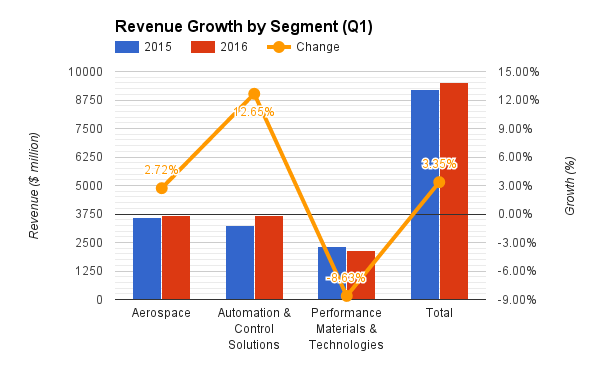 A hefty amount of that A&CS revenue growth came from the recently closed $5.1 billion Elster acquisition (closed on 6 January 2016). Elster is expected to add around $1.8 billion in full-year annualized revenues.
Yet, even stepping back from these acquisitions and looking at organic growth the A&CS segment remained the lead performer: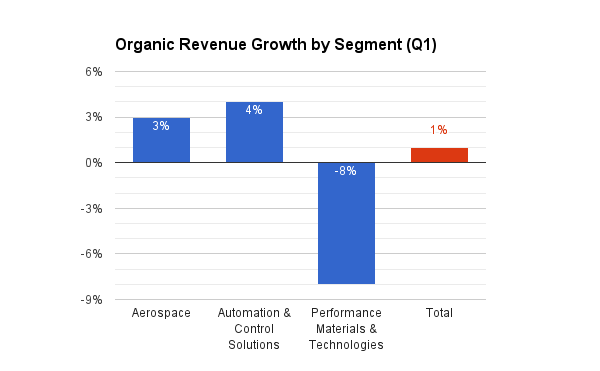 What is encouraging to see is that the company's two largest segments continue to see strong organic growth. Acquisitions also continue to boost growth in these areas. Performance Materials & Technologies is clearly still being held back by weakness in its main consumer markets. Ideally we would like to see revenue growth return in that segment sooner or later. Yet what is clear is that, despite this, the company can still grow. Good news indeed.
Margins Improvement (and More To Come?)
Needless to say, with earnings growing faster than revenue, operating margins have also improved modestly to be just shy of 18%: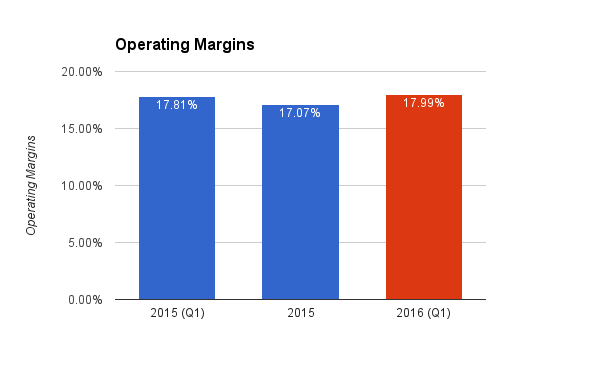 Honeywell also provided revised guidance suggesting that they anticipated this to grow further as the year progresses. Margins, they suggest, will be between 18% and 18.4% by the end of the year. If achieved (and I have no reason to doubt they can), this would mean that Honeywell has managed to improve margins immensely since 2011: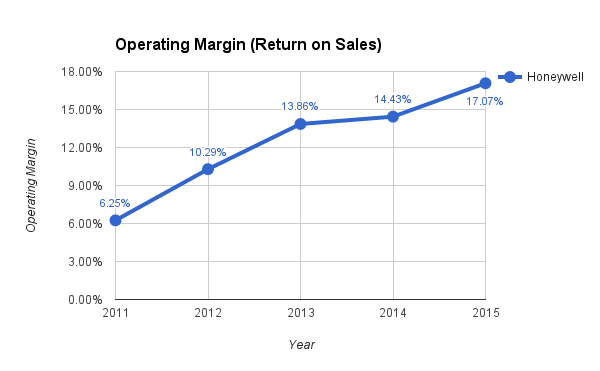 There is very little to complain about on that front. Yet there is more coming out from Honeywell at the moment to make investors take note.
Shareholder Returns
First off, take a look at shareholder returns. Honeywell has proven to be a very shareholder-friendly company in recent years with generous share buybacks: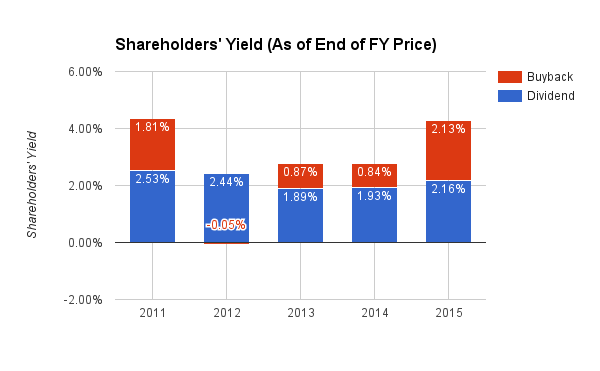 This seems set to continue. In Q1 2016 they have already repurchased over $1 billion outstanding shares (up from around $295 million in Q1 2015). What is more, the company also announced authorization for further share buybacks to the tune of $5 billion.
Nor is the dividend absent. Even at today's price, Honeywell comes with a well-covered 1.88% dividend yield: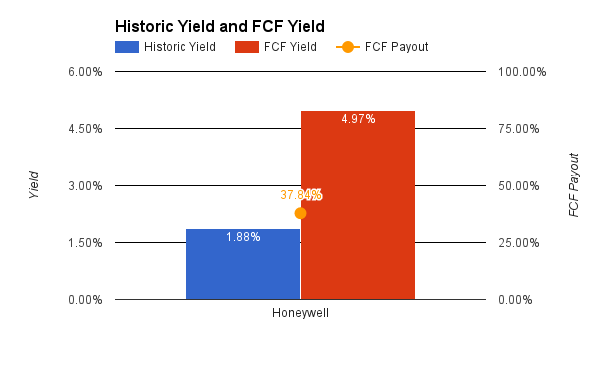 All told, between the solid dividend and generous buyback policy, the company could see another strong total yield for investors.
Free Cash Flow Strength?
Honeywell also decided to sharpen up their revenue guidance a little. From their prior $39.9 billion to $40.9 billion guidance, they have suggested a new $40.3 billion to 40.9 billion revised guidance. Prior to the results announcement, most analysts had already anticipated revenue above the $40.3 billion.
All good, so far. On the free cash flow front, however, guidance has remained the same at between $4.6 billion and $4.8 billion. At first glance of the reported cash flow results, this would suggest a certain optimism. After all, FCF in Q1 dropped about 75% on last year:

Part of the blame here is a 17.5% growth in CapEx. Yet the biggest influence, however, was a growth in inventory. While in 2015 inventories were just $86 million, in 2016 they were $246 million, which drew down FCF. Without this, FCF would have been at similar levels as 2015.
As it happens, I agree with their $4.6 billion FCF guidance. Assuming a similar 11.4% FCF to revenue ratio in 2016 as 2015, we should see exactly that: $4.6 billion. What is more, based on their historical record of improving upon their FCF/Revenue ratio year after year, there may be more upside wrapped up in there: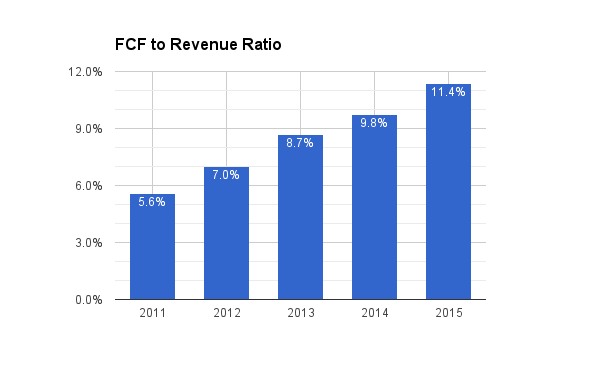 I can't help but be quite bullish on Honeywell's continued FCF growth potential in coming quarters. With the United Technologies bid out of the way too, Honeywell has already set about going on the smaller acquisition trail that has served it so well. I have little doubt this highly accretive policy will continue to bear fruit for the company.
Fair Value
I have been very impressed by Honeywell's performance so far. So should I buy into them after their Q1 results?
To assess this, I need to put together a fair value prediction. Here I plan to use FCF to ascertain Honeywell's fair value price. I calculate my FCF fair value by using the enterprise value to FCF ratio (similar in some ways to the PE).
First I calculate the 5-year average EV/FCF ratio for the company. In Honeywell's case, this is 21: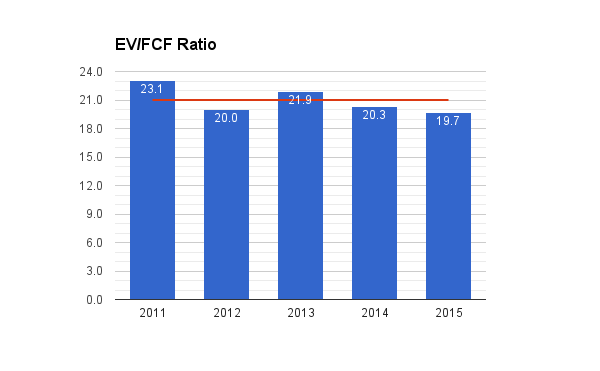 I then use my FCF predictions based on historic FCF/Revenue ratios and consensus analyst revenue predictions for the next two years. Averaging these, I then multiply this by the average EV/FCF ratio for the company.
Doing so provides me with a FCF fair value for Honeywell of about $127.25. With the share price currently around the $114.50 mark, this suggests a potential 10% upside on today's price.
Conclusion
I consider Honeywell a good-looking buy right now up to about $127. As well as the above conservative predictions, there is an additional margin of safety in that the share count should see further falls in coming quarters as the share buyback continues. With a solid if unspectacular yield and robust performance in a tough economic environment, Honeywell is an industrial stalwart. These Q1 results just drive home that point.
Long-term, solid organic growth combined with continuing intelligent acquisitions and efficiency improvements should see Honeywell put together robust results in coming quarters and years. Right now seems as opportune a moment as any to start building up a position in impressive industrial conglomerate blue chip.
Notes
Unless otherwise stated, all graphs and the calculations contained within them were created by the author. Creative Commons image reproduced from Flickr user macbeck.
Disclosure: I/we have no positions in any stocks mentioned, and no plans to initiate any positions within the next 72 hours.
I wrote this article myself, and it expresses my own opinions. I am not receiving compensation for it (other than from Seeking Alpha). I have no business relationship with any company whose stock is mentioned in this article.