Late last week McDonald's (NYSE:MCD) reported its first-quarter earnings results, and in my opinion those results were a blowout. Earnings are growing solidly no matter how you look at it. Same-store sales are robust in almost every important geography. Top line results were good, and bottom line results were even better.
I've been pretty lukewarm on McDonald's in previous articles. Despite markedly improving results, McDonald's stock has been and remains expensive. Despite lagging sales during its difficult times, shares of McDonald's never actually dropped by all that much, and shares jumped when results markedly improved. That's why I've continued to stay away from McDonald's, but all that said, results were quite a bit better than I had expected.
Accelerating results
McDonald's has turned its business around in several ways. Focusing on quality has made a big difference with customers, particularly by removing antibiotics from its chicken supply and toasting buns a little longer. Actually, these changes mostly come from decentralizing management and putting more power into the hands of franchisees.
The results speak for themselves, this quarter especially. Global same-store sales were up an amazing 6.2%. Those who follow McDonald's know that is a pretty darn good number. Consolidated revenue grew 3%, and EPS grew 9% when adjusting for a previous-year change (which skewed EPS growth up to 26% this quarter).
The bulls and bears may argue about these numbers, but I can't find much to dislike. US comparables were up 5.4%, which is fantastic. The increase here was, once again, due in no small part to all-day breakfast. "Lead" international same-store numbers (from developed markets such as the UK, France, Australia and Germany) were up 5.2%, so we can see that the encouraging trends are indeed worldwide.
Some perspective
McDonald's is a huge, mature company and while these results are impressive, part of this is because results were measured against some pretty abysmal comparisons from a year previous. Growth should moderate after a couple more quarters of this. Last quarter, gross margins expanded 300 basis points, which was about half the margin expansion of last quarter. Lower commodity prices are really boosting margins by bringing down costs, but I don't suspect downward commodity momentum will last too much longer, either. This could also moderate surging results.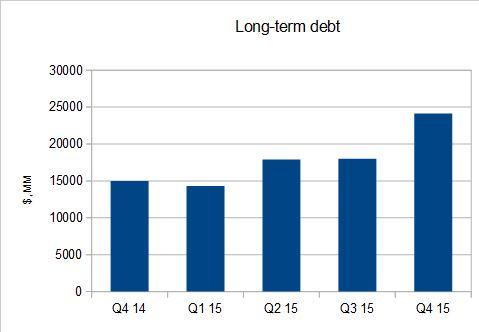 Data by Morningstar.
Earnings per share is also very much boosted by share repurchases. Last year McDonald's repurchased $6 billion worth of shares, and it is taking out considerable debt simultaneously. Without that debt issuance, McDonald's would have a tough time, with refranchising restaurants, expanding in developing countries and buying back so much stock, all at the same time. There are limits to upside in EPS, and I think debt levels could end up being one of those limiting factors, because the sheer volume of buybacks could eventually get scaled back.
Valuation and conclusion
Then, of course, is the issue of valuation. McDonald's remains significantly overvalued by traditional valuation metrics. According to data from FAST Graphs, McDonald's shares have averaged 17.8 times earnings since 2006. Right now shares trade at 24.3 times trailing earnings. That means a premium of 36.5%.
Here's what I think is going on: McDonald's is growing earnings by double-digits, so investors are treating McDonald's as if it were a growth stock. In that light, valuations make more sense. Shares have a PEG ratio of about 2.2 times (2 times or above is considered expensive). Consensus expectations are for 11% EPS growth both this year and next.
However, McDonald's will find it rather difficult to maintain that momentum over the intermediate future. Therefore, as EPS growth rates return to a more normal, mid single-digit level, I believe that valuations will adjust more toward their historic levels. That means there is plenty of potential downside if earnings and sales momentum taper off.
For this reason I continue to avoid McDonald's. While earnings and sales momentum are indeed pretty impressive, that is all baked in to the stock price, and then some.
Disclosure: I/we have no positions in any stocks mentioned, and no plans to initiate any positions within the next 72 hours.
I wrote this article myself, and it expresses my own opinions. I am not receiving compensation for it (other than from Seeking Alpha). I have no business relationship with any company whose stock is mentioned in this article.