Welcome to the earnings-filled April 27th edition of Seeking Alpha's Eye on Tech newsletter.
Eye on Tech Coverage
Apple drops sharply after FQ2 miss and light FQ3 sales guidance
Twitter hammered after Q1 sales miss, soft Q2 guidance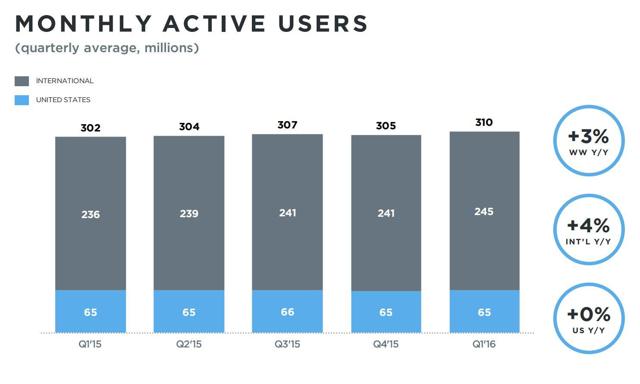 Click to enlarge
Twitter's MAU growth remains limited. Source: Earnings slides.
Micron jumps after SK Hynix forecasts strong Q2 growth, 2016 capex decline
Apple suppliers sell off after Apple and Cirrus Logic's earnings
Notable Tech News
eBay higher after Q1 beat, mixed Q2/2016 guidance - eBay (NASDAQ:EBAY) is still losing share to Amazon (NASDAQ:AMZN) and others, but it did deliver 4% Y/Y sales growth in Q1 after posting roughly flat sales growth in Q4. Q2 revenue guidance of $2.14B-2.19B (4-6% growth in constant currency) is favorable to a $2.14B consensus, while EPS guidance of $0.40-0.42 is below the $0.44 consensus. Full-year sales guidance of $8.6B-8.8B (3-5% growth in CC) is in line with an $8.73B consensus.
eBay's GMV rose just 1% Y/Y to $20.5B (compares with ~15% e-commerce industry growth), and its Marketplace transaction revenue fell 2% to $1.5B. However, StubHub revenue rose 34% to $177M, classifieds revenue (driven by Europe, where Craigslist isn't dominant) rose 15% to $186M, and non-transaction Marketplace revenue (e.g., ads) rose 17% to $274M. $1B worth of buybacks gave a boost to EPS.
Corning sells off after Q1 sales miss, Gorilla Glass guidance cut - Corning's (NYSE:GLW) Q1 sales missed estimates due to the $100M impact of "manufacturing software implementation issues" on its Optical Communications (optical fiber and related products) business. That led Optical revenue to drop 13% Y/Y to $609M. However, the company expects the division's sales to rise over 20% Q/Q in Q2 and be up over 10% Y/Y in 2H16.
Likely bothering investors more: Corning now expects Specialty Materials (the Gorilla Glass division) revenue to grow by a mid- to high-single digit % in 2016, below prior guidance for a low-teens growth rate for 2016. Specialty Materials revenue was down 17% Y/Y in Q1 to $227M, but that was only a little worse than guidance for a mid-teens decline. The division's sales are expected to be up by a low-single digit % in Q2. Slowing smartphone growth - Gorilla Glass is used by Apple, Samsung (OTC:SSNLF), and many other mobile OEMs - is clearly weighing, and a weak tablet market doesn't help either. Apple's earnings (released after Corning's) drive home the challenge.
Elsewhere, Corning's core Display Technologies (LCD glass) business remained pressured by weak PC/TV demand, with sales declining 13% to $705M on a dollar basis and 17% in constant currency. However, high-single digit Q/Q glass volume growth and modest price declines are expected in Q2, and Corning still sees demand for larger TVs driving an 8-10% 2016 increase in retail glass volume. LCD glass isn't anyone's idea of a high-growth business, but sales appear set to bottom.
Nokia spending $191M to buy French wearables/fitness gadget maker Withings - Withings' products include fitness trackers, watches with integrated fitness trackers, home cameras, and "smart" thermometers, scales, alarm clocks, and blood pressure monitors. Nokia (NYSE:NOK) talks up Withings' exposure to a growing IoT/wearables market, and suggests the Nokia brand will be used by future Withings hardware. The deal could spell a little more competition for Fitbit (NYSE:FIT), but Fitbit is already squaring off against plenty of rivals.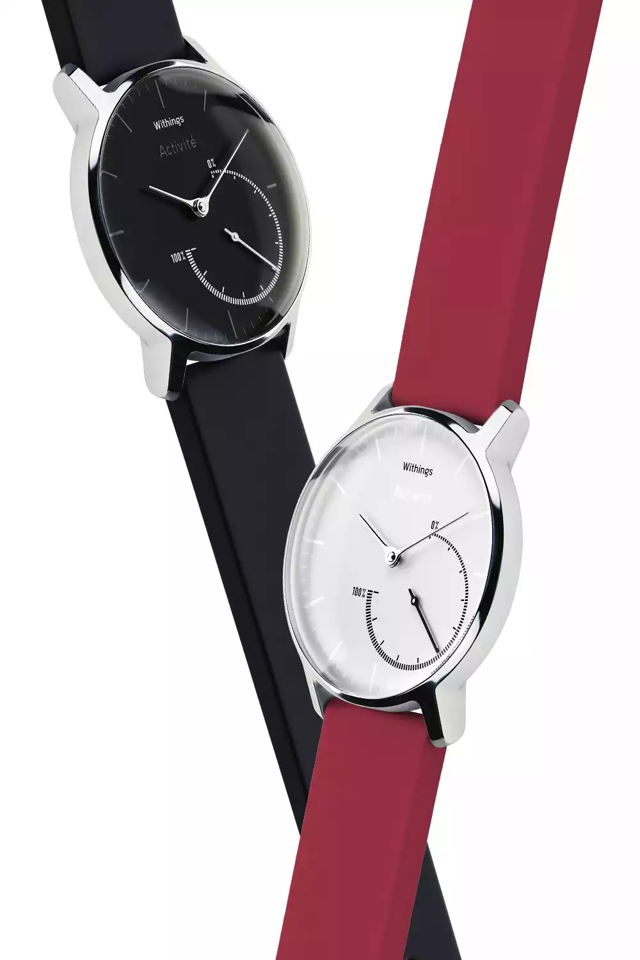 Click to enlarge
Withings' Activité Steel watch/fitness tracker
Gradually, Nokia is making its way back into consumer hardware. The company has already said it's looking to license Android phone designs (along with the Nokia brand) to third-party manufacturers, and is selling its $60K OZO VR camera array to video pros. Disney (NYSE:DIS) announced yesterday it's using the OZO to produce 360° content.
YouTube rolls out new iOS/Android home page with improved recommendations - YouTube's tiny thumbnails and multiple lists for recommended videos are replaced with much larger thumbnails in a single list. The company seems to be channeling Facebook's news feed here. Perhaps more importantly, YouTube has overhauled its recommendation algorithm, which relies on AI/machine learning, to provide fresher and more relevant content. "Our experiments show that users really like this design," says a YouTube executive.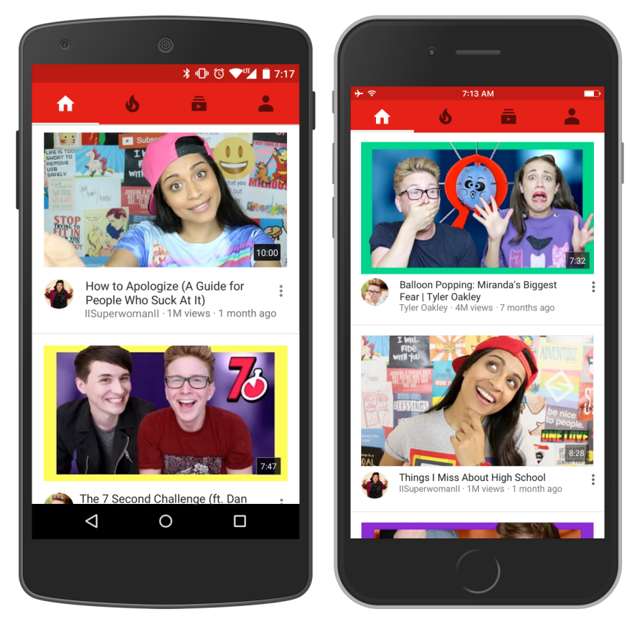 Click to enlarge
YouTube's new iOS/Android home page. Simpler than what preceded it.
YouTube testing unskippable 6-second "Bumper" ads - Bumper ads are very different from YouTube's standard TrueView ads, which (along with mobile search) have fueled much of Google's (GOOG, GOOGL) paid click growth. TrueView ads can run much longer than six seconds, but often give users the option to skip following a short amount of time (YouTube records a "paid click" if a user watches the ad in full).
The Bumper format could do well on mobile (now responsible for over half of YouTube's video views), where attention spans can be shorter and patience for longer ads limited, and appeal to brand advertisers looking to quickly make an impression. A Google executive states: "In early tests, Bumpers drove strong lift in upper funnel metrics like recall, awareness and consideration-complementing TrueView's strength in driving middle and lower funnel metrics like favorability and purchase intent."
Google, Ford, and Uber take part in self-driving car lobbying coalition - The coalition says it will "work with lawmakers, regulators and the public to realize the safety and societal benefits of self-driving vehicles." The effort comes ahead of NHTSA self-driving car guidelines expected in July. With autonomous driving a potential regulatory minefield - questions about local/state traffic laws, insurance payments, and automaker/driver liability all come into play here - there's a clear motivation for those leading the charge to push for unambiguous federal guidelines on how to proceed. Especially with Chinese autonomous driving efforts receiving strong government support.
Google steps up efforts to win over mid-sized businesses using Microsoft Office - In October, Google announced it won't charge enterprise customers adopting Google Apps for Business until their enterprise agreements for Microsoft Office (NASDAQ:MSFT) or another rival solution runs out, and that it'll help cover Apps deployment costs (up to $25 per user). It's now offering similar incentives to mid-sized businesses, and also offering to pay for an Apps "security workshop" (provided by partners).
Google says nearly 200K business users have adopted Apps since the October incentives were unveiled. That's not a massive number relative to the size of the global Office base - Office 365 claims 22.2M paid consumer subscribers alone. Though Apps has certainly seen some traction thanks to its aggressive pricing and real-time collaboration features, Office still has some major advantages - strong familiarity among office workers and IT pros, a large ecosystem of apps and plugins that integrate with the Office suite, and the fact Office 365 supports both on-premise PC apps to go with cloud and mobile apps.
WSJ: FTC extends Android-related Google probe - The news comes a week after the EU formally charged Google with violating antitrust law through its required bundling of various apps/services with Android. Google has countered by arguing it provides Android for free, and the revenue produced by bundled apps/services allows it to recover the costs of developing and supporting the OS. The WSJ reports the FTC (which hasn't yet charged Google over Android) has met with multiple companies, and is "hoping to access some of the evidence behind European regulators' case."
Fortinet jumps on Q1 beat, strong billings/guidance - The security appliance vendor beat Q1 estimates and reported billings of $330.5M, up 30% Y/Y and above guidance of $315M-322M. It also guided in its earnings slides (.pdf) for Q2 revenue of $301M-306M and 2016 revenue of $1.262B-1.272B, above consensus estimates of $300.8M and $1.25B. Q2 EPS guidance is slightly below consensus, but full-year guidance above. Full-year billings guidance has been hiked to $1.52B-1.53B and implies 24% growth.
There could be some positive read-through for Fortinet (NASDAQ:FTNT) rivals Palo Alto Networks (NYSE:PANW) and Check Point (NASDAQ:CHKP). The high performance of Fortinet's hardware (enabled by proprietary ASICs) has helped it take share in a very competitive firewall/security appliance market, and the company is also benefiting from a healthy security IT spending environment. Ahead of its Q1 report, Fortinet unveiled a security architecture in which the company's products and third-party hardware/software share intelligence and feed data into a common security policy engine.
Accenture partners with machine data analytics leader Splunk - Accenture's (NYSE:ACN) IT consultants will help clients use Splunk's (NASDAQ:SPLK) machine data analytics software to "improve business outcomes by mining vast amounts of application and operational data to identify trends and improvement opportunities that were previously difficult to detect." They'll also provide packaged solutions, such as one that pairs Splunk's software with Accenture's managed security services. The deal gives Splunk a major reseller partner, and could help it drive more use cases outside of its mainstay IT operational intelligence market.
AMD officially launches $1,500, VR-friendly, Radeon Pro Duo graphics cards - The Pro Duo, first announced in March, contains two high-end GPUs based on AMD's (NYSE:AMD) Fiji architecture (launched last year). With the Oculus Rift and HTC Vive having just launched, AMD is going to great lengths to talk up its efforts to optimize the Pro Duo's VR performance (both for using VR headsets and creating VR content).

Click to enlarge
AMD's Radeon Pro Duo, liquid cooling and all
Benchmarks show the Pro Duo soundly outperforming cards based on AMD's Fury X GPU (the company's former top-of-the-line solution, launched in mid-2015), and AMD claims a 50% performance advantage over cards based on Nvidia's (NASDAQ:NVDA) Titan X GPU (officially priced at $999). Cards based on AMD and Nvidia's next-gen architectures (Polaris and Pascal, respectively) are due in the coming months.
Disclosure: I/we have no positions in any stocks mentioned, and no plans to initiate any positions within the next 72 hours.
I wrote this article myself, and it expresses my own opinions. I am not receiving compensation for it. I have no business relationship with any company whose stock is mentioned in this article.
Editor's Note: This article discusses one or more securities that do not trade on a major U.S. exchange. Please be aware of the risks associated with these stocks.